Shay Mitchell. Gigi Hadid. Adriana Lima. Karlie Kloss. We could keep going, but you get the idea: models are big into boxing. And almost all of them cite not only the body benefits, but the incomparable high from feeling totally kick-ass afterwards. Don't believe us? Take it from five time world title holder Noni Tenge
BOXING FOR DUMMIES
At your first-ever boxing sesh, your trainer will give you a breakdown of moves. But you'll look way cooler if you read this first
JAB
The first punch you'll deliver when sparring. It's a straight punch from your leading arm – typically the left. Not fighting anyone? Aim to move your punching bag (it's easier said than done).
CROSS
A more powerful punch given by your other arm. It's called a cross because your arm crosses your body and requires you to pivot your torso.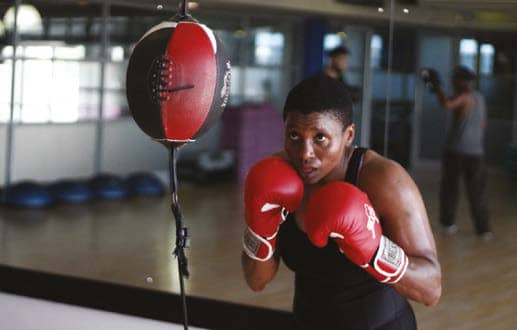 HOOK
A semi-circular punch meant to hit someone around their head. You'll know it's worked if your opponent is knocked out.
UPPER CUT
A punch upwards, aiming for your opponent's chin, meant to throw them off-balance.
YOU'LL HAVE TOP GUNS
Boxing uses your arms (okay,