The Men's Health Guide To Fatherhood
Tips and tricks on living the dad life well.
LET GRAND DAD SHOW
YOU HOW TO DAD
Fatherhood ain't easy, but who knows better on how to deal with post-kid life and still stay in great shape like your own dad, specifically your granddad? Meet Syafawi Ho, and read on the rest of this special feature on everything you need to know on how to be a great dad.
GETTING OLDER MAY BE an experience that some men may not look forward to. After all, it doesn't feel great to be supposedly "past your prime", and once you hit that big 4-0 milestone and beyond, your body doesn't seem to work like it used to.
But you don't have to just accept that you'll lose strength and agility, or that your metabolism will slow down. We learned two fitness truths from Syafawi Ho, a grandfather and first aid trainer in the Singapore Red Cross. One, age is no barrier to physical fitness. Two, hard work at the gym really does pay offno matter how old you are.
At 59, Syafawi is nearing the big 6-0. And while it's not immediately evident that he's in possession of a fit and muscular body, it becomes pretty clear when we see his movement and energy around the gym.
"My friend asked me, 'at your age, why do you want to go to the gym?'", Syafawi recalls. "They'll always tell you that at your age, you shouldn't go to the gym, you'll get injured, why bother to bulk up yourself up."
But to the grandfather, it's not just about building an impressive physique; it's about being fit and healthy so he can care for his family. Being involved in healthcare, he understands the need to be in good shape so that he can take care of not just himself, but others as well.
"I used to always go to the gym, but after my mum suffered from stroke, I stopped training for almost five years to look after her," says Syafawi. "When she passed on, I decided to start training again and found Ultimate Performance (UP)."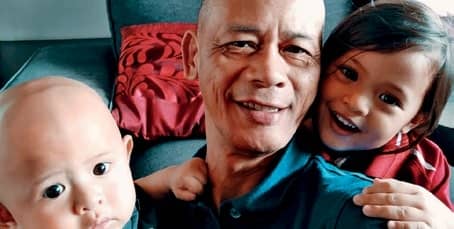 Syafawi knew that it was not going to be easy to get back to his fittest after such a long break, but he credits his trainer, Firdauz bin Abdul Gahni, for pushing and guiding him through his training. Like anyone else, there are days that he may feel tired or not 100 percent, but that doesn't stop him from putting in his all when it comes to training.
"At my age, you know the strength isn't there anymore. So I needed to recover it and cut my weight and body fat to get shredded," explains Syafawi. "It was very tiring, but after about three to four months, I gained back my strength."
Syafawi now sits at a body fat percentage of 13.4 percent, down from 19 percent after about 11 months of training. When you compare that with the average of 18 to 24 percent according to the American Council on Exercise, that is seriously impressive.
"I think I'm quite happy with my shape now, and there are also friends who say I've changed a lot in terms of physique, so I'm quite happy with [my progress]," he smiles.
The first aid trainer remarks that his fitness lifestyle has rubbed offon his friends and family, and he's trying to get some of his friends to join him at UP too. And understandably, his own son has noticed the big change in his physique.
"When I'm home and not wearing a shirt, he'll remark, 'dad, since when did you get a six-pack?' So I'll ask him, 'you want to follow me? I'll show you how to do it!" Syafawi chuckles.
Like any dad, Syafawi dispenses valuable training tips to his son now and then, showing that he still knows a thing or two. "I do give him some advice on what to do in the gym and what to eat as well," he says.
Now, his diet consists of greens, like salads, along with more water, more meat and fish for protein, and fewer carbs. He credits the increase in vegetables and water for his physical improvement. As for supplements, he takes a protein shake for an extra boost after his hard workouts.
Syafawi has shown that you can forget about the notion of the dad bod; his granddad bod is the epitome of #fitnessgoals, and it doesn't matter how old you are as long as you set your mind to it.
"I can only say that if you think you're old, you will be old. If you think that you're young, even when you're 70, you can be young. It's up to you," states Syafawi sagely. "To train in the gym, you really need discipline, and if you're disciplined enough, age is just a number."
Make Peace WITH THE "Dad Life"
The truth—in its ugly, brutal, boring glory—will set you free. Or at least so says Rich Dorment, editor in-chief of Men's Health U.S.
THE SINGLE WORST question you can ask the parent of a small child is "When are you having another?" The secondworst question is a little less predictable and a lot more insidious.
About a month ago, a younger, unmarried, un-kidded colleague asked me what I had done that weekend. It was Monday morning and I was tired and I thought he might actually want to know, so I told him.
First, I said, my wife and I took turns driving our three little kids to various sports practices and birthday parties and playdates. Then, I told him, I changed a ton of diapers and washed a few urine-soaked sheets. I told him about the predawn PAW Patrol binge and the postmidnight check for monsters under the bed. I described the meltdowns (plural) in two grocery stores, and the blowup over whether sweatpants qualified as goingout-for-dinner pants, and the bare-knuckle fight between my eight-year-old son and my fiveyear-old daughter. (She won.) The colleague smiled and nodded and grimaced in all the right places, and I summed it up in a way that was probably ironic but could've been a cry for help: "You know, just livin' that dad life."
"That dad life." I've been doing the dad thing for nearly a decade, and I've watched as my expectations about parenting have converged and diverged with larger cultural shifts in how women and men are raising kids. I've also watched, with a combination of amusement and horror, as dad has emerged as an adjective that makes any object, practice, or idea about 36 percent lamer. Dad bods. Dad jokes. Dad rock and dad jeans and dad hats. We're at a point where dad has become a dreaded modifier, a shorthand both specific and universal, a meme. "That dad life." My dad life. How did this happen?
I mean, it happens. To a lot of us. The latest study on fatherhood from the Pew Research Center found that "mothers and fathers are equally likely to say that parenting is central to who they are: 57 percent of fathers say being a dad is extremely important to their overall identity, and 58 percent of mothers say the same about being a mom." We define ourselves as parents and everything else sort of falls away, so that whatever used to be our priorities—sex, money, friends, hobbies— don't seem to matter quite as much anymore. We become shorthand for ourselves, only 36 percent lamer.
Some of us fight it—we don't wear baggy jeans or listen to classic rock or say, "That's what she said." We're cool dads. We dress and speak and consume like 22-year-olds (if not 12-yearolds), which is all well and good until we're arguing with a toddler about snack time or negotiating screen time with a second grader.
Which, as far as our kids are concerned, is for the best. They don't need a parent who prioritizes sex or friends over their playdate schedule. They don't need some dopey grownup asking them about the latest Kendrick drop. They need someone who'll grind through this weekend, and the one after that, and the one after that, because we know more than anything that these kids—these tiny, expensive catastrophes— are worth it. That's parenting. That's the dad life.
HARNESS YOUR NEW SUPERPOWERS
Fitness force of nature Shaun T created the Insanity workout, T25, Cize, and his latest, Transform 20. But no workout he has ever done is quite as hard, or as life transforming, as fatherhood.
THE TOUGHEST workout of my life The could be called "Twinsanity Max 2," because in November 2017, that is the number of babies my husband, Scott, and I welcomed into our lives. And that was after five years of baby-making insanity, recruiting egg donors and surrogate moms and waiting to see if our embryos would take. But when Sander and Silas finally arrived, two minutes apart, that's when the most wonderfully difficult time in our lives began.
In my book, T Is for Transformation, I wrote about "7 Superpowers" that guide my life. That was before we had kids. Now that they're here, I'm trying to practice four "superdad" powers. (Why not seven? I'm a dad now! Who has time for seven?) I'm not perfect at them, but I have two tiny life coaches teaching me new stuff every day—even when they should be sleeping, or I should be.
POWER #1: Change!
Continue Reading with Magzter GOLD
Log-in, if you are already a subscriber
Get unlimited access to thousands of curated premium stories and 5,000+ magazines
READ THE ENTIRE ISSUE
July - August 2019