The introduction of engineering and management to JNU has been controversial. Their launch was hasty, interest in engineering is waning, and they can alter the campus culture shaped by students and staff over decades.
In 2018, Alok gave up a seat in Indian Institute of Technology, Banaras Hindu University (IIT-BHU), to join the five-year dual-degree M.Tech programme launched by Jawaharlal Nehru University (JNU) that year.
He had rationalised his decision thus: "I took admission here based only on the name of the university. I thought since all the other courses are good, this will also be good." With its established record of excellence in other disciplines, he figured JNU would do well with the fledgling programme.
A year later, his faith is shaken. "First, we didn't have a laboratory for the first few months. Then the lab classes began but there were no books (in the library). Now, they have started with some books but they are not sufficient," he said.
This year, the university launched a two-year management programme. The Atal Bihari Vajpayee School of Management and Entrepreneurship inducted its first batch of 42 in July. The engineering programme under School of Engineering has 226 students in its first two batches.
Engineering has no faculty of its own, making do with teachers from other departments or institutions. Consequently, the engineering students don't have a timetable. "The teachers come as and when they are free," said one, requesting not to be named. "Many times, classes are scheduled and confirmed over the phone."
A puzzling decision
In December 2017, the proposal to introduce engineering and management showed up in the agenda for JNU's Academic Council meeting and was passed. Earlier that year, the JNU Vice-Chancellor, M. Jagadesh Kumar, had told a major English daily he would introduce these two.
The decision was baffling. By December 2017, technical education regulator, All India Council for Technical Education, had already raised the alarm about swathes of engineering seats going vacant due to a drastic decline in interest. In September, it told the media that around 800 colleges were facing the axe. Even premier institutions such as the IITs were instructed to reduce seats in courses for which demand had waned.
"Any school which is created in such haste and without planning will have problems," said Avinash Kumar, former secretary, JNU Teachers' Association. The JNUTA has opposed many of the current administration's plans for the university and has allegedly been elbowed out of all decision-making.
"This is the second year of engineering and I don't see any permanent faculty," continued Kumar. "There was no analysis as to why JNU needs an engineering school when we have an IIT across the road. We have written letters to the VC and given figures on how seats go vacant even in IITs."
High fees, poor facilities
Most students of the dual-degree M.Tech program had also cleared the JEE (Advanced), for admission into IITs. Like Alok, they were lured by JNU's name and the promise of a good experience.
Now the batch wakes up before day-break, between 3.30 am and 4 am, to line up for the showers.
Even before the new schools were started, JNU was struggling to house its students. Now the 226 students share 80 rooms in two buildings. Many of these rooms were already occupied by others so each first-year student is sharing a room with five others, said students. Their belongings are "crammed into a small desk" and their bags and suitcases lie scattered about.
Then, 40 students share a single bathroom and two toilets. If they don't wake up early to complete their ablutions, they risk missing the morning classes. "In the summers, we'd like to shower in the evenings as well but we can't. Sometimes we miss even the morning shower. It's disgusting," said Vineet, another engineering student.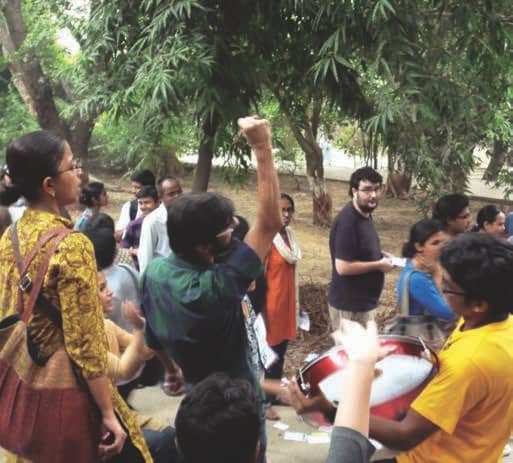 Continue Reading with Magzter GOLD
Log-in, if you are already a subscriber
Get unlimited access to thousands of curated premium stories and 5,000+ magazines
READ THE ENTIRE ISSUE
November 2019
IIM Graduates Debut With Degrees
Careers 360
How IIM Kozhikode Changed The Game
Careers 360
Levelling The Field
Careers 360
States Failing Children
Careers 360
From Jhola To Briefcase?
Careers 360
No Care For Those Who Need Care
Careers 360
Armed Forces Schools: Officers For Tomorrow
Careers 360
Amrita Vidyalayam: Taking The Guru-Shishya Parampara Ahead
Careers 360
Isha Vidhya: Educating The Underprivileged
Careers 360
जेएनयू को नष्ट करने की कोशिश
India Today Hindi
Clear Stream Of Reason
Outlook
Why Are Students Angry?
Outlook
JNUTA Wants University To Apologise To Professors Emeriti
The Hindu Delhi
Jnusu Polls: Candidates Engage In War Of Words
The Hindu Delhi
'Not willing to share CV with JNU'
Mail Today
Candidates For JNU Students' Union Election Declared
The Hindu Delhi