United States - Yas Queens
For the first time in pageant history, all three crowns belong to African American women
When Cheslie Kryst of North Carolina became Miss USA in May, her victory represented more than a personal achievement: It marked the first time black women held all three major pageant titles simultaneously. Kryst joined Miss America Nia Franklin of New York, who was crowned last fall, and Miss Teen USA Kaliegh Garris of Connecticut, who won her title in April, and together the women set a new standard for what beauty queens look like. Senator and presidential hopeful Kamala Harris (D-Calif.) called the trio "trailblazers." Gayle King described them as a "trifecta of black girl magic," celebrating just how far pageants have come since the days when black women were barred from competing. (Miss America, which began in 1921, required contestants to be of "the white race" for its first two decades; the first-ever black Miss America, Vanessa Williams, was crowned in 1983; Miss USA, created in 1952, saw its first African American winner in 1990; Miss Teen USA followed a year later.)
The milestone was also a much-needed bright spot for the pageant organizations, both of which have faced controversy in recent years. In 2015, NBC and Univision cut ties with Donald Trump, co-owner with NBC of the Miss Universe Organization—the umbrella group that includes Miss USA and Miss Teen USA—after he insulted undocumented Mexican immigrants during a speech announcing his run for president. Trump sued and sold the organization after buying NBC out; the case was settled out of court in 2016. In 2017, Miss America faced a scandal after CEO Sam Haskell, board members, and another executive employee were found to have emailed derogatory comments, some sexual and vulgar, about previous winners. In response, Haskell and the others resigned and the organization named Gretchen Carlson, Miss America 1989, to chair the board. Carlson and an all-female leadership team went on to scrap the swimsuit competition in favor of extended interviews with judges, among other reforms, before resigning this June. (Former South Dakota secretary of state Shantel Krebs was named Carlson's replacement.)
Now, with new leadership and revamped competitions—and three winners with a variety of skin tones and hair textures for little girls to look up to—the pageants appear to be back on solid ground. Here, ahead of the Miss America contest next month, Franklin, 26, a classically trained opera singer; Garris, 18, who recently graduated from high school; and Kryst, 28, a civil-litigation attorney preparing to compete in Miss Universe later this year, discuss their historic wins, how they are pushing boundaries, and why pageants still matter.
Marie Claire: Tell us about the moment you realized you'd won.
Cheslie Kryst: My mind went blank. The entire competition, I kept telling myself things like You're not on national television. This auditorium is really small. It's just you and a few friends hanging out in pretty dresses. By convincing myself of that, I wasn't nervous. So after they called my name, I let it all sink in. It was more than I could have ever expected or dreamed of. I just couldn't believe it happened.
Kaliegh Garris: It was a huge rush of adrenaline. I turned my head to find my mother in the audience and I yelled, "Mom!" because she's really been, my number-one supporter.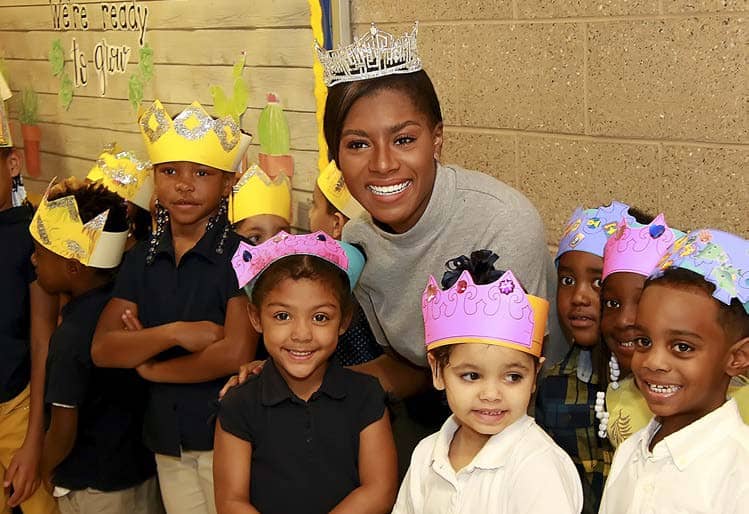 MC: What do you think of all three titles being held by black women?
Continue Reading with Magzter GOLD
Log-in, if you are already a subscriber
Get unlimited access to thousands of curated premium stories and 5,000+ magazines
READ THE ENTIRE ISSUE
August 2019