The Lost Daughters Of Salerno
The news cycle moved on, but the town that became the final resting place for 26 migrant women has not forgotten them
THE photo in The New York Times on November 7, 2017, was heartstopping: a black body bag suspended in midair against the dawn sky as a crane lowered it from a Spanish rescue ship and a line of silver hearses waited with empty coffins on the pier below. The headline read "26 Young Women From Nigeria Found Dead in the Mediterranean Sea." The 26 women, mostly in their teens, had drowned when the overloaded inflatable dinghy they were traveling on from Africa to Europe capsized. It was one of the key moments in Europe's four-year migrant crisis—like the viral photos of the two-year-old Syrian boy Alan Kurdi, whose fragile body had washed up on a Turkish beach in 2015— that shocked the world anew about the suffering and danger endured by those fleeing war and economic hardship for better lives elsewhere. "These young women were searching for freedom, and they found death," says Monsignor Antonio De Luca, a bishop in Salerno, a port city in southern Italy where the women's bodies were unloaded from the rescue ship and later laid to rest. "It is a tragedy for humankind," adds Salvatore Malfi, then Salerno's police prefect.
In the 20 months since Nigerian and Italian authorities have been investigating the accident to determine who was criminally responsible. As the media has moved on, however, the young female victims have been largely forgotten. Only two—Osato Osaro and Marian Shaka, both age 20—were formally identified by surviving relatives. The rest of the women, estimated to be between the ages of 14 and 20, remain nameless and unclaimed. They were found without IDs or cell phones; investigators suspected they had been sex trafficked. They were buried in Salerno with only a six-digit number marking each of their graves and documents placed inside their coffins describing their identifying marks, such as scars, their hairstyles, and the clothes they were wearing when their bodies were recovered from the freezing sea. One teenager, the Italian coroner's office revealed, had been wearing a T-shirt that read "I am super happy."
So many questions about women's lives are unanswered. Where did they come from, and what did they endure? What were they hoping to achieve in Europe? What compelled them to risk their lives? What were their fears, their loves, their deepest wishes? In January, Marie Claire traveled to southern Italy to piece together the last few months of one of the victims, Osato Osaro, and meet some of the survivors from the same fateful boat journey who could shed light on what happened to the 26 fig lie di Salerno, or 26 daughters of Salerno, as the town now calls them.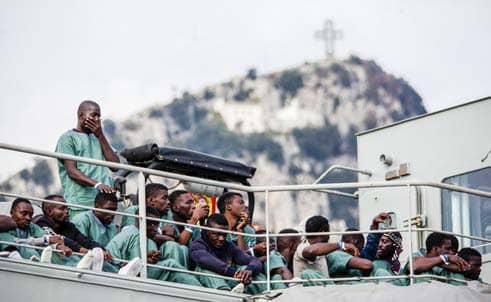 Among them was Osato Osaro, who had always wanted to be a nurse. "It was her dream," says her younger brother Osazuwa, 18, who survived the sinking of their dinghy and now lives in a refugee center outside Salerno. When they were children growing up in Benin City, the capital of Edo state in southern Nigeria, Osato would practice her nursing skills on him with big-sisterly zeal. "She used to bandage my whole body so tightly that I couldn't move," Osazuwa says, smiling at the memory. In April 2017, when Osato was 19, she achieved her goal, completing her nursing diploma at a government hospital. But the cash-strapped hospital laid her off the very same day. A month later, on May 24, Osato set off on a perilous journey to Europe, taking Osazuwa with her. "My sister believed she could get work as a nurse in Italy or Germany," he says. "She was a very kind person and also strong-willed. She wanted a better future for both of us."
It wasn't to be. The flimsy rubber boat on which Osato finally made the crossing to Europe, after a 3,541-mile journey overland from Nigeria, was carrying over 130 people, roughly three times its maximum passenger load. It sank fast when bad weather hit off the coast of Libya in the early hours of November 3, 2017. Osato's lifeless body was fished out of the waves, along with those of the 25 other women, by a Spanish naval ship named Cantabria. Osazuwa and 63 others survived. An estimated 50 more from the same dinghy, including children, died in the water, and their bodies were swept away. The Cantabria transported the 26 drowned girls and the survivors to Salerno, the nearest available European port.
It was almost dawn two days later when the Cantabria arrived. The sky and sea were a matching shade of gunmetal gray. Warned in advance about the ship's tragic cargo, about 100 Italian medics, emergency workers, journalists, and local officials were waiting onshore in Salerno, 30 miles southeast of Naples. "Usually when a ship carrying rescued migrants comes into port, there is a lot of activity and shouts of joy from the survivors," says Monica Di Mauro, a reporter with TV-OGGI Salerno, a local TV station, who was there that Sunday. "This time there was only silence. Total silence. Shock and sadness hung over the whole port. The hairs on the back of my neck still stand up when I remember it."
Since the migrant crisis began around 2015, driven by war, extreme poverty, and the opening of new routes for smuggling people across Africa and the Middle East, deaths among those trying to reach Europe by sea have grown appallingly frequent. Some 1.7 million illegal migrants have arrived in Europe by sea over the past four years. Almost 18,000 have died along the way, according to the U.N.'s International Organization for Migration (IOM), including 3,139 in 2017 and 2,299 in 2018.
Osato was told the journey would take "no more than three to four weeks," says Osazuwa, a skinny 18-year-old wearing jeans and a yellow polo shirt. The trip ended up taking a grueling six months. Migrants coming from Africa routinely endure severe hunger and dehydration, beatings, extortion, rape, imprisonment, and forced prostitution at the hands of vast illegal networks of traffickers, armed groups, and brothel-owners along the routes. "Our lives were at risk many times," he says.
The arrival in Salerno of so many young women who had suffered terrifying deaths "brought home—literally" the horror of the migrants' plight, says Di Mauro. As a small port that functions as a tourist gateway to the glamorous Amalfi Coast, Salerno had experienced far fewer migrant arrivals than many other areas of southern Italy had. The solemn atmosphere remained as the 26 bodies were unloaded from the ship before anyone else was allowed to disembark. "The crew used a crane to lower them off the deck," Di Mauro says. "The body bags kept coming, one after another, for what seemed like forever. It was a sight I will never forget."
The unloading took two hours. After the young women were taken to the morgue, the real mystery began. Survivors confirmed that the boat had left from the Libyan area of Warshefana, just outside the capital, Tripoli, and all the girls were Nigerian. Osato's body was identified by Osazuwa. One other victim, Marian Shaka, was identified by her 29-year old husband, Sule, who was on board. Many were dressed in jeans and T-shirts and had manicured nails. Due to the women's lack of ID or personal effects, which traffickers usually confiscate, the Italian prosecutor's office suspected they had fallen prey to the sex trade and opened an investigation into the deaths. (At press time, the investigation is ongoing.)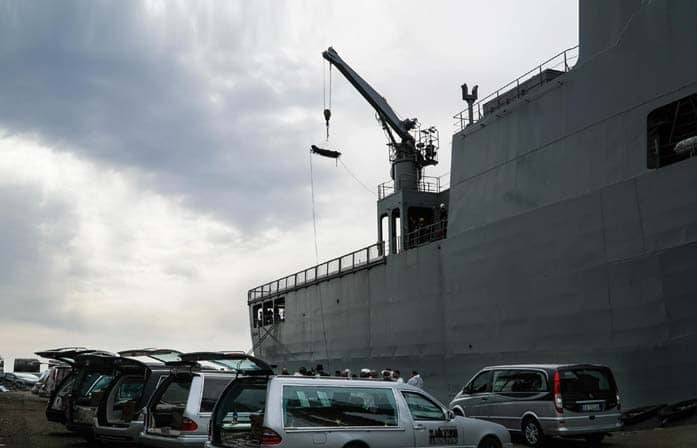 Continue Reading with Magzter GOLD
Log-in, if you are already a subscriber
Get unlimited access to thousands of curated premium stories and 5,000+ magazines
READ THE ENTIRE ISSUE
August 2019