IT Is Key To Warehousing Growth In India
The demand for regulatory compliance, security and quality assurance has increased the demand for modern warehousing where organised players have an essential role. Technology adoption in warehousing is deemed as an imperative for efficient business processes.
India has come a long way from basic godowns to smart distribution centres. However, a lot of improvement in warehousing is essential since warehousing accounts for 25 percent of the overall logistics costs.

India ranked 44th out of 167 countries in the World Bank's Logistics Performance Index (LPI) and second in the 2018 Agility Emerging Markets Logistics Index. The reason being the overall logistics costs in India that accounts for 13 to17 percent of the Gross Domestic Product (GDP), which is nearly double (6-9 percent) the logistics cost to GDP ratio in developed countries such as the US, Hong Kong and France.

Warehousing is one of the key enablers in supply chain solutions and is the fulcrum for procurement, manufacturing and distribution services which collectively contributes to robust supply chain services. The demand for modern warehousing has increased, and so has its lease period.

PV Sheshadri, CEO, Future Supply Chain Solutions Ltd(FSC), observed, "The supply chain industry is at an inflection point where we will see the demand for good warehousing infrastructure gaining prominence for the next three to four years and this demand needs to be fulfilled with high-quality Grade A warehouses. These modern warehouses are insulated, ventilated and climate-proof with round the clock surveillance and standard quality and safety procedures."

The warehousing space is expected to undergo a big transformation with the help of advanced technologies that will significantly change the way products are received, stored, and shipped.

Sheshadri commented, "Though a large part of warehousing operations are still manual, some of the latest technologies including cloud software, drones, Internet of Things (IoT) and wearable devices are gaining popularity, thus transforming the world of the supply chain. Trends are heading towards adopting the latest technological advancements, such as Artificial Intelligence, Digitisation of Supply Chain, IoT and Blockchain, Robots & Drones that fasten the process of warehousing automation."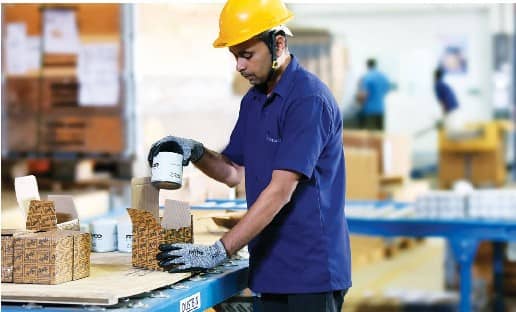 Automation adoption There is not as much automation in India because the labour in India is a lot cheaper. Viral Shah, executive director, V-Trans India Ltd, observed, "Automated management has only been implemented in 20 percent of the world's warehouses."
V-Logis, the warehousing solutions division of V-Trans, offers Warehouse Management System(WMS) for being connected to the goods in the warehouse, inventory management, integrated transport facilities, reverse logistics, in addition to value-added services for logistics cost optimisation.
Shah stated the manually run warehouse processes resulted in shipping delays, wrong product dispatch and additional costs. However, technology has changed how things are done in different industries.
The benefits of automation have to outweigh the costs before customers agree to go for it. For example, an autonomous vehicle like a forklift with a sensor that reads bar-codes when it goes across in the warehouse aisle can cover the entire inventory counting in two days instead of one month for just A-class items. This could reduce the dedicated manpower employed for just inventory processes, which can offset the cost of investing in this technology.
Continue Reading with Magzter GOLD
Log-in, if you are already a subscriber
Get unlimited access to thousands of curated premium stories and 5,000+ magazines
READ THE ENTIRE ISSUE
May - June 2019
Why Is Everyone Afraid To Share Data? GPLS Finds
Indian Transport & Logistics News
Toxic Slowdown In Auto Sector, EVs To Disrupt The Market
Indian Transport & Logistics News
Looking Beyond IMO's Global Sulphur Cap
Indian Transport & Logistics News
By 2020 Our Target Will Be 50 Percent Revenue From Exports
Indian Transport & Logistics News
Connecting India With Multi-Modal Logistics
Indian Transport & Logistics News
Reinventing Global Trade Using Blockchain
Indian Transport & Logistics News
Machine Protection Doors: Protecting People And Enhancing Productivity
Indian Transport & Logistics News
Freightbro Elite- Deliver An Exceptional Freight Forwarding Experience
Indian Transport & Logistics News
Driving Into A World Of Opportunities India Auto Show
Indian Transport & Logistics News
Digitising Freight Forwarding For A Seamless Supply Chain
Indian Transport & Logistics News
The View From Here
Global Traveler
Lock Them Up!
The Best of Times
Traditions Of Excellence
Global Traveler
Heavenly Peace
The Best of Times
Ups And Downs
Global Traveler
Above And Beyond
Global Traveler
Take Five With LEAH PRITCHETT
Hot Rod