It's always great to browse through social media to see what cars are out there. When we came across this bagged to the ground 1962 Chevy Biscayne it got us very excited and when we realised it once belonged to a famous rugby player, it peaked our curiosity further. We chat to the current owner, Pieter Thomas, about his low riding Chevy.
The Chevy Biscayne was a full-size production car manufactured between 1958 and 1972. It was named after a show car that was on display at the 1955 GM Motorama. The Biscayne was a cheaper version of the Bel-air and the Impala and it came with less trim on the inside and outside and therefore, it was priced significantly lower.
Pieter Thomas grew up with the roaring sounds that can only come from a V8 so when he came across this Biscayne, he knew it was a car he had to have. When he also found out it had belonged to former Springbok Captain John Smith it made it a bit more special. Now all he had to do was convince his wife to let him purchase it and that was not going to be easy as she was more of a fan of modern cars. Clearly he had the correct approach as she finally relented.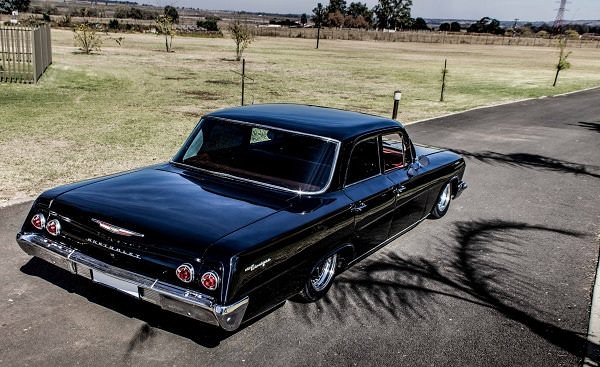 This car was at about 75% of what Pieter likes a restoration project to be. His first task was to remove what seemed like a million silencers that had been put on the exhaust system and made the car sound like a Toyota