A Serious Threat To Human And Animal Health
Foreign matter found in vaccines raises safety concerns that contamination is a common occurrence and a public health risk.
The vaccine industry, and those who uncritically promote it, will tell you that safety standards are so high, and testing so rigorous, that vaccines are totally clean and safe. However, nothing could be further from the truth. In addition to the toxic substances deliberately added to vaccines such as aluminium, mercury, MSG and polysorbate 80 etc., they are also frequently contaminated by viruses, bacteria, mycoplasma, metals and dangerous chemicals. In fact, due to the materials used and the manufacturing process itself, contamination is almost inevitable.
A report by the World Health Organization (WHO) lists the possible contamination dangers involved with vaccine production:
"Regardless of how well clean rooms function, potential contaminants can be continuously introduced into production facilities through entry of materials and equipment. Operators are another major source of particulates and microorganisms, shedding particles and microbes from skin, mucous membranes, and through respiratory secretions. Manufacturing procedures such as mixing, concentration, centrifugation, or transfer may also generate spills or aerosols that spread widely through production areas. Where bacteria and fungi are allowed to grow in recesses or when cleaning and sanitation procedures are ineffective, continuous or even resistant environmental strains can be developed."
They go on to say that the impurities in certain vaccines are almost impossible to define and therefore eliminate, cross-contamination of pathogenic organisms is a major risk, microorganisms from the environment might be injected into vaccinees and that the sterilisation process is not always effective.
An article in the journal PLOS ONE also emphasises the dangers of contamination of cell lines used in vaccine manufacture: "Human and animal cell cultures are highly susceptible to a multitude of contaminations. These comprise cross-contamination with human or animal cells from other cell lines, leading to mixed cell populations or a complete replacement of the original cells by the contaminating cells. Other contaminations are caused by microorganisms like yeast or fungi and bacteria. Special attention should be paid to infections caused by mycoplasmas and mycobacteria among the bacterial contaminations. These organisms are growing very slowly and cannot be detected during routine cultivation of the cells."
It may also surprise you to learn that cancer-causing cell lines are used in the production of vaccines. This is what the US Food and Drug Administration (FDA) has to say regarding the possibility of contamination from these:
"The use of tumorigenic and tumor-derived cells is a major safety concern due to the potential presence of viruses such as retroviruses and oncogenic DNA viruses that could be associated with tumorigenicity [sic]. Therefore, detection of persistent, latent DNA viruses, and endogenous retroviruses in vaccine cell substrates is important for vaccine safety, particularly in the development of live viral vaccines, where there are no or minimal virus inactivation and removal steps during vaccine manufacturing."
Please note that last sentence. The FDA is saying there are virtually no procedures in place for removing viral contaminants that can cause cancer if they are in live vaccines.
Where veterinary vaccines are concerned, a vaccine testing laboratory has noted over 80 possible viral contaminants in mammalian vaccines.
Viral and Bacterial Contaminants
One of the main risks involves contamination from foreign viruses and bacteria. To highlight this fact, an article headed "Virus Safety of Biopharmaceuticals", published in Contract Pharma (Nov-Dec 2011) referring to vaccine safety states:
"Industry and regulators recognize that the holy grail of viral safety—absolute freedom from extraneous agents or residual pathogenicity—is a myth. 'You find what you are looking for' is a common axiom and nowhere is it more applicable than in the case of virus detection to ensure the safety of biopharmaceuticals."
Viral or bacterial contamination can result from cross-contamination within the manufacturing plant or from contaminated products used in the process. The following is an abstract from an article written by J.I. Todd, at the time employed by The Veterinary Medicines Directorate, the government body that grants licenses for animal vaccines in the UK: "As a consequence of the potential wide range of pathogens handled during production of IVMPs [Immunological Veterinary Medicinal Products] and the smaller batch sizes, it is common for their manufacture to occur in premises where a range of products are manufactured on a campaign basis. Such campaign manufacture leads to an inherent risk of cross-contamination of products due to the handling of different pathogens in the same facilities."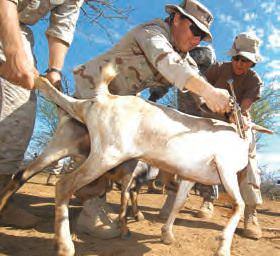 "If an IVMP does become contaminated during its manufacture, then there is the potential that either the production process (e.g. virus culture), or the product itself might support the growth of the contaminant and allow its numbers to multiply."
In the veterinary industry, viral contamination is widespread. The Animal Center for Biomedical Research in Tokyo carried out a study which "...examined 20 cell lines of various animal origins for the presence of pestivirus contamination by the reverse transcription-polymerase chain reaction (RT-PCR), and found 15 (75%) cell lines were positive."
And a Dutch study revealed the following: "Veterinary vaccines are usually tested for the absence of contaminants. However, the quality control does not always imply that vaccines are not contaminated as, for example, illustrated by the bovine herpes virus 1 (BHV1) vaccine used in The Netherlands in 1999 that contained a small amount of bovine viral diarrhoea virus (BVDV1)."
Of course, it is not just animal vaccines that can be contaminated with viruses and bacteria, human vaccines are equally susceptible.
A study in the science journal, Biologicals, shows the high rate of contamination of the Measles Mumps and Rubella (MMR) vaccine by bovine diarrhoea virus and pestiviruses.
"Thirty-six lots of human live viral vaccines produced by three manufacturers were tested for the presence of pestiviruses. Bovine viral diarrhoea virus (BVDV) RNA was detected in 33% of the vaccine lots."
The MMR vaccine has a history of contamination. In 1999, all chicken-cell derived MMR vaccines tested showed evidence of contamination from endogenous avian retrovirus (EAV) and avian leukosis virus (ALV).
The Centers for Disease Control and Prevention (CDC) has stated that vaccines contaminated with certain strains of ALV can pose a danger to humans.
Another case of human vaccines being contaminated is the Yellow Fever vaccine that was found to contain murine leukaemia virus, a cancer-causing virus in mice. The Yellow Fever vaccine has been involved in a number of contamination cases. During the Second World War it caused at least 50,000 military personnel to be infected with hepatitis B that was in the vaccine. Yellow Fever vaccines have also been found to be contaminated by the avian leukosis virus.
In 2009, Novartis had to withdraw their meningitis vaccine after they found it was contaminated... this bacterium actually causes meningitis...
Two strains of pig virus, one of which produces a deadly wasting disease in piglets, was discovered in a children's rotavirus vaccine. Although the FDA in the USA originally suspended the use of these vaccines, they reinstated them, again with full knowledge that the vaccines were still contaminated with the porcine virus, because they claimed there was no evidence of this virus doing any harm in humans. Moreover, the FDA made no recommendations to the manufacturers to even attempt to remove the contamination. They simply asked them to label the products to say they now contained the porcine virus.16 So much for rigorous safety standards and putting public safety first.
You can read up to 3 premium stories before you subscribe to Magzter GOLD
Log in, if you are already a subscriber
Get unlimited access to thousands of curated premium stories, newspapers and 5,000+ magazines
READ THE ENTIRE ISSUE
June-July 2018