In the ultra-innovative culinary world of Copenhagen, Kiin Kiin stands out for its modern take on heritage Thai cooking. Head chef Dak Laddaporn shares with Destin Tay how they've retained their Michelin star for over a decade.
Picture this scenario: you've been invited to a blind tasting at one of Copenhagen's many Michelin starred restaurants. Being in the capital of New Nordic cuisine (spearheaded by heavyweights such as Noma and Geranium), you'd be inclined to think that you would be served dishes like René Redzepi's Reindeer Moss and Cep and Celeriac Shawarma, or Rasmus Kofoed's Edible Razor Clam and Salted Hake.
Instead, you are presented with frozen langoustine curry and an aereated Tom Ka soup.
Launched in 2006, Kiin Kiin is a stalwart of elevated Thai cuisine. Owner Henrik Yde-Anderson started the restaurant out of his passion for Thai food. The then 17-year-old Dak Laddaporn chanced upon an article about Yde-Anderson's restaurant and quickly reserved a seat for herself. She was blown away by the authentic flavours that were served at her dinner and more intrigued by the fact that it was a Danish national who was leading the kitchen. It kickstarted a passion for cooking within Laddaporn, and after graduating from the culinary school at Silkeborg Technical School, she joined Kiin Kiin in 2013.
The now 32-year-old has been head chef of Kiin Kiin for the past seven years and her Isaan heritage has her doubling down on the restaurant's focus on Isaan dishes. Even when she uses seasonal Scandinavian produce to replace hard-to-find Thai ingredients, the food at Kiin Kiin retains its culinary integrity.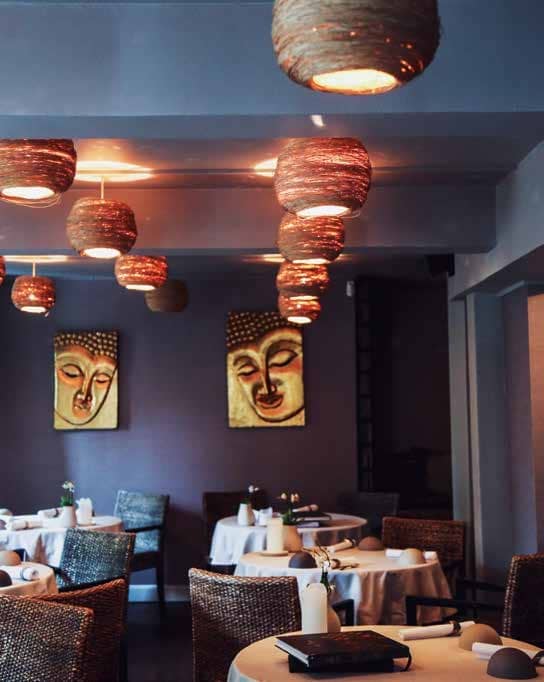 Why do you think you have found success in Denmark?
I moved here when I was seven; my mother married my Danish stepfather. I had an equally Thai and Danish upbringing; my mother always made it a point to remind me of my roots. For example, we might have medisterpølse (Danish sausages) with potatoes for lunch but a piping hot bowl of tom yum goong for dinner. In that sense I've been familiar with the Danish palate since a young age, which makes it easier for me to understand how best to present authentic Thai food to the people here.
Continue Reading with Magzter GOLD
Log-in, if you are already a subscriber
Get unlimited access to thousands of curated premium stories and 5,000+ magazines
READ THE ENTIRE ISSUE
November 2019
My Wine Princess
Epicure Magazine
Dewi Sri, Bali's Premium Rice Wine And Spirit Distillery
Epicure Magazine
Thai Star
Epicure Magazine
Making Their Mark
Epicure Magazine
In Muted Pink
Epicure Magazine
Seal It With A Vow
Epicure Magazine
The Point Of Origin
Epicure Magazine
Wedding By The Bay
Epicure Magazine
The Dream Venue
Epicure Magazine
Time To Tie The Knot
Epicure Magazine
Warming Trends
Where Washington
Whimsical Watchmaking
Robb Report Singapore
What's Cooking Chef?
Entrepreneur magazine
Invited To The Oasis
Devon Life
The Heat Is On
Shooting Times & Country
Tread Carefully
Fast Bikes
Are You Being Served?
Cotswold Life
Pure Taste
Prestige Singapore
Destination Dining
The PEAK Malaysia