Uluwatu and the ocean provide a romantic backdrop for your wedding. Renaissance Bali Uluwatu Resort & Spa takes full advantage of its oceanfront location to create the most beautiful weddings. In addition, the resort also features 207 rooms and suites which offer views of the stunning coastline from different picturesque angles.
The resort presents four wedding packages which cover flower decoration, a two-night complimentary stay for the bride and groom, and an acoustic performance. The R Whimsical Wedding at Celebration Pavilion grants guests a 360-degree view of the ocean and lush surrounding forest. Walking down the aisle to the panorama is definitely a memorable memory under the arch of this glass pavilion.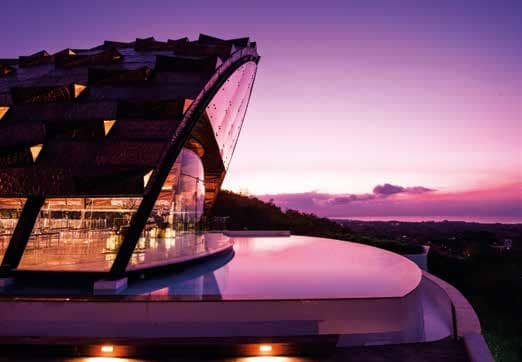 For couples who prefer to have an al fresco wedding, The R Sundown-Charm Wedding is the ideal choice; the ceremony is held on either one of the three poolside decks. Opt for The R Sunrise Beach Garden Wedding at Roosterfish for a laid-back reception. The beachside venue with the lush grassy grounds is perfect for many Instagram memories. An after-party is definitely an option at this festive beach club. For a more elegant vibe to your wedding, book The R Presidential Villa Wedding. Host your wedding in the Presidential Villa, and enjoy a two-night stay at the luxurious accommodation.