Ladakh As A Union Territory
According Union Territory status to Ladakh is a masterstroke to promote India's strategic interests, writes P Stobdan. The bold political move will unlock several key problems that had been frozen for decades. The political and economic strengthening of Ladakh could usher in an opportunity for the country to physically connect with markets in China, Eurasia and Europe and beyond
The abrogation of Article 370 and reorganisation of Jammu and Kashmir state has the most unprecedented implications for getting Ladakh in the national strategic focus. India needed to untie several difficult knots on the internal front that the nation has been fixated with. The most complicated one was the J&K knot that has become unsolvable despite diplomatic, military and economic efforts. The only way out left was to unknot the distortions borne out of history. This seemed only possible if India was to take a bold political step to separate Ladakh from J&K and make it a separate administrative unit on the lines of Arunachal Pradesh. This is the only way India could finally overcome the internal contradictions as well as external challenges. In fact, separating Ladakh from J&K to make it a Union Territory (UT) is certainly a political masterstroke by New Delhi and it will unlock several key problems that had been frozen for decades.
A lost western Himalayan kingdom
Ladakh is strategically the most critical part of the country. The geo-military dimension apart, Ladakh, in the past, undoubtedly had an unambiguous politico-historical personality of its own and survived as a Western Himalayan kingdom for eleven hundred years despite all constraints.
It had loosely defined boundaries with neighbouring Tibet, Sinkiang, Nepal, Mustang and Kashmir and maintained customary or tributary relationship with them until 1834 when the Dogras subjugated the kingdom through repeated military conquests. Ladakh's relationship with Kashmir and rest of India had its genesis only through the Dogra subjugation: a violent episode that lasted until 1948 when the Maharaja rule collapsed.
Since independence, Ladakh remained buried in J&K and no one dared talk about its status citing the constitutional provision of Article 370 and 35A. The framework kept Ladakh incognito for a long time even within the J&K. It had created a host of impediments for the country to visualise a sound scheme of things to curve out an outlook for its identity as well as for its economic development. Neither the destiny of Ladakh could be shaped not it could be fully integrated with rest of the country all these decades.
The situation around Ladakh has changed rapidly in the past 20 years; the people have their own aspirations. The people of Ladakh seem to be rejoicing now that their demand has been fulfilled after 70 years of struggle. The new arrangement should help preserve Ladakh's Himalayan identity which is more distinct by any yardstick compared to Jammu and Kashmir.
Clearly, Ladakh's problems couldn't have been addressed without the engagement and ideas, thoughts, actions and wisdom of the people themselves to be able to reflect their own regional distinctiveness and aspirations. It should help remove the prolonged political neglect of Ladakh by putting the key issues on the forefront of national attention. The UT status should cater to the rising expectations of the people especially the younger generation to prevent them falling adrift; to exploit the full political potentials and economic interests of Ladakh.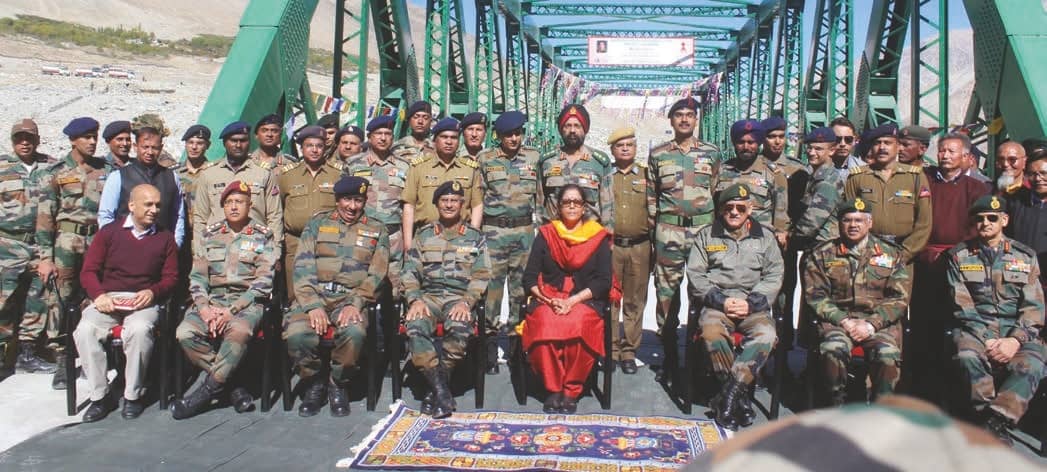 Prolonged neglect
Politically, Ladakh thus far hasn't received importance as compared to the attention paid to the North East, Sikkim, Arunachal Pradesh and Jammu & Kashmir itself. Ladakh's economic potentials were not even thought about for the last seven decades. For most Indian intelligentsia – political, academic and policy-making elite looked at Ladakh from a romantic prism of the Himalayan hermitage, a Shangrila world. In recent years, the tendency has been to look at the region as a tourist spot and see its beauty.
Strategically, India's primary concerns and actions for Ladakh have mainly remained external security driven and they are being dealt only with robust defence preparedness. All along, India maintained a defensive posture in perpetuity – a change was not even thought.
Had the country pursued a strong and decisive Ladakh policy, India's problems with China and Pakistan, including the nature of the Kashmir problem, would have been quite different from what they are now. The Chinese, on their part, never looked at its borderland from a military perspective alone. It has pursued an offensive economic plan towards the Himalayas. Pakistan too, approached the region from the point of view of water resources as well as advancing its ideological interests.
Historical backdrop
India's political claim over Ladakh would have been more tenuous than it has over Kashmir. After all, there was a history of legality about Kashmir falling in the hands of the Dogras from the Sikhs. Ladakh and Gilgit-Baltistan (LGB) was a case of subjugation through force. The Dogra rule and their tyranny over LGB are well recorded in history. Therefore, the case for the restoration of Ladakh to join the Himalayan Kingdom like Nepal, Bhutan and others could have arisen long before but for the simple reason of choice of Ladakh clergy to be a part of the land of Buddha.
In 1948, Ladakh firmly rejected joining the unitary state of Jammu & Kashmir. Instead, the Ladakh Buddhist Association (LBA) had sought complete merger of Ladakh in India and had even opted for joining then East Punjab. The logic given was that Ladakh had a bond with Jammu through military conquest and not with Kashmir. In any case, the legal link between Ladakh and J&K had ceased to remain in operative with the Maharaja's fall in 1948.
India's Prime Minister Jawaharlal Nehru, however, spurned the LBA's demand; instead, he left the fate of Ladakh to be decided by Sheikh Abdullah who astutely contrived the case by placating the head Lama of Ladakh, Kushok Bakula to join the J&K Constituent Assembly in the early 1951. Bakula was a signatory to the formation draft constitution that envisaged a unitary state. As such the fate of Ladakh was sealed and rest is only history.
With the exception of Kushok Bakula, the people of Ladakh had the option of joining Tibet, but they made no political assertion or showed any irredentist tendencies even though their case for a separate entity far outweighed the one put up by Kashmiris. There still isn't any ambiguity about their choice. Soldiers of the most decorated wing of Indian Armed Force Ladakh Scouts continue with their battle cry, Kikisoso-laargalo to defend the land of Dhamma.
However, the cruel irony is not lost on Ladakh. Its political status in the country is not commensurate with its glorious history. Nor does it correspond to geopolitical reality. This is notwithstanding the strategic importance of Ladakh and the contribution its people made to India's defence and national security, especially their standing up against all the hostility and threats posed by adversaries being unequivocal. Yet, it endured prolonged political marginalisation, neglect and apathy in the country. This amounts to political injustice. Surely, adequate answers are hard to come by, but it is not a good sign for a mature democracy and it is going to backfire sooner or later.
Ladakh in democratic India
The reasons for Ladakh's tragedy in democratic India though may have been numerous - physical remoteness, disconnect with the world outside, relative backwardness and lack of awareness possibly may also have contributed to its seclusion. But the most convenient alibi cited for denying justice for Ladakh has been its demographic deficiency – lesser importance for electoral politics. This extremely flawed mindset and the contestable argument has led to diminishing role for Ladakh even in J&K despite its accounting for almost 60 percent of State's territorial size. It is an irony that demographic scarcity is considered as liability than bliss, whereas primacy for territoriality has never factored into India's national thinking and decision-making process. The absence of it has, in fact, led to vast borderland areas vulnerable to encroachment by external adversaries. It is not a good statecraft.
Ladakh also never carried a strong political weight in terms of electoral politics. The lone voice of a single Member of Parliament from the region is not heard seriously to make an impact on the national scene. Unlike in North East and Kashmir the people of Ladakh have never resorted to violence because of the benign nature of their culture – only to indicate, perhaps, that democracy and non-violence are not compatible to each other.
Most importantly, Ladakh does not hold much importance to national economy in terms of resources and industrial activities. Its mineral resources are yet to be explored. Like Tibet, Ladakh has enormous water resources from Zanskar, Suru, Dras, Shayok tributaries of the Indus basin. However, the entire water resources of Ladakh are only benefited by Pakistan. The Indus diversion is not yet thought of and this is yet another strategic folly.
Lastly, Article 370 may have come in the way of investments flowing into Ladakh for economic projects. The tourism industry has become unsustainable due to the closure of borders with China and Pakistan. Absence of land connectivity restricts the flow of tourist traffic from Europe and Asia. All these factors probably prohibited Ladakh from coming into the national spotlight.
History of denial and deception
To be sure, Ladakh lacked political articulation and this was taken advantage by outside players who in the guise of advisors managed to induce the innocent Ladakh-pas to remain steadfastly under their tight political patronage. The main conspirator who intellectually patronised the local Lamas to synthesise Ladakh's voice included a Kashmiri pundit. He was instrumental in persuading the Lamas to espouse certain misconceptions about their environs [land and identity] and the one that has been popularly nurtured concerns the long-festering rhetorical perspective vis-à-vis neighbouring Kashmir.
Continue Reading with Magzter GOLD
Log-in, if you are already a subscriber
Get unlimited access to thousands of curated premium stories and 5,000+ magazines
READ THE ENTIRE ISSUE
September 2019