The Challenge Of Making Small Arms And Munitions In India
In Order To Meet The Growing Demands Of The Military And Paramilitary Forces And To Plug Chronic Shortages That Have Impacted War Fighting Capabilities, India Is Now Pushing The Indigenous Manufacture Of Small Arms And Ammunition In A Big Way, Writes Rakesh Krishnan Simha
For a country that can successfully send probes to Mars and the Moon, build nuclear-powered submarines and develop an anti-satellite missile, India has been unable to manufacture a quality infantry assault rifle – that most rudimentary of weapons. Not just rifles and handguns, but even the ammunition required to fire them has been in short supply, with no less than the army chief revealing that the world's second-largest army had barely enough ammunition to fight a war for four days.
Countries that are mere specs on the map, such as Hungary and the Czech Republic, have done a lot better than India in the area of small arms and munitions. Even as these countries export rifles all over the world, India's state-owned Ordnance Factory Board (OFB), which has a monopoly on small-arms production, has for decades cranked out rifles and handguns of extremely poor quality. These include the Indian National Small Arms System (INSAS) 5.56 mm rifle which has let down our soldiers in a variety of battle environments – from the icy mountains of Kargil to the tropical Maoist-infested jungles of Chhattisgarh. This has led to emergency imports of assault rifles on a frequent basis, draining billions of dollars from the defence budget.
It may be debatable, but there is a strong view among the military analysts that the OFB, which falls under the Department of Defence Production, does not have the technology for delivering the next generation of small arms. Plus, it lacks the capability to produce the huge quantities required for India's massive military, so runs the argument.
What went wrong with INSAS?
The Indian small arms project has suffered too many misfires because the generals in the Army wanted everything in one rifle. Had the army kept its general staff qualitative requirements (GSQRs) at a realistic level, Indian soldiers wouldn't be saddled with a malfunctioning rifle. As Lt Gen (retired) Syed Ata Hasnain told the media, "The Indian Army's dream personal weapon of twin calibre capability with changeable barrels to cater for different calibres has resulted in the acute delay in the final decision. There appears to be no takers for this variety which the General Staff had desired."
Military historian Timothy D. Hoyt explains in his book Military Industry and Regional Defence Policy - India, Iraq and Israel: "In the early 1980s, DRDO made a commitment to develop a new series of 5.56 mm small arms for the Indian armed forces called the INSAS. Both Heckler & Koch of Germany and Steyr of Austria offered to provide for India's immediate needs and transfer technology worth $4.5 million for free. These offers were declined and DRDO spent the next decade, and approximately 2 billion (about $100 million in 1990), reinventing a family of small arms based heavily on Steyr and H&K technology. In the meantime, India imported AK-47 rifles from former Warsaw Pact nations to fill requirements. The INSAS finally entered service in the late 1990s."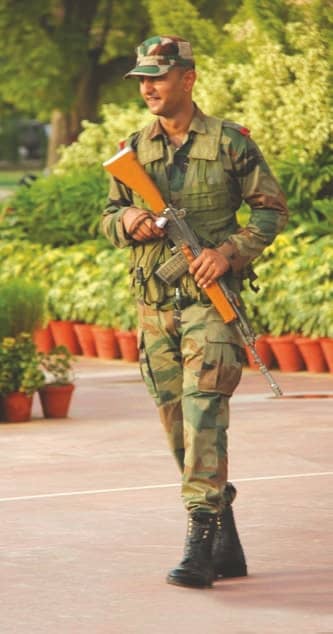 How not to make a rifle
Continue Reading with Magzter GOLD
Log-in, if you are already a subscriber
Get unlimited access to thousands of curated premium stories and 5,000+ magazines
READ THE ENTIRE ISSUE
August 2019
Weapons That Killed Baghdadi
Geopolitics
The Welham Initiative
Geopolitics
K-4 Test Will Put India In Top 5
Geopolitics
Insurgencies Of North East
Geopolitics
India's Military Special Forces
Geopolitics
Assad Will Be The Real Beneficiary
Geopolitics
Challenges Of F-21 Through 'Make In India'
Geopolitics
Boosting Soldier Lethality
Geopolitics
Combat Over Kargil - How The IAF Emerged On Top
Geopolitics
Dogfight Dukes
Geopolitics