The IAF is now in the final phases of its helicopter modernisation and upgrade programmes,
The Indian Air Force (IAF) is the rotary wing pioneer in Asia, operating helicopters in climatic conditions that are unheard of for many other air arms around the world. The IAF's transport helicopters are the lifeline for the Indian Army (IA) at high altitudes and new generation armed and attack helicopters that are being inducted (or will join soon) will offer a quantum leap in offensive capability.
Over past decades, the IAF rotary wing fleet was built on the back of rugged Russian built helicopters but the retirement of the Mi-8 fleet and impending phase- out of the Mi-25/ Mi-35 and Mi-26 helicopters will mean that the IAF's rotorcraft fleet in the early 2020's, would comprise of Medium Lift Helicopters - Mi-17, Mi-17 1V, Mi17 V5; Light Helicopters – Hindustan
Aeronautics Limited (HAL) built ALH MKI, ALH MK-III, ALH-MKIV (weaponised), Kamov Ka-226T 'Sergei', HAL Light Utility Helicopter (LUH) and the venerable Cheetah, Cheetal and Chetaks; Heavylift Helicopters - Boeing CH-47I 'Chinook'; and Attack Helicopters - HAL Light Combat Helicopter (LCH) and Boeing AH64E 'Apache'. The next decade will also see a large number of indigenously designed and developed helicopters, signifying the success of Indian rotary wing ambitions which got underway in the mid-eighties.
New Fighting Helicopter
Two major rotorcraft inductions for the IAF start next year, when Boeing will start deliveries of the AH-64 E attack helicopter and CH-47F (I) to the IAF. Boeing announced in July that the first flights of Indian Apache and Chinook helicopters had been completed. "India will receive the most advanced versions of both the AH-64E Apache and the CH47F Chinook. Indian industry partners such as Dynamatics is building large sections of Chinook, and the Tata Boeing joint venture in Hyderabad is building the complete fuselage of the Apache," said Pratyush Kumar, President, Boeing India, following the milestone.
The IAF 22 has AH-64E Apache attack, and 15 CH-47F (I) Chinook transport helicopters on order, while the Army is to receive another six helicopters. In June, the U.S. Defence Security Cooperation Agency (DSCA) informed the U.S. State Department of a possible Foreign Military Sale (FMS) to India involving the direct commercial sale of six (6) AH-64E Apache helicopters at an estimated cost of $930 million. These attack helicopters are destined for the Indian Army and will be armed with AGM-114L-3 Hellfire Longbow missiles, AGM-114R-3 Hellfire II missiles and Stinger Block I-92H missiles.
AH-64 Apache combat helicopter fuselages are also now built only in India, replacing Boeing's long-time supplier Korea Aerospace Industries (KAI). The Korean aerospace firm had delivered the first 10 new fuselages designed specifically for the AH-64D Apache Block III to Boeing in July 2012. KAI had been producing fuselages for the Apache combat helicopter since the early 90's at its facility in Sacheon. Tata Boeing Aerospace Limited (TBAL) announced in June that it had delivered its first fuselage to Boeing, ahead of schedule from its state-of-the-art facility in Hyderabad. The fuselage will now be transported to Boeing's AH-64 Apache manufacturing facility in Mesa, AZ, for integration into the final assembly line. "The timely delivery of the AH–64 Apache helicopter fuselage marks a milestone in our collaborative journey with Boeing. Our partnership reflects a continued commitment to develop aerospace and defence manufacturing ecosystem in India. The delivery of the fuselage within a year of the facility being operational is a huge boost to indigenous manufacturing and also demonstrates our commitment to deliver high-quality products within a short span of time," said Sukaran Singh, Managing Director and Chief Executive Officer, Tata Advanced Systems. Tata Boeing Aerospace is Boeing's first equity joint venture in India and the result of a 2015 partnership agreement with TASL.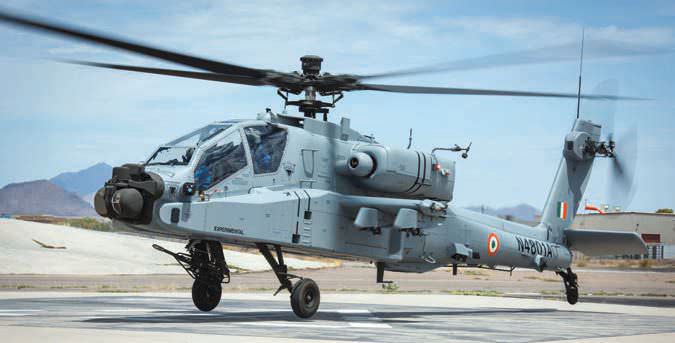 Continue Reading with Magzter GOLD
Log-in, if you are already a subscriber
Get unlimited access to thousands of curated premium stories and 5,000+ magazines
READ THE ENTIRE ISSUE
October 2018
Weapons That Killed Baghdadi
Geopolitics
The Welham Initiative
Geopolitics
K-4 Test Will Put India In Top 5
Geopolitics
Insurgencies Of North East
Geopolitics
India's Military Special Forces
Geopolitics
Assad Will Be The Real Beneficiary
Geopolitics
Challenges Of F-21 Through 'Make In India'
Geopolitics
Boosting Soldier Lethality
Geopolitics
Combat Over Kargil - How The IAF Emerged On Top
Geopolitics
Dogfight Dukes
Geopolitics
JR Everyday People
JUXTAPOZ
Future Alert Faster Tech
Inc.
The Silicon South Is Rising
Inc.
Trinity Episcopal Church Leader Settles Down On Maine Coast
Castine Patriot
Company Of The Year: Impossible Foods
Inc.
Wilson Museum Begins Search For Executive Director
Castine Patriot