JOHN BERRYMAN WAS KNOWN AS ONE OF THE GREATEST AMERICAN POETS OF THE TWENTIETH CENTURY, AND HE SPENT MUCH OF HIS CHILDHOOD IN OKLAHOMA. IN THIS ESSAY, A FORMER STATE POET LAUREATE GOES IN SEARCH OF THE ENIGMATIC, TORTURED WRITER'S LEGACY.
WHEN I WAS young, my parents sometimes took me Oklahoma ghost hunting, loading my sisters and me into the car to visit some reputedly haunted location. I remember vividly our trip to a hanging tree in the Cimarron Valley, its broad reach of branches still bowed by the weight of the dead. My parents were writers, and they were hunting ghost stories more than actual ghosts. Still, the hobby must have rubbed off on me, because I find myself hunting my own Oklahoma spirit: the ghost of the great American poet John Berryman.
Berryman's 1969 two-volume opus The Dream Songs was a compilation of 1964's 77 Dream Songs and 1968's His Toy, His Dream, His Rest. In it, Henry, the persona adopted by the poet, stands at his father's grave, where "the marker slants, flowerless" and admits, "often, often before / I've made this awful pilgrimage."
The poems in The Dream Songs trace Berryman's obsession with his father's death, so the pilgrimage in question may be metaphorical. Nevertheless, it makes me wonder if Berryman ever did return to visit his father's grave, where the body lies, as "Dream Song #143" says, "stashed in Oklahoma." While his poems rarely mention Oklahoma, in what reference Berryman makes to the state, it's clear he associates it with his lost father.
In 1969, poet Adrienne Rich wrote, "The English (American) language, who knows entirely what it is? Maybe two men in this decade: Bob Dylan, John Berryman." Heidi Jo Mann illustrated Berryman for Oklahoma Today using charcoal, cigarette ash, and coffee.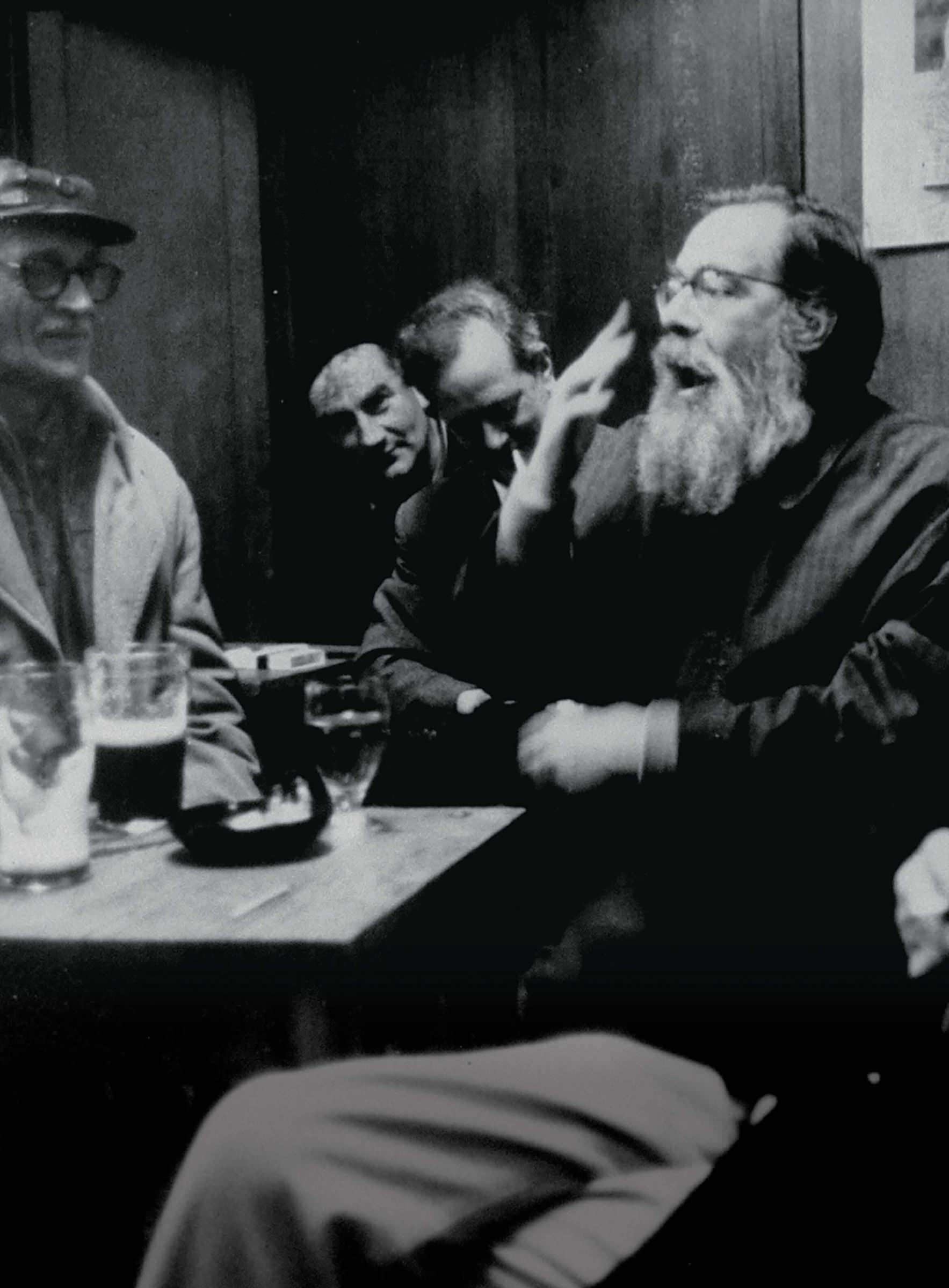 BERRYMAN WAS BORN John Allyn Smith Jr. in McAlester in 1914. His father, John Smith—the poet would take the name Berryman from his mother's second husband—was a banker, and his mother at one time was a school teacher in the Seminole County town of Sasakwa. The family moved around Oklahoma a lot during Berryman's early years before settling in Anadarko, where Smith was a vice president and loan officer at First State Bank, in 1921. Like many Oklahomans, they were following oil money. The younger John attended school in Anadarko and was an altar boy at Holy Family Catholic Church.
Continue Reading with Magzter GOLD
Log-in, if you are already a subscriber
Get unlimited access to thousands of curated premium stories and 5,000+ magazines
READ THE ENTIRE ISSUE
January/February 2018
A Beautiful Day In The Neighborhood
Oklahoma Today
LIQUID HISTORY
Oklahoma Today
NORTH Stars
Oklahoma Today
The Golden Age
Oklahoma Today
Rising From Disaster - Sand Springs BMX
PULL Magazine
Out Of The Blue
Baseball America
The Last Lebanese Steak House In Tulsa
Saveur
Oklahoma Was Never Really O.K.
New York magazine
Dreamtrack: 2019 Sooner Nationals - Tulsa
PULL Magazine
Big Bang theory
VWt Magazine