Nikkor Z 50 mm f/1.8 S 50,950
Ever since Nikon launched the Z-series mirrorless Full-Frame cameras, we have been waiting for the normal lens for this series. The Nikkor Z 50 mm f/1.8 S lens is finally here, and we have put it through its paces.
Design and Build Quality
The Nikkor Z 50 mm f/1.8 S is not very light, but balances well with the Z-series cameras. The base is made of metal, while the rest is engineered plastic. The lens is sealed against dust and moisture, with emphasis on all moving parts of the barrel. It has a back glass that seals all internal moving elements against dust and water ingress. In place of the manual focus ring, the lens incorporates a control ring.
The lens has dimensions of 76 mm (dia) x 86.5 mm and weighs 415 g.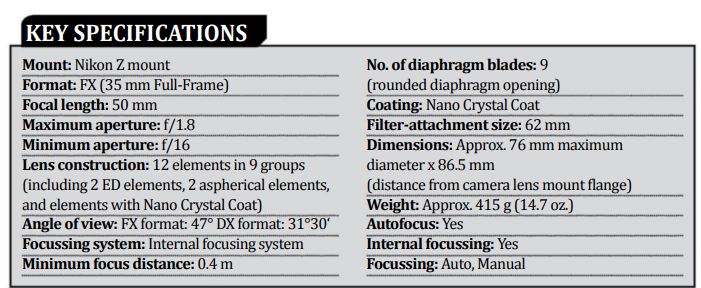 Key Features
The Nikkor Z 50 mm f/1.8 S lens offers an aperture range of f/1.8 to 16. The lens is constructed with 12 elements in nine groups, including two ED (Extralow Dispersion) and two aspherical elements. A Nano Crystal Coat has been applied to some elements to reduce internal reflections, thereby reducing flare and ghosting. The lens uses an internal focussing system for quicker and quieter autofocus. This system achieves focus by shifting only the internal lens group, thereby maintaining the size. The 50 mm lens has a minimum focus