The Bordeaux Bistro Revolution
IN FRANCE'S MOST FAMOUS WINE CITY, A CADRE OF AMBITIOUS YOUNG CHEFS IS BRILLIANTLY REINVENTING THE RESTAURANT SCENE.
EVEN THOUGH it's been one of the world's wine capitals for centuries, Bordeaux has never been a culinary heavyweight like Paris or Lyon. Not so today. On my most recent trip to the city—just a two-hour ride by high-speed train from Paris—it was clear it has become a trending destination. After a representative from the tourism office, several of my hotel's staff, a couple of winemakers, and practically every chef I met had all revealed they were newcomers, I had to wonder: Is anybody in Bordeaux these days actually from Bordeaux?
But I could see why they'd put down roots here. Two decades of revitalization projects have transformed a dusky port into a pedestrian-friendly, optimistic city. I walked the UNESCO World Heritage circuit of merchants' townhouses carved with lions and scallops and the arresting Place de la Bourse, whose Age of Enlightenment Stock Exchange Hall had shut early in the face of a yellow vest protest. Yet even that tumult couldn't discourage a sea of people from strolling and riding bikes in the spiffy docklands to-park conversion along the waterfront on a sunny afternoon.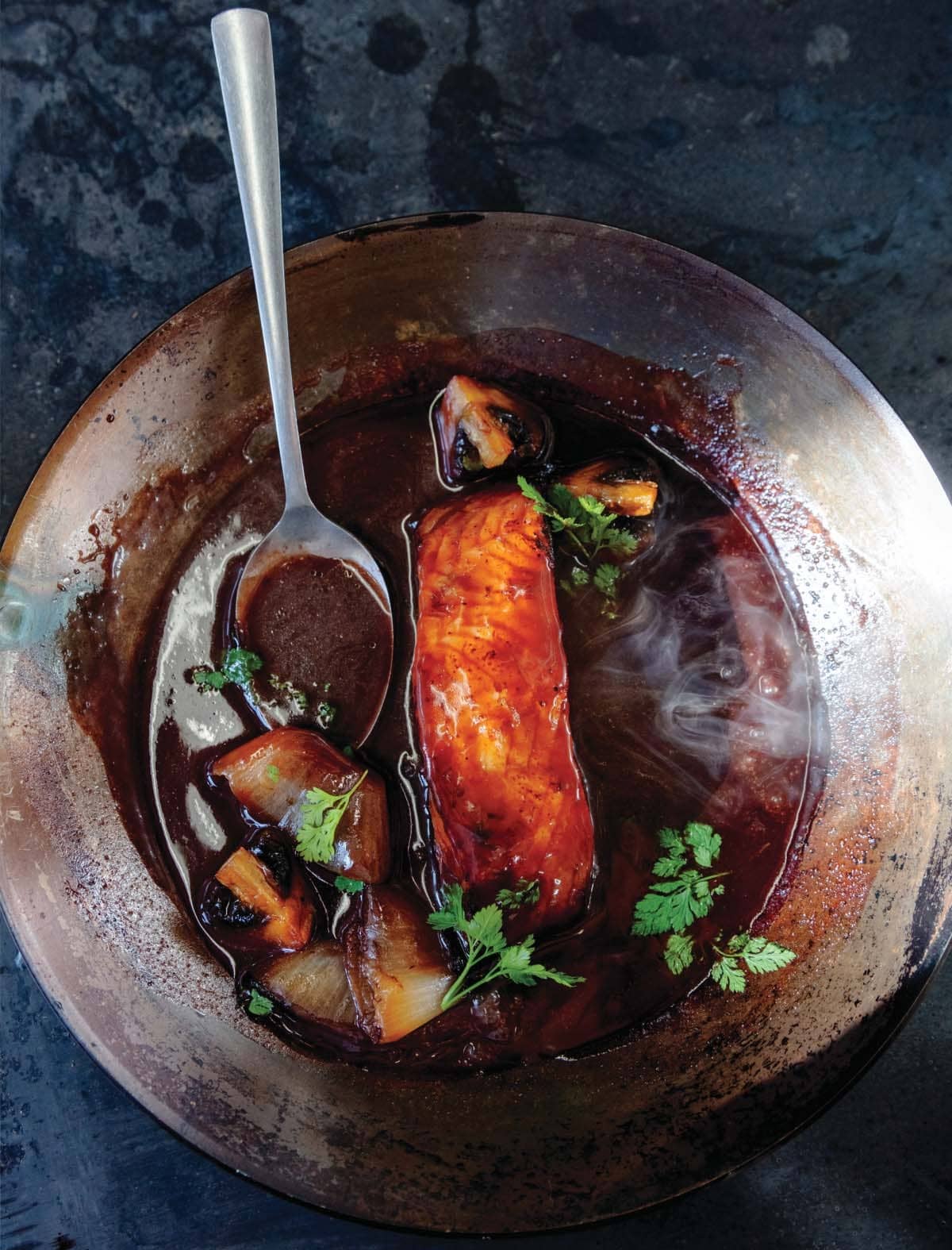 The city's renaissance isn't limited to architecture: Beginning about five years ago, Bordeaux started going crazy with good new restaurants. In particular, ambitious young chefs from around France and beyond sensed an opportunity in what was missing: a thriving, diverse food scene. Unencumbered by the city's somewhat staid gastronomic past, they're creating modern bistros with global sensibilities.
I say bistros, but often these establishments display multiple identities, like Symbiose, which is a cocktail bar or café, except when it's a restaurant with a five-course tasting menu. It's as if, unleashed in virgin territory, entrepreneurs are trying out every conceivable dining concept they can imagine. This culinary freedom is matched by adventurous wine lists with bottles from small Bordeaux estates, plus selections that explore other parts of France and the rest of the world, including biodynamic and natural wines.
I didn't check out every new bistro— that would take weeks—but the most exciting spots, profiled here, made me want to return as soon as possible for more.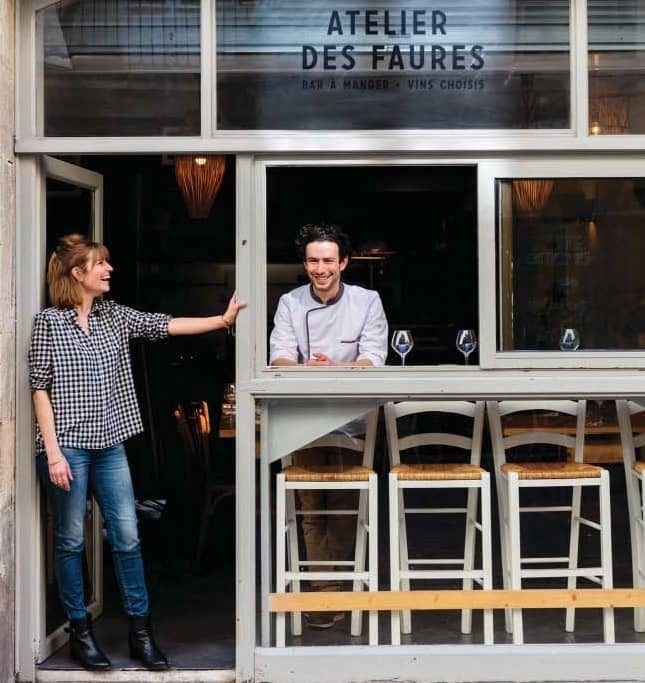 ATELIER DES FAURES
48 rue des Faure's, Bordeaux; 33-09-86-42-45-45 facebook.com/atelierdesfaures
ROMAN WINICKI GAVE UP a promising public affairs career and joined forces with his Bordelais wife, Claire Ivaskevicius, to open this tiny counter with a few tables near the Marché des Capucins. The concise blackboard menu varies daily, except for his surprisingly good—and just surprising—pastrami gyozas, which are always on offer. (He also makes a wonderful sweet potato and rice vinegar version; see the recipe below.) His cooking is full of clever ideas: mackerel two ways (smoked and marinated) with potato salad, grilled sausage with pickled onions and homemade cheese crumbles. Wines focus on indie labels, such as Château Julien, whose producer grows lilies of the valley in addition to grapes.
Sweet Potato Gyoza with Beet Puree
ACTIVE 1 HR 10 MIN; TOTAL 1 HR 30 MIN
SERVES 6
Creamy sweet potato and hazelnut butter provide a French twist on the filling for these inventive and satisfying dumplings. A silky beet puree seasoned with preserved lemon adds a pop of brightness.
11/2 cups coarsely chopped peeled red beets (from 8 oz. beets)
3 Tbsp. unsalted butter, divided
2 Tbsp. plus 1/2 tsp. rice vinegar, divided
1/2 cup plus 2 Tbsp. water, divided, plus more for brushing
2 tsp. kosher salt, divided
1/2 tsp. finely chopped the preserved lemon
11/2 lb. sweet potatoes, divided
1 Tbsp. hazelnut or almond butter (such as Organic Traditions)
1 tsp. sumac or 1 tsp. fresh lemon juice
1/2 tsp. toasted and cracked coriander seeds
1/4 tsp. coarsely ground black pepper
1 Tbsp. thinly sliced fresh cilantro
24 gyoza wrappers
2 Tbsp. canola oil, divided Thinly sliced scallions, for garnish
1. Add water to the bottom of a steamer pot to a depth of 1 /2 inch; bring to a boil over medium-high. Place a steamer basket in pot. Add beets; cover and reduce heat to medium. Steam until beets are tender when pierced with a knife, about 20 minutes.
2. Transfer beets to a blender. Add 2 tablespoons butter, 2 tablespoons vinegar, 2 tablespoons water, 1 /2 teaspoon salt, and preserved lemon. Process until smooth, about 1 minute, stopping to scrape down sides as needed. Transfer beet puree to a small bowl, and set aside.
3. Pierce 1 pound sweet potatoes all over with a fork, and wrap in damp paper towels. Microwave on HIGH until tender, about 10 minutes, turning after 5 minutes. Let cool slightly. Cut potatoes in half; scoop out pulp to equal 3 /4 packed cup; discard skins. Place pulp in a medium bowl; mash, and set aside.
4. Peel remaining 1 /2-pound potatoes, and cut into 1 /4-inch cubes to equal 1 cup. (Reserve any remaining sweet potato for another use.) Heat remaining 1 tablespoon butter in a large skillet over medium until sizzling. Add cubed sweet potatoes; cook, stirring often, just until tender but not browned, about 5 minutes. Transfer 1 /3 cup cooked sweet potato cubes to bowl with mashed sweet potatoes. Stir in hazelnut butter, sumac or lemon juice, coriander, pepper, and 1 1 /4 teaspoons salt until thoroughly blended. (You should have about 1 cup sweet potato filling.)
5. Toss together cilantro, remaining cubed sweet potatoes, remaining 1 /2 teaspoon rice vinegar, and remaining 1 /4 teaspoon salt; set aside.
6. Working with 1 wrapper at a time, brush edges of wrapper with water. Spoon 2 teaspoons sweet potato filling into the center of the wrapper. Fold the wrapper in half over filling; press and pleat edge to seal. Transfer to a baking sheet; cover with a clean, dry kitchen towel. Repeat procedure with remaining wrappers and filling.
7. Heat 1 tablespoon oil in a large nonstick skillet over medium. Arrange half of the dumplings in a single layer in skillet. Cook, undisturbed, until bottoms are golden brown, about 5 minutes. Add 1 /4 cup water, cover, and increase heat to high. Cook until water is mostly evaporated and wrappers are cooked through about 3 minutes. Transfer to a plate, and cover loosely with aluminum foil to keep warm. Repeat procedure with remaining 1 tablespoon oil, remaining dumplings, and remaining 1 /4 cup water.
8. Spoon 2 tablespoons beet puree into each of 6 shallow bowls; top with 4 gyoza. Sprinkle gyoza evenly with cubed sweet potato mixture and sliced scallions. —ROMAN WINICKI, ATELIER DES FAURES, BORDEAUX
MAKE AHEAD The sweet potato filling and beet puree can be kept in airtight containers in refrigerator up to 2 days. Gyoza can be assembled up to 2 hours in advance; keep covered with a damp paper towel until ready to cook.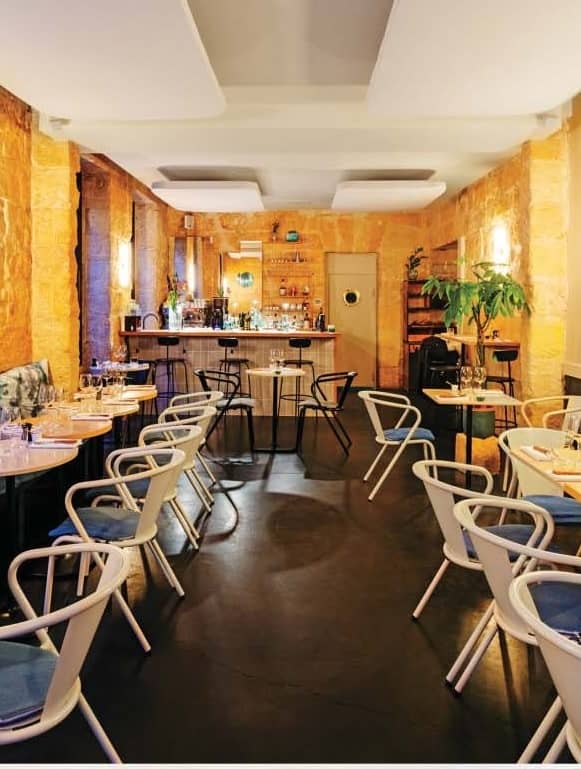 LAUZA
5 rue du Hâ, Bordeaux; 33-05-56-52-76-59 www.lauza.fr
Continue Reading with Magzter GOLD
Log-in, if you are already a subscriber
Get unlimited access to thousands of curated premium stories and 5,000+ magazines
READ THE ENTIRE ISSUE
October 2019