Big Tech's New Street Fight
The next frontier for video games is streaming— and it promises to be an all-out brawl among companies with the Internet infrastructure to back it up.
At stake? Billions of dollars and the future of a fast-growing industry. What, you thought this was a game?
WHERE IS JOHN? THAT'S THE QUESTION hanging over you as your team of armored soldiers methodically searches this foreign vessel for a comrade—and war hero—seemingly gone rogue. It's the year 2558; humans are under attack by alien forces. The last thing you need right now is to have one of your trained killers switch sides.
You cautiously step through the cramped corridors of the spaceship. It's dark—distressingly so—but for an eerie blue light emanating from the ship's walls. Your teammates would be in complete silhouette but for the cobalt glints on their weapons. You see shadows you don't recognize and quietly extend your finger toward your rifle's trigger. A sapphire streak ripples across its scope.
But they hear you! The aliens' weapons burst with a kaleidoscope of lethal laser fire that ricochets off the ship's panels. You sidestep in an effort to get a clear shot—if only you had a little more room—but it's too late. Before you can return fire, a well-placed beam sends you to a rainbow-coloured grave. Game over. (Start again?) For nearly two decades, scenes like this one have unfolded in living rooms across the globe, thanks to Microsoft's long-running video game franchise Halo, playable on the tech giant's ever-popular Xbox home console. But the rich gameplay described above, which Fortune witnessed during a recent visit to the company's headquarters in Redmond, Wash., needed no brawny consumer electronics to run with the speed and splendor expected of a modern first-person shooter, as such computationally intensive games are known. It required only a smartphone—in this case, paired with a conventional Xbox controller.
Have smartphones become that good? Not quite. But their tremendous proliferation—more than 5 billion people across the globe own mobile phones, according to 2019 Pew estimates, and more than half of those devices are Internet-connected smartphones—has dramatically changed the way media is consumed. Music, portable since the days of Sony's Walkman, is now streamed on the go. Movies and television, once limited to larger fixed screens, are now delivered to people's pockets over the air.
Now video games are preparing to take their turn. If you're not a gamer, you may not realize just how monumental a metamorphosis streaming promises to be. Today's video game industry is a behemoth expected to generate $152 billion worldwide this year, according to market researcher Newzoo. That's 57% more than the $97 billion generated by the global theatrical and home-movie market last year, and eight times the $19.1 billion generated by the global recorded music market. Like those industries, video game makers are grappling with the seemingly boundless potential of streaming, and the race is on to see who gets it right first.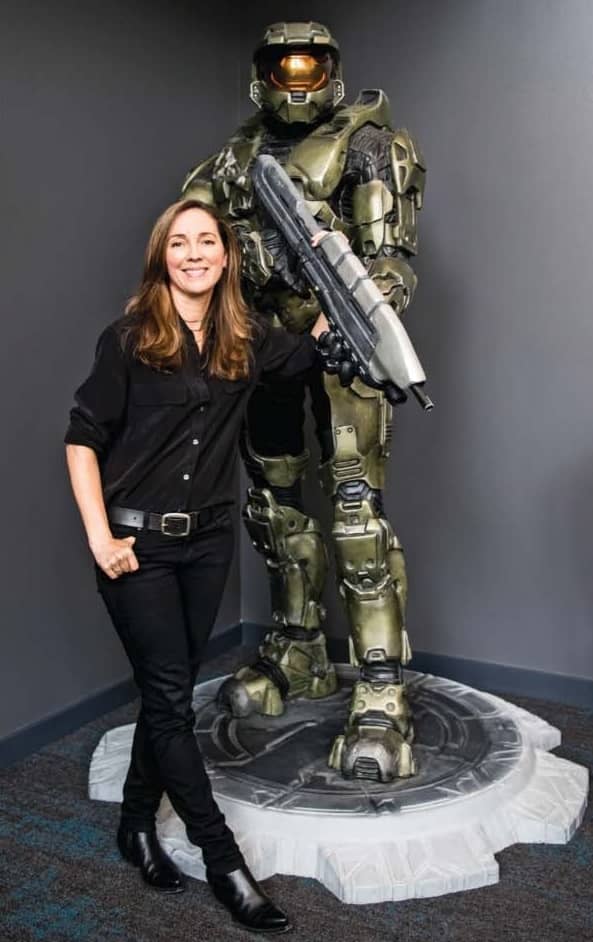 The secret sauce powering all of this media streaming is a technology concept every executive is now familiar with: cloud computing. The off-loading of "compute" to staggeringly large server farms in remote locations, linked to our personal devices with persistent Internet connections, affords each of us on-demand access to supercomputer level number-crunching power. This capability—plus forecasts that the global gaming industry could reach $196 billion in annual sales by 2022, per Newzoo—is why Microsoft, a gaming-industry stalwart that also happens to be a leading provider of cloud services, is so intrigued by so-called cloud gaming.
It's also why Halo 5 on a Samsung Galaxy smartphone can still manage such impressive visual pyrotechnics. The demonstration on view in Redmond is really running on the "racks" in a Microsoft data center in Quincy, Wash., 160 miles away. The Quincy facility is one of 13 the company plans to use to host its ambitious Project Xcloud game-streaming service when it begins a public trial this fall.
The last big breakthrough in gaming came a decade ago, when the birth of the smartphone gave rise to rudimentary but wildly popular mobile-first titles like Candy Crush and Angry Birds. "Ultimately the appeal of cloud gaming is the same thing," says Newzoo analyst Tom Wijman. "You can reach all of this audience without them needing to have a high-end gaming PC or expensive console."
The folks in Redmond are not alone in their interest. Google, which has fervently expanded its cloud division, announced a cloud-gaming platform called Stadia that it promises to launch by year's end. Meanwhile, crosstown rival Amazon, the leading cloud-services company by a country mile, is evaluating how to take its viewing platform Twitch, a top destination for people who watch other people play games, to even greater heights. Behind the big boys, a motley crew of lesser challengers—from Fortune 500 peers like Apple, Nvidia, Walmart, and Verizon to gamemakers like Electronic Arts and Valve to startups like Blade and Parsec—are developing or said to be investigating game-streaming subscription services of their own.
But none of them have cloud-computing muscle like the Big Three, which otherwise use their infrastructure to power the software and services they're best known for. Whether Amazon, Google, or Microsoft succeeds in crafting the next great console in the sky is almost immaterial. In any case, they'll all stand to benefit.
SATYA NADELLA HAS GROWN USED to the naysayers. For years, Wall Street analysts questioned why Microsoft, the company famous for its Windows operating system and Office business suite, would waste money on something so seemingly trivial as video games. The calls grew louder when Nadella took the company's helm in July 2014. Still smarting from his predecessor's missteps in mobile devices, Nadella promised to steer Microsoft away ​from consumer distractions and toward its highly lucrative business services. Some even urged Microsoft to exit the gaming business altogether. "Four to five years ago, we and others were calling for them to divest that piece of the business," says Daniel Ives, managing director of Wedbush Securities and a longtime Microsoft observer. That tune has changed: Last year, Microsoft's gaming revenue—which includes Xbox, Windows games, and a cut of third-party gaming sales—topped $10 billion for the first time.
When I ask Nadella why the company didn't drop gaming, he chuckles. "There were a lot of things that a lot of people said Microsoft should be doing," he says. "If I listened to everything that everybody else on the outside asks me to do, there would be very little innovation in this company."
Continue Reading with Magzter GOLD
Log-in, if you are already a subscriber
Get unlimited access to thousands of curated premium stories and 5,000+ magazines
READ THE ENTIRE ISSUE
August 2019