With the flagship series entering its final season, the teams behind the shows in the ARROWVERSE look back at their origin story and preview their "Crisis"-filled year ahead.
Stephen Amell is dreading the eighth and final season of Arrow, though you wouldn't know it on this hot, sunny July day in Los Angeles. Wearing Green Arrow's new suit, the CW star seems perfectly at ease as he strikes heroic pose after heroic pose on a dimly lit stage. But once he's traded heavy verdant leather for a T-shirt, jeans, and baseball cap, his guard drops and the vulnerability starts to creep in as he contemplates Arrow's last 10 episodes, which begin production in Vancouver in three days.
"I'm very emotional and melancholy, but it's time," Amell says as he takes a sip from a pint of Guinness. "I'm 38 years old, and I got this job when I was 30. I'd never had a job for more than a year. The fact that I've done this for the better part of a decade, and I'm not going to do it anymore, is a little frightening."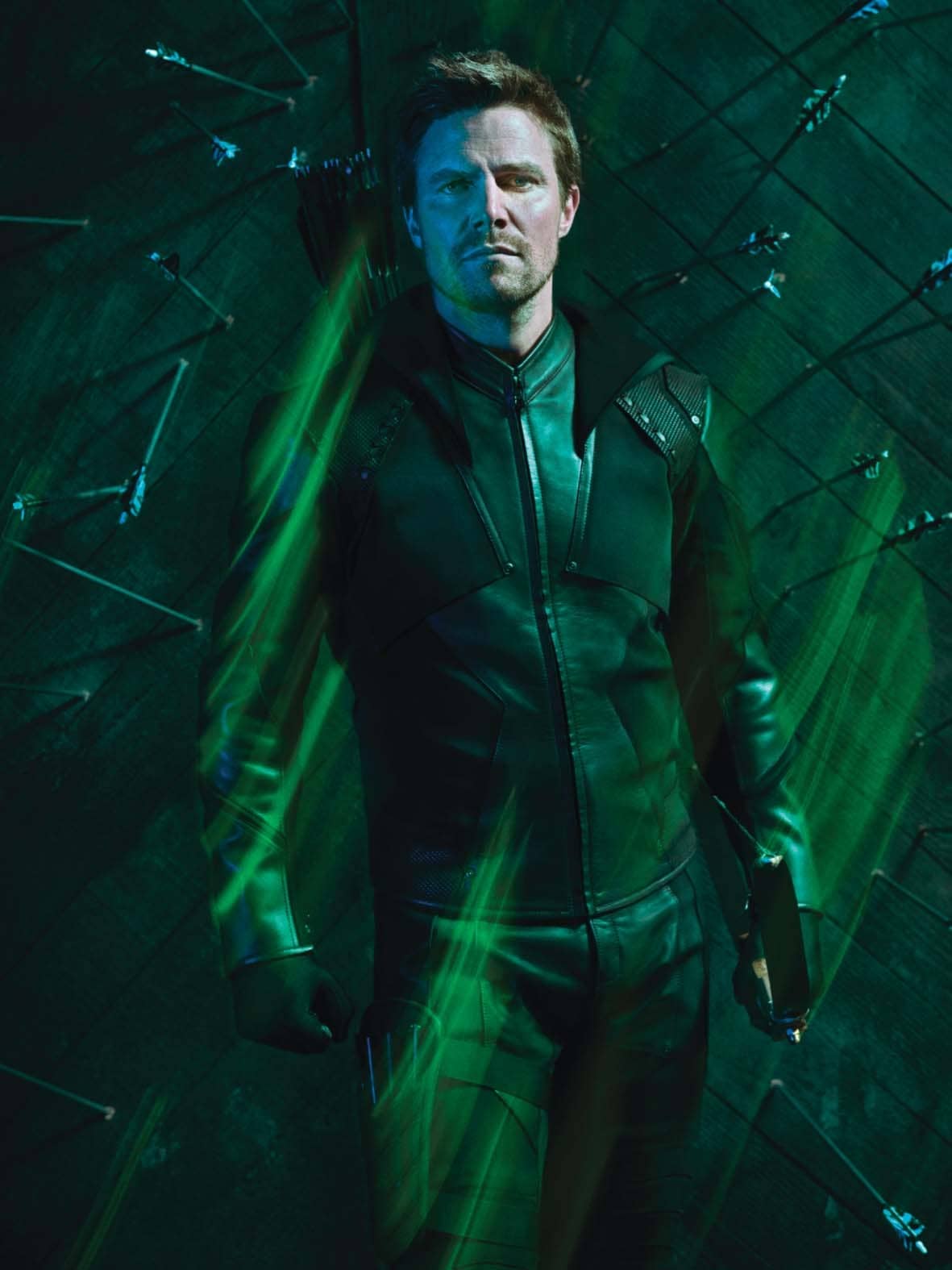 Developed by Greg Berlanti, Marc Guggenheim, and Andrew Kreisberg, Arrow debuted in the fall of 2012. The DC Comics series follows billionaire playboy Oliver Queen (Amell), who, after years away, returned to now–Star City with one goal: to save his hometown as the hooded bow-and-arrow vigilante who would become known as Green Arrow (it would take him four seasons to assume the moniker). What began as a solo crusade eventually grew to include former soldier John Diggle (David Ramsey), quirky computer genius Felicity Smoak (Emily Bett Rickards), lawyer-turned-hero Laurel Lance/Black Canary (Katie Cassidy Rodgers), and the rest of Team Arrow. Together they've defended their city from a host of threats—dark archers, megalomaniacal magicians, and the occasional metahuman—while Lost-like flashbacks revealed what Oliver endured in the five years he was away, first shipwrecked and then honing his skills around the world to become someone else, something else.
The premiere gave The CW its most watched series debut since 2009's The Vampire Diaries. But before they launched Arrow, Berlanti and Guggenheim had to suffer through a failure: 2011's Green Lantern, starring Ryan Reynolds. The duo co-wrote the script but lost creative control of the film, which flopped. So when Warner Bros. Television president Peter Roth approached them in late 2011 about developing a Green Arrow show, they were wary. After much deliberation, Berlanti and Guggenheim agreed, on the condition that they maintain control. Says Guggenheim, "As long as we succeed or fail on our own work, then maybe this is worth a shot."
Their take on the Emerald Archer—who made his DC Comics debut in 1941—was noteworthy from the beginning. Taking cues from films like The Bourne Identity and series like Homeland, the writers imagined a dark, gritty, and grounded show centered on a traumatized protagonist. "As we were breaking the story, we made very specific commitments to certain tonal things, such as 'At the end of act 1, he has his hands around his mother's throat.' And, 'At the end of act 2, he kills a man in cold blood to protect his secret,' " says Guggenheim.
A hero committing murder? That was practically unheard of then. Having Oliver suit up in a veritable superhero costume by the pilot's climax was radical too. Sure, the Marvel Cinematic Universe was deep into Phase One when the producers were developing Arrow, but TV was traditionally more apprehensive about comic books. Smallville famously had a "no tights, no flights" rule and only introduced superhero costumes in the last years of its 10-season run, and there weren't any masked avengers running around NBC's Heroes or ABC's No Ordinary Family, the latter produced by Berlanti. But Arrow not only fully committed to the idea of someone dressing up like Robin Hood to fight crime with a bow and arrow, it introduced a second costumed rogue, the Huntress (Jessica De Gouw), in episode 7. Yet restraint was essential when it came to Oliver's cowl. "It's really easy to make a guy with a bow and arrow look silly. We sweated every detail," Guggenheim says of getting four-time Oscar winner Colleen Atwood (Memoirs of a Geisha) to design the suit. "We had so many conversations to get it approved," adds Berlanti. "We were determined to show we could do on TV what they were doing in the movies every six months."
Beyond "grounded and real," there wasn't much of a plan in the early years, which allowed the show to naturally evolve—from introducing more DC characters, such as Deathstroke (Manu Bennett) and Roy Harper (Colton Haynes), sooner than they initially intended, to promoting Emily Bett Rickards' Felicity from a one-off character in the show's third episode to a series regular in season 2 and eventually Oliver's wife. Even the whole idea of a Team Arrow—which, over time, added Rene Ramirez/Wild Dog (Rick Gonzalez) and Dinah Drake/ Black Canary (Juliana Harkavy)— was the result of the writers allowing the best ideas to guide the story.
"Greg used to say all the time, 'You have a hit TV show until you don't, so don't save s---,' " says Amell.
Continue Reading with Magzter GOLD
Log-in, if you are already a subscriber
Get unlimited access to thousands of curated premium stories and 5,000+ magazines
READ THE ENTIRE ISSUE
August 2019
Madonna's Kids: Lose The Patch!
Star
Best Buy Cruises Into The Holidays
Techlife News
J.Lo Talking Baby At 50!
National Enquirer
Meghan And Harry Taking Over Hollywood!
OK!
Katie's-Best Body Ever!
OK!
Reese - I'm Finally Happy
OK!
Angelina Desperate For Revenge
Us Weekly
Johnny Depp: Only Weeks To Live!
Globe