DWAYNE JOHNSON, JASON STATHAM, and IDRIS ELBA head down a new road with FAST & FURIOUS PRESENTS: HOBBS & SHAW, the high-octane franchise's first spin-off.
DWAYNE JOHNSON HAS ARRIVED ON THE SET OF Fast & Furious Presents: Hobbs & Shaw with an arsenal of ways to insult Jason Statham. It's January, and the pair are both speckled in mud and fake blood, perched on a sunny cliff above the Pacific Ocean in Kauai, Hawaii. They're about to shoot a rare scene where nothing gets blown up, punched, or run over. The script already calls for Johnson's Luke Hobbs to declare that he sees Statham's Deckard Shaw as his diminutive sidekick: the Robin to his Batman, the Mini-Me to his Dr. Evil.
But when the Rock hops out of his truck—he prefers to drive himself to set, listening to chill Hawaiian radio on the way—the first thing he does is run over to Statham and start suggesting fresh oneliners they can hurl at each other (including one impressive Of Mice and Men reference). Huddling under a shady tree, the two soon work out a new bad-mouthing rhythm with writer-producer Chris Morgan, and when the cameras roll, they lay into each other with quips about their characters' height, strength, appearance, intelligence, and lack of friends. Finally, when Shaw grumbles, "I'll sidekick you right in the mouth," director David Leitch calls "Cut!" and Johnson and Statham immediately abandon their scowls for grins.
"Jason loves to come to set extremely prepared, lines locked in," Johnson, 47, says later, driving his black pickup back to base camp (and slamming on the brakes to avoid the occasional wild pig by the side of the road). "I do too, but then I also come [as] a massive pain-in-the-ass headache for Jason because I'm like, 'Okay, I've got this other idea! Take what you learned and throw it out the window! So how about we do this…' "
"I think me and Dwayne share a very similar sense of humor," Statham, 51, adds later by phone. "The only difference in us is the amount of weight he pushes when he's doing a bench press."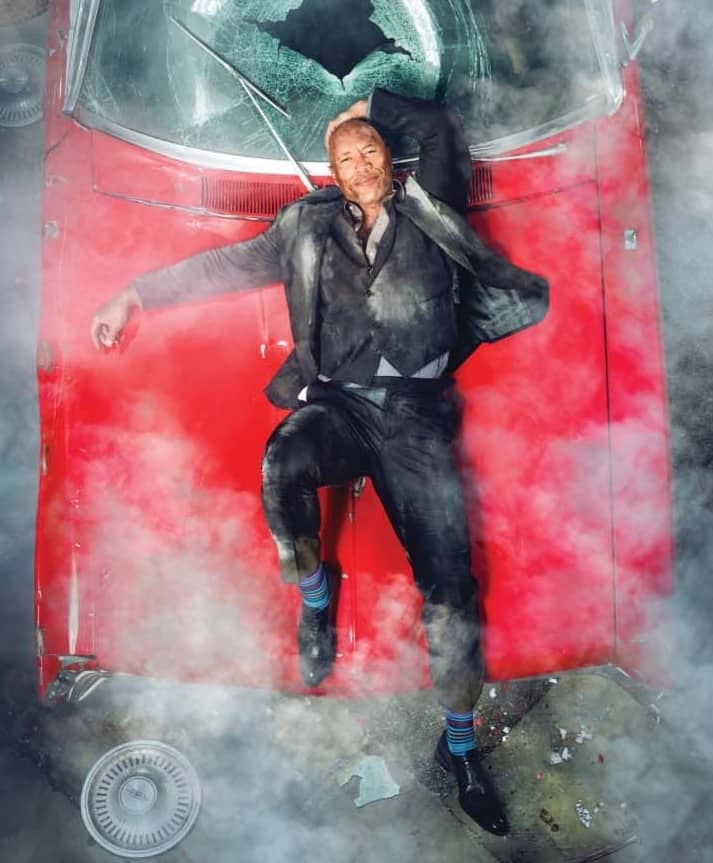 THE FIRST FAST & FURIOUS SPINOFF has been a long time coming. Ever since the original sped into theaters in 2001, the eight-part franchise has evolved from street-racing saga to explosive, globe-trotting spectacle, led by Vin Diesel's Dominic Toretto and his merry band of car-loving misfits. The plotlines have gone from successfully stealing VHS players to taking down international terrorists, with the films raking in more than $5 billion worldwide combined and becoming Universal's highest-grossing franchise of all time.
The crew has amassed new allies and enemies along the way, with Johnson signing on as Hobbs—first an enemy, later an ally—in 2011's Fast Five. As the near-invincible DSS agent, Johnson has been thrown through glass windows, survived fiery car crashes, and gone toe-to-toe with psychopathic assassins, always pulling through to pummel another henchman and deliver some more quips. (In a squad of memorable characters, Hobbs is perhaps the most quotable.) There were discussions of spinning off the character as early as 2011, but plans didn't shift into gear until after the introduction of Statham's rogue British agent Shaw in 2013's Fast & Furious 6. Shaw joined the Fast narrative as a vengeful villain, before teaming up with
Hobbs to stop a nuclear attack in 2017's The Fate of the Furious. Yes, he incurred fans' wrath when he killed beloved racer Han (Sung Kang), but he sort of redeemed himself by hijacking a plane to rescue Dom's kidnapped baby (as one does).
Continue Reading with Magzter GOLD
Log-in, if you are already a subscriber
Get unlimited access to thousands of curated premium stories and 5,000+ magazines
READ THE ENTIRE ISSUE
July 5, 2019