Twenty years after taking a bite out of L.A., the cast and creat0rs of angel unite to reminisce about helping the helpless.
Okay, so the Hollywood studio that's serving as the location for EW's Angel reunion shoot isn't actually a warehouse, nor a meeting place for the undead. Rather, the cast of the WB drama is very human and expressing very human levels of excitement at being together again, 20 years after their show debuted.
"It's good to see everybody!" says David Boreanaz, 50, the show's titular vampire who, upon arrival, immediately makes a beeline for the dressing room to find his costars. Spotting Charisma Carpenter (shallow cheerleader-turned-champion Cordelia Chase) and Amy Acker (shy Texan physicist Winifred "Fred" Burkle) in makeup chairs, he plops himself on the counter and giddily swings his legs, catching up with them while they're curled and coiffed. "Look at that smile," he says, gesturing to Carpenter with affection. "We just picked up where we were last time we talked to each other." Speaking of picking up, Acker, 42, enjoyed the series' experience so much, she has already declared she'd be ready for a revival—which would be season 6. "Every show should be this fun," she says. "We were so spoiled."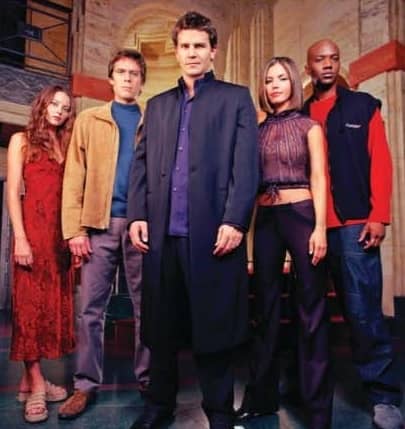 Angel premiered on The WB on Oct. 5, 1999, as a spin-off of creator Joss Whedon's original vampire series, Buffy the Vampire Slayer, and furthered the story of a bloodsucker whom the Romany cursed with a soul as punishment for a century of mass murder. Leaving Buffy (Sarah Michelle Gellar) and Sunnydale behind, Angel arrived in Los Angeles to continue his quest for redemption by helping the helpless, one at a time. Over the course of five seasons (all of which are available to stream on Hulu), Angel was aided by fellow Buffy expats Cordelia, Wesley Wyndam-Pryce (Alexis Denisof), and James Marsters (Spike), and new allies Fred and vampire hunter Charles Gunn (J. August Richards), among other humans and demons along the way, until The WB abruptly canceled the show in 2004. (We will get to that unmerciful killing later.)
Angel was the brain spawn of Whedon and Buffy writer David Greenwalt, the latter of whom penned the first kiss between the Slayer and her vampire-with-a soul boo. "It all made sense on paper," says Whedon, 55. "But until you have a show, you don't have a show." The duo began carving out a heavier series than Buffy that would explore a different message from Buffy's what kind-of-person-will-you-be? themes. Instead, it would focus on the idea of dealing with the consequences of your actions. "We thought, Let's do a noir thing that's about addiction and redemption, and we'll put them in L.A.," says Greenwalt, 69. "The stories will be darker and, more important, he'll be darker." What they ended up with certainly had intense moments, but also plenty of humor and heart, too.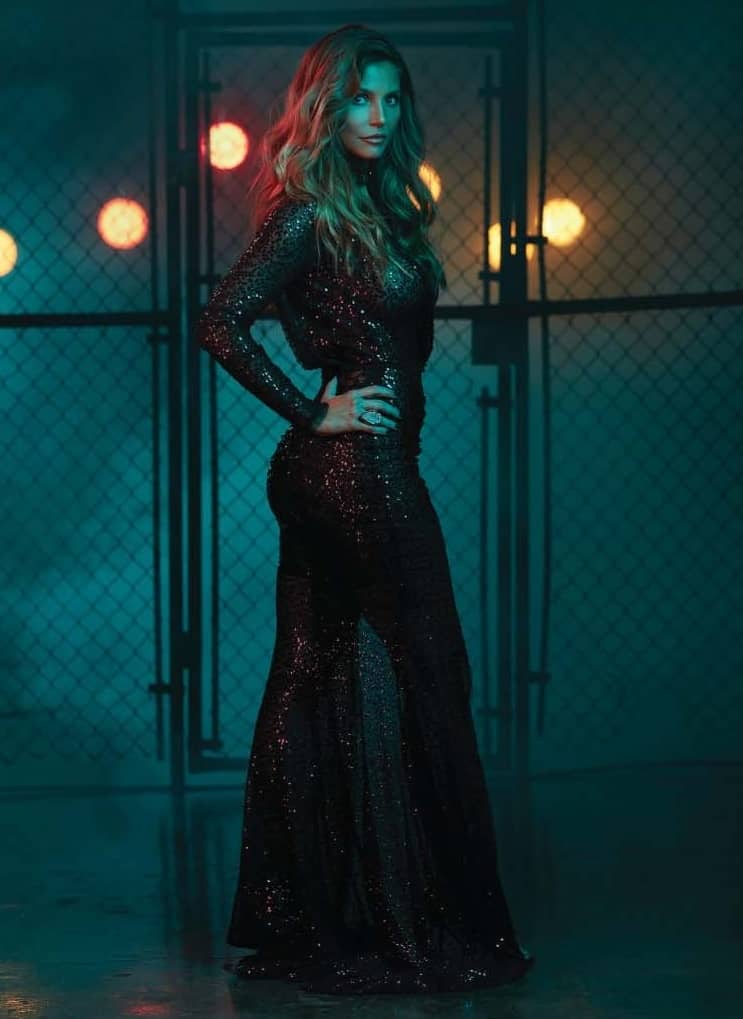 LIFE BEYOND THE BREAKUP
Spoiler alert from almost two decades ago: Buffy and Angel's love didn't last for all undead eternity. Still, Whedon wasn't ready to say goodbye to Boreanaz's thoughtful portrayal of the damned creature who was so damn easy to love. Although Angel premiered alongside Buffy's fourth season, the heavens opened and the idea for a spin-off actually struck Whedon during the parent show's second season—when Whedon saw Boreanaz play a female role in an episode during which Buffy and Angel are possessed by a high school student and teacher, respectively. "I watched David very emotionally, unabashedly, and poetically playing a woman, and at that moment was like, 'This guy can anchor a show,' " he says.
Whedon pitched Greenwalt the idea of taking the brooding, cursed-with-a conscience vampire to L.A. with a mission to save others in return for ultimate absolution. "We started talking in terms of redemption," says Whedon. "We realized, while Buffy is about the hero's journey—that 'becoming the person you are' that happens in adolescence—Angel is about dealing with the person you've been." Or, as co-creator Greenwalt puts it: "Buffy has this wonderful purpose and fights evil, but still wants to go to the prom and get the right dress. Angel is, in a sense, a much more complex character."
Continue Reading with Magzter GOLD
Log-in, if you are already a subscriber
Get unlimited access to thousands of curated premium stories and 5,000+ magazines
READ THE ENTIRE ISSUE
June 28, 2019
Holidays Bring Phishing Scam Surge Aimed At Small Business
Techlife News
Complacency A Concern As Aids Treatment Improves In Africa
Techlife News
European Space Agency Gets More Funds, Also For Moon Mission
Techlife News
Huawei Moving US Research Center To Canada
Techlife News
Video Game Maker To Pay $10 Million In Gender Bias Case
Techlife News
UK Election Is Full Of Dirty Tricks And Political Clicks
Techlife News
Deadly Defect Found In Another Version Of Takata Airbags
Techlife News
Microsoft Shareholders Defeat 2 Activist Proposals
Techlife News
10 Ways To Flourish In The Winter
Better Nutrition
Burdock Root
Better Nutrition