International Destinations To Visit On A Budget
You don't need to empty your bank account to travel abroad, here are some destinations that you can enjoy on a budget.
It is a misconception that international travel costs a lot of money, and is only for the elite. It is possible to get your passport stamped without needing to go bankrupt, all it takes is a little planning. It goes without saying that travellers spend the most amount of money on flight tickets and hotels. But there is a way you can find a way around high priced tickets, book early and create an alert so that you know when tickets are on discount. When it comes to accommodation,
Kathmandu
Home to one of the highest bunjee jumps in Asia, Nepal should definitely be on your travel bucketlist. It offers something for everyone; there are great places to eat and drink, a lot of cool shops and markets where you can pick up souvenirs, and many stunning sightseeing options. Another reason why you should visit Nepal is because 1 is equal to 1.60 Nepalese rupee so you get more value for your money.there are many affordable options that you can consider such as hostels and capsule hotels. You can even opt for AirBnB to cut costs. But, for you to really enjoy your stay, you need to pick a destination that is not too expensive, so that you can go sightseeing and indulge in local experiences to your heart's content. Here are some inexpensive international destinations that you can look at.
Best Way to Get There
Hire a cab from Siliguri to Kakarvitta, which falls along the border of Nepal. Here, you can also exchange your money to Nepali currency. From Kakarvitta, take another taxi to Bhadrapur Airport (inside Nepal), from where you can take a direct flight to Kathmandu. Buddha Air is one of the best airlines operating in Nepal.
What to Do?
Check out Thamel, an area with narrow streets where you can find everything from departmental stores to junk jewellery to cafes and clubs.
Take your time to explore the Narayanhiti Palace, which has 52 rooms in total but only 19 are open to the public. Marbled walls, huge ornate mirrors, lovely chandeliers, big fireplaces, lifesize paintings and more, makes this a must-visit.
Indulge in a drink at Freak Street which was the epicentre during the Hippie trail from the early 1960s to late 1970s. Goods are a little cheaper as compared to Thamel. The street is home to many cute and cosy pubs, be sure to look up as many are on the higher levels.
Make sure to visit Bhote Kosi, three hours from Kathmandu, where you can experience rafting or go bunjee jumping.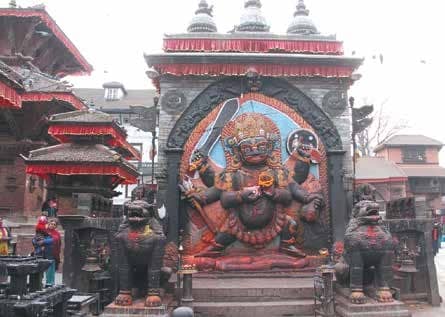 #ENePlus: Thamel is a great place to go clubbing. The best way to experience the local vibe is to go pub-hopping. Since all the places are close to each other, you can walk from one to another. Kathmandu is quite safe and women do not feel uncomfortable walking around Thamel, even at night.
Continue Reading with Magzter GOLD
Log-in, if you are already a subscriber
Get unlimited access to thousands of curated premium stories and 5,000+ magazines
READ THE ENTIRE ISSUE
September 2019