TWEETSIE RAILROAD
TWEETSIE.COM 300
TWEETSIE RAILROAD LANE
BLOWING ROCK, NORTH CAROLINA
Tucked in the heart of the Blue Ridge Mountains, Tweetsie Railroad is the oldest theme park in North Carolina. From its traditional Wild West theme to rotating special events, this park offers something for everyone.
Locomotive No. 12, dubbed "Tweetsie," debuted July 4, 1957, as a family fun activity that gave passengers a 1-mile ride to a picnic site. Since then, the park has added the Engine No. 190, the "Yukon Queen" and expanded the track to a 3-mile loop.
In addition to trains, Tweetsie Railroad consists of hundreds of acres filled with rides, shops, eateries, live entertainment and an animal park.
Through Oct. 27, Tweetsie is open on Friday through Sunday, 9 a.m.-6 p.m. Admission is $50 for ages 13 and older, $32 for ages 3-12, and free for ages 2 and younger.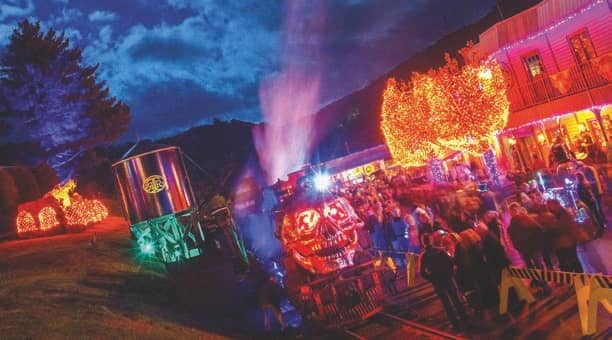 GHOST TRAIN | SEPT. 20-OCT. 26, 7:30-11:30 P.M.
Admission to the Ghost Train, which is separate from park admission, is $44 for adults, $38 for children ages 3-12, and free for ages 2 and younger. The Ghost Train ride takes 20 minutes. Admission includes a haunted house, Halloween shows, trick-or-treating and other "ghastly attractions.