JEDEDIAH SMITH'S LAST TRAIL
"Yet was he modest, never obtrusive, charitable, 'without guile,'…a man whom none could approach without respect, or know without esteem. And though he fell under the spears of the savages, and his body glutted the prairie wolf, and none can tell where his bones are bleaching, he must not be forgotten."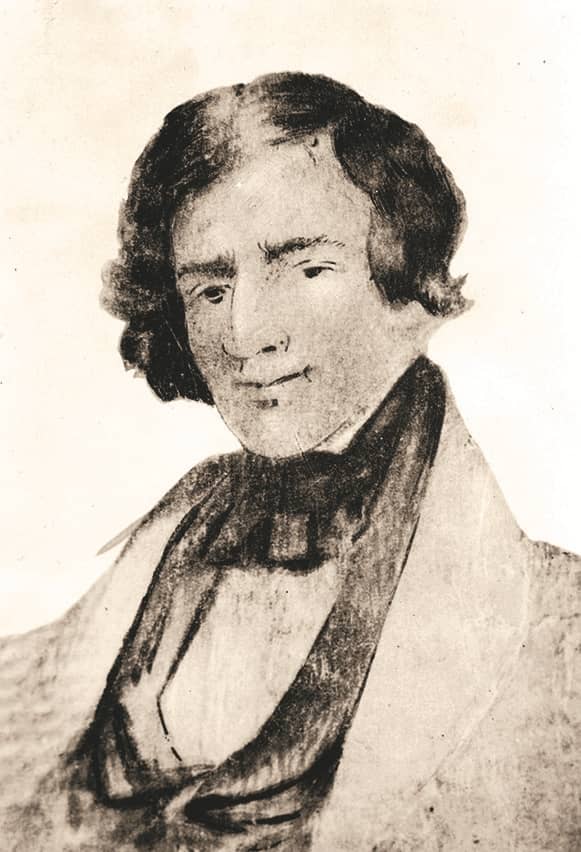 Prelude
The anonymous eulogy to Jedediah Smith was published in Illinois Monthly Magazine in June 1832. The author's view of Jed Smith's character and motives differs from the views of Maurice S. Sullivan and Dale L. Morgan, the scholars who have worked most fully on his life. I see Smith as a man torn by conflicting allegiances—the values of his church and his society, and the values he learned and lived by in the wilderness. The evidence of his letters to his family seems to be that he judged his life as a mountain man to be wicked; that conviction seems to have been deep and sincere. He seems to have damned himself for his love of wildness in the same way that settlers would later damn most mountain men for it. So he went home in an attempt to live by his beliefs he professed.
Smith says nothing about his decision to return to the mountains in 1831. Though it was only a partial turning back to his former way of life, I think it expressed a strong-felt need, a need he probably chastised himself for. So what is remarkable here, to me, is the conflict between professed values and the values he actually lived by. When his anonymous eulogist said that Smith made his altar the mountaintop, he meant that as a tribute to Smith's ability to live in Christian faith in the mountains. The irony may be that Smith made the mountaintop his altar in a different sense—then he replaced, symbolically, the altar of the Christian Church with his mountaintop as an object of worship.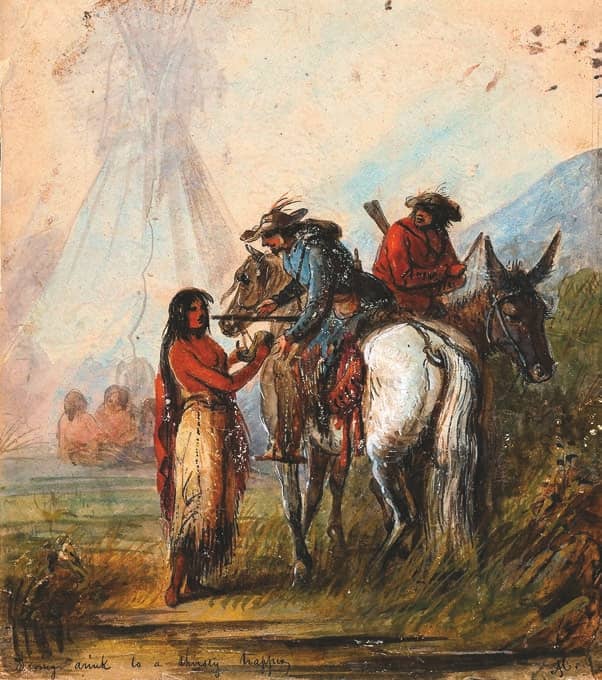 I believe that Smith, had he lived, would have been unable to stick to his decision to become a respectable citizen of the settlements.
The Pious Man of the Mountains
Jed had been aware, from the beginning that he was unlike most of the men in the mountains. He was learned, for one thing. He was serious—serious about his religion, serious about turning a profit, serious about writing a book and making maps. He didn't go for debauchery: He stayed away from Indian women and didn't join in the rendezvous carousing. He tried to practice his religion in a profane environment.
Jed, a Christian in the Puritan tradition, regarded making money as one of a man's positive duties and thought of unused capital as an evil. He now had to decide on some use for his capital. Well, he might go to Ohio and that farm eventually, but he wanted some business venture in the meantime. The role of gentleman farmer may have pulled at his fancy, but not strongly enough. He hired Samuel Parkman, a young man who had gone to the mountains in 1829 and come back with Jedediah, to copy out his journals and help him make his maps. That was one important enterprise.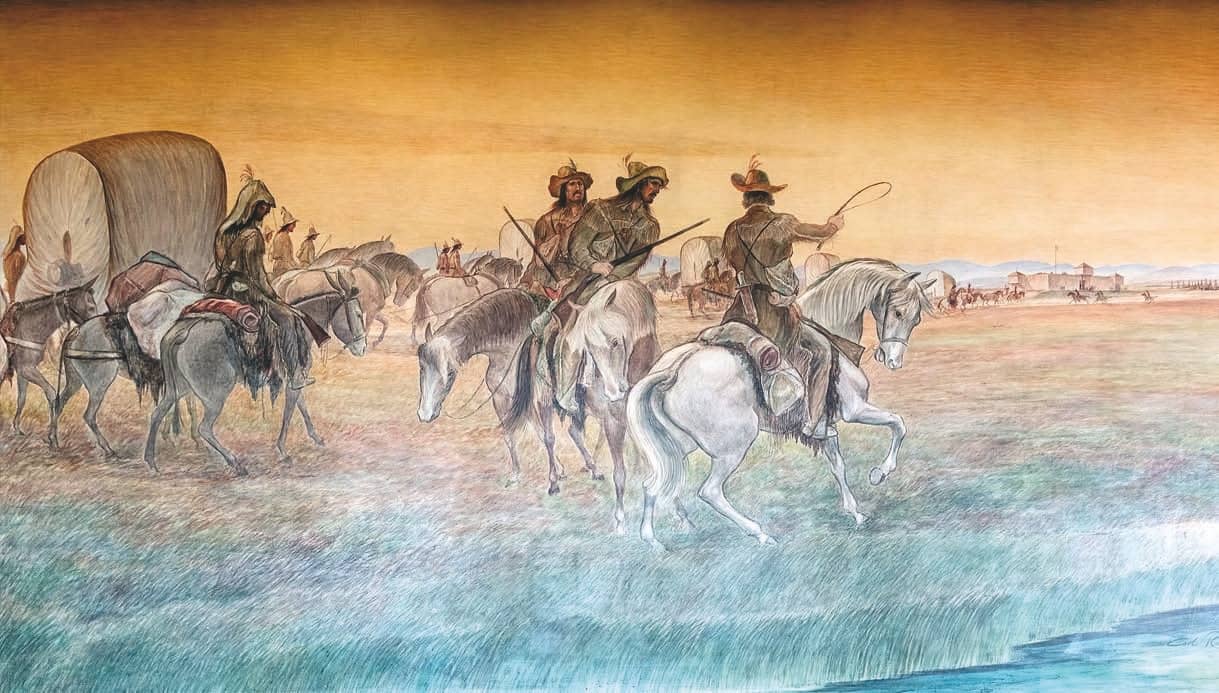 He also thought that he might go into a partnership with Robert Campbell. He discovered, though, that his Irish friend had gone home to Ireland; Robert's brother Hugh, who lived in Richmond, Virginia, informed Jed that Robert's health was failing again. He wrote to Hugh with good wishes for Robert's well-being and a fervent wish that the two friends might be together again. In the spring, he added, he would still have the capital to start a business with Robert.
Younger brothers Peter and Austin had wanted to follow 'Diah to the mountains. Another young man, J. J. Warner, came to Jed for advice on how to become a mountain man; Jed talked him out of such a pagan life. So Jed began to think of the West again—not Absaroka and Cache Valley, this time, but Santa Fe. Maybe he could explore the possibilities of trade with the Mexican provinces.
He missed the mountains. Writing to Hugh Campbell on November 24, 1830, just a month back from the mountains, he admitted, "I am much more in my element, when conversing with the uncivilized Man, or Setting My Beaver Traps than in writing Epistles."
Continue Reading with Magzter GOLD
Log-in, if you are already a subscriber
Get unlimited access to thousands of curated premium stories and 5,000+ magazines
READ THE ENTIRE ISSUE
December 2019
The Life And Legend Of Wyatt Earp
True West
Passion Wins The Day
True West
Death Of A Mountain Man
True West
Six Guns & Sluggers
True West
Jesse James And The Road To Gallatin
True West
Classic Western Art Rules The Day
True West
Another Bad Man Gone To Hell
True West
True West Presents An Inside Look At Maynard Dixon's American West
True West
The Last Days Of Kate & Doc
True West
Jeddah's Changing Economic Landscape Boosts Corporate Meetings And Events
Global Traveler
Kevin Smith: How Jay And Silent Bob Changed His World
Innovation & Tech Today
New Evidence Shows LBJ Ordered Killing Of JFK!
National Enquirer
Interspecies Ethic
Metropolis Magazine
Pentagon Hands Microsoft $10B 'War Cloud' Deal, Snubs Amazon
AppleMagazine
Hotel Oklahoma
Guitar World
The Tech Is Advanced, But 'Gemini Man' Is Lifeless
AppleMagazine
A Podcast for Shred Heads, Wax Heads, Kooks and Barnies
Surfer
Missing Pieces
Niner Report
.44 S&w Special: The Beginning - Cartridge Board
Handloader