Kimmel Eshkolot Architects have designed The Check Point Building for the Faculty of Computer Sciences and science-oriented youth at the Tel Aviv University in Israel.
What immediately stands out is its exterior envelope. Created using parametric modeling, the pixel-glass design immediately recalls images on a computer screen, expertly representing what the building stands for.
Using Rhino software, the architects decided first on a polygonal-shaped skin, before smoothening it out to form a curve. Points were then marked to determine the location of each pixel, after which the placement of the windows was decided.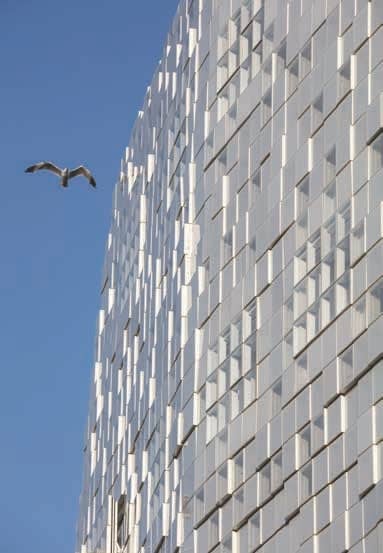 This shell was developed specifically for the project, yet going so far as to take the edge off what would otherwise be a heavy, monolithic building. At the same time, it creates the illusion that it is continually changing depending on where it is viewed.
Five types of 40 x 40 cm glass panels make up the skin, anchored to the building. This was necessary to cater to the different levels of transparency and reflectivity required by its occupants.
With Grasshopper software, the architects defined the level of transparency that each window receives on the building, according to five levels of transparency available.