Inspired by the organic shapes found in the Negev desert, Israel's Ramon International Airport is a futuristic mirage in an ancient place of passage.
From the air, this new airport in southern Israel looks like a mirage in the middle of the austere Negev desert.
Craggy sandstone mountains tower in the distance, as the vivid white roofs of the terminal buildings reflect light like a body of water and the gently meandering lanes of the parking lot mimic the curves of the existing river delta.
Completed this year, the Ilan and Asaf Ramon International Airport is a 1,250-acre greenfield project.
Replacing the decommissioned Eilat Airport, the airport has a 3.6km runway and is expected to handle 4.25 million domestic and international passengers annually.
The terminal's futuristic façade is composed of tilted triangular panels and 3,200m2 of glass curtain walls, based on a minimalist design concept of carved geometries.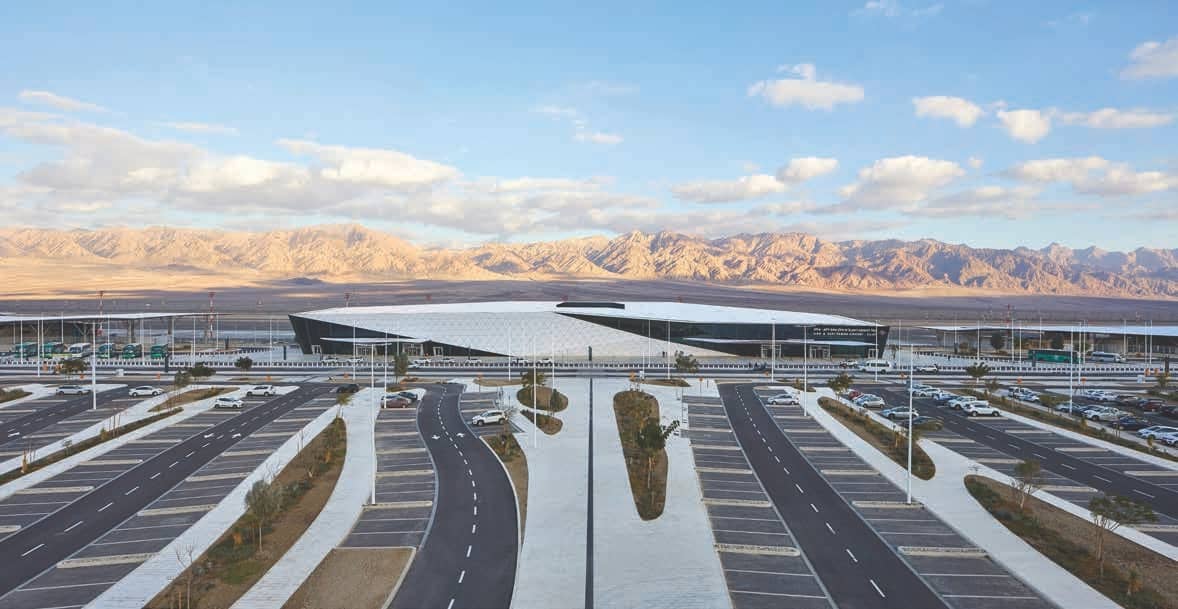 "Our chief inspiration was the ever-developing world of aviation within the context and timelessness of the site's desert location," says design manager architect, Amir Mann.
"We didn't try to compete with the overwhelming emptiness of the site, rather study its shapes and transform them into a language of design for an airport, minimal and unique – a seemingly futuristic mirage."
Ramon Airport is located in Timna, 18km north of Eilat and the Red Sea in the southernmost tip of Israel, which has also strongly informed its design.
"This desert valley was a place of passage of the Hebrews from Ancient Egypt north to the land of Israel," says Mann.
"One can imagine that during this journey, someone dreamed of flying like a bird. Presently the Ramon Airport allows the passage of individuals living thousands of kilometres away into this same ancient valley."
Continue Reading with Magzter GOLD
Log-in, if you are already a subscriber
Get unlimited access to thousands of curated premium stories and 5,000+ magazines
READ THE ENTIRE ISSUE
Issue 111
THE TECH PRODUCT DESIGNER
d+a
THE EXPERIENCE DESIGNER
d+a
MONOLITHIC, MONOCHROMATIC, MEDIATORY
d+a
2020 Lexus RX - A Head-Turning SUV
d+a