Iraqi-born British architect Zaha Hadid produced wildly futuristic designs that pushed back the boundaries of what was impossible in architecture.
Zaha Hadid needs no real introduction. One of the world's most lauded architects, she was the first woman to win the Pritzker Prize, the Stirling Prize, and the Royal Gold Medal, and by the time of her death in 2016 had become a household name.
Born in Baghdad in 1950, Hadid didn't believe in straight lines or rectangular forms. She created wildly futuristic designs that grabbed your attention, held it, and forced you to re-evaluate the very nature of architecture.
"Zaha liberated herself and architecture from regular geometry and pre-established orders in architectural design," says Nabyl Chenaf, dean of the School of Architecture, Art and Design at the American University in Dubai. "Pre-established orders that were mainly dictated by technology or the absence of technology capable of producing unconventional form.
"Some called her the 'queen of the curve', the more technical ones would qualify her design as deconstructivist, and others would simply hesitate between sculpture and architecture. But all agree that she managed to move design out of its comfort zone, pushing creativity further and further every time she designed a new building."
Hadid's ambition was to create fluid space. An ambition that increasingly relied on computers and algorithms to free her from the constraints of gravity. She also sought to reinterpret the spaces we occupy. "Architecture does not follow fashion, political or economic cycles – it follows the inherent logic of cycles of innovation generated by so-cial and technological developments – and buildings must evolve with new patterns of life to meet the needs of its users," Hadid told Forbes in 2015.
"What is new in our generation are the much greater levels of social complexity and connectivity. With over 50 per cent of the world's growing population now living in cities, contemporary urbanism and architecture must move beyond the outdated 20th century architecture of square blocks and repetition towards architecture for the 21st century that manages the increasing complexities, dynamism and densities of our lives today.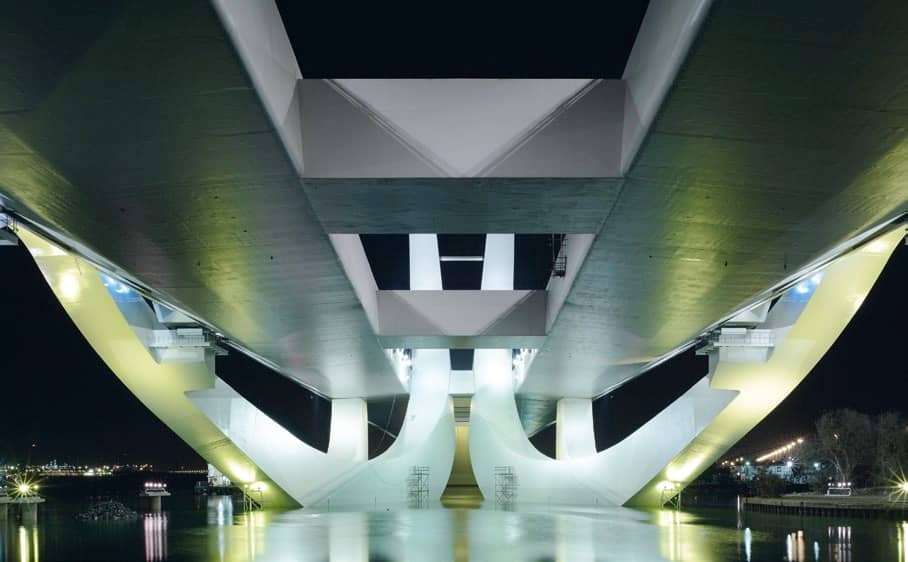 "Consequently, my work is operating with concepts, logic and methods that examine and organise the complexities of our lives today. People ask, 'why are there no 90 degrees in your work?' This is because life is not made in a grid. If you think of a natural landscape, it's not even and regular – but people go to these places and think it's very natural, very relaxing. I think that one can do that in architecture."
Not that Hadid didn't do angular work. On the contrary, many of her most famous designs are defined by the use of sharp angles. The heavy volumetric massing of the Contemporary Arts Center in Cincinnati; the polygonal block of the WU University Library in Vienna; or the MAXXI Museum in Rome, which Hadid viewed as "an immersive urban environment for the exchange of ideas." All helped to transform our idea of the future by utilising visionary spatial concepts.
Continue Reading with Magzter GOLD
Log-in, if you are already a subscriber
Get unlimited access to thousands of curated premium stories and 5,000+ magazines
READ THE ENTIRE ISSUE
November 2019
Pioneering The Modern Woman
Emirates Woman
Meet The Man Behind Huda Beauty's Smile
Emirates Woman
Looking Back Is The Future Pop Suicide
Emirates Woman
J.Lo Wins Milan. Fashion Comes Second
Emirates Woman
10 Minutes With: Paul Andrew
Emirates Woman
Up Close With Mackinley Hill
Emirates Woman
The Good Fight
Emirates Woman
Sustainable Sparkle
Emirates Woman
Spotlight On:
Emirates Woman
How To Be More Sustainable In Your Everyday Beauty Regime
Emirates Woman
Zhang Xiaogang Shares His Relationship With The World Through His Paintings
International Artist
Plastic Pile-Up
Muse Science Magazine for Kids
Zhang Yong: The King Of Hotpot
SME Magazine Singapore