Concept Stores: Bringing Innovative Ideas, Experiences To Indian Malls
The concept store is, by definition, a place where new ideas are put together in a bid to enhance the shopper experience and sell more products. In addition, many concept stores offer experimental elements such as a café or exhibition space, enhancing their appeal to those shoppers seeking a particular lifestyle…
The Indian retail real estate market is hugely influence by the West and hence, it won't be wrong to say that the shopping mall culture in India is a gift from the West. The design of the mall, events organised by the mall, zoning – retail, dining, entertainment, play areas, activity zones – are all inspired by malls in American and European markets. When studying malls in terms of themes, technology and digitalisation, India look towards the West in a bid to understand, learn and implement similar ideas in malls in India.
One great idea which India took from the west and moulded according to Indian consumer demands, was the 'concept store'.
What are Concept Stores?
In layman terms, a concept store is a store which offers something unique, aside from just bring an outlet which sells items. They are stores which surprise the customer and grab his attention using the façade, the theme, the visual appearance, the lighting, ambiance and even the products. They make their consumers curious by acting as inspirational spaces where one can discover new products and places making it an aspirational lifestyle platform.
The concept store is, by definition, a place where new ideas are put together in a bid to enhance the shopper experience and sell more products. In addition, many concept stores offer experimental elements such as a café or exhibition space, enhancing their appeal to those shoppers seeking a particular lifestyle.
With the explosion of e-commerce on the retail scene, malls are improvising to rake in the footfalls by re-imagining and re-engineering themselves as 'Consumer Engagement Spaces'. They are investing in experiential retail through the introduction of concept stores.
The traditional Indian concept store is a shop that sells a carefully curated selection of products that connect to an over-arching theme, philosophy or lifestyle. Usually, these stores have a certain target audience and mostly they handpick the products on sale from multiple brands and designers based on what might appeal.
Concept stores have all sorts of different lines from fashion to homeware, so that customers can adopt the lifestyle in an all-encompassing way. Most brands in shopping malls prefer lifestyle concept stores, which are usually natural extensions of the brand. Meanwhile, concept stores with a message for society can be found more commonly on high streets.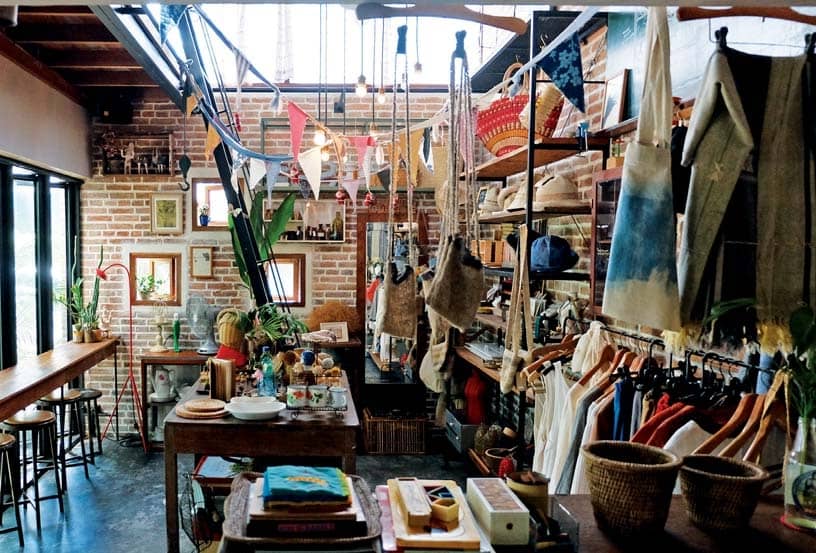 Role of Concept Store in Malls
Concept stores are still in an experiential stage in India. Some brands are experimenting by dedicating a small area of the shop to put up a theme-based conceptual display with different lighting and visual effects. This is done mainly to collect feedback and responses from shoppers for upcoming products/ campaigns and themes. In a way, it is space that stands out from the rest of the brand's retail portfolio.
For other retailers, concept stores are a response to external pressures including customer habits and online shopping. The change in shopping behavior of the Millennials is one of the reasons that stores are changing itself.
"Consumer shopping habits are evolving rapidly, and so the retail industry is looking out for options to innovate beyond the four walls. Now brands have started re-imagining and innovating physical stores by creating spaces where the virtual and physical world collide, that leads to experience focused retail, which will generate more attention and customer walk-ins. Concept stores add value and create a buzz. We all agree to the fact that in the times we live in, even the most eye-popping store needs to revamp itself from time to time to keep consumers interested. This dynamism might explain why shopping malls are now seeing a growing number of 'concept stores'," says Shibu Philips, Business Head, LuLu Mall.
"Concept stores add a lot of drama and excitement to a shopping centre and a much-needed flavour to the entertainment quotient as well. New theme-based stores and merchandise are dotting the mall and acclimatising to changes every month or planning the theme according to the box office calendar. For instance, when the movie Avengers was released, the store owners came up with the related merchandise to attract the customers. In fact, every now and then, they are pulling out something new to maintain the footfall," says Gurvineet Singh, COO, Viviana Mall.
Continue Reading with Magzter GOLD
Log-in, if you are already a subscriber
Get unlimited access to thousands of curated premium stories and 5,000+ magazines
READ THE ENTIRE ISSUE
August 2019
Malls & Warehousing: Chennai Cracks The Code
Shopping Centre News
Shopping Malls In Turkey On The Radar Of Asian & Arab Investors
Shopping Centre News
KW Delhi 6: An Essence Of 'Freedom Shopping'
Shopping Centre News
Indian Malls: Selling Experiences To Engage Consumers
Shopping Centre News
Viviana Mall Increases Rooftop Solar Installation Capacity
Shopping Centre News
Tracking Investments In The Indian Retail And Real Estate Sector
Shopping Centre News
Malls Awe Visitors With Installations That Are Works Of Art
Shopping Centre News
MALLS HIRE MANAGEMENT TEAMS FOR END-TO-END CONSUMER EXPERIENCE SOLUTIONS
Shopping Centre News
INDIAN REITS – WHERE THEY ARE NOW (AND WHERE THEY NEED TO GO)
Shopping Centre News
HAPPY PLANET: DESIGNING BEST FEC EXPERIENCES FOR CONSUMERS
Shopping Centre News