FECS Come Into Play As Tier II Malls Turn Community Hubs
Even as shopping malls strive to lure and retain customers with a huge blend of shopping, fun, food and activities, the big bag of retail brands with just a couple of dining options thrown in is no longer sufficient enough. This is where the concept of FECs comes into play. To script a radical change in the business viability of organised retailing, consumer connect is imperative and to fuel this change, a substantial amount of exposure is being allocated to FEC zones in malls...
Tier II and tier III cities are undoubtedly the future growth engines of the country. The rise in internet penetration, influence of social media and growing disposable incomes of the new generation have essentially ushered in an era of commerce, resulting in a mall boom in India.
Such is the growing mall culture in India that 34 new shopping malls, covering 13.6 million sq. ft. area are expected to come up in top eight cities by the year 2020. However, with the growth of e-commerce and m-commerce, malls understood the need to reinvent themselves in order to offer more than just retail to bring in and retain the modern consumer. This was especially essential in Tier II cities, where the penetration of Internet meant people could access brands that could not physically reach them.
Today's Tier II consumer is as evolved, educated and well-travelled as anyone living in a metropolitan city. He's demanding and has a high disposable income. To cater to him, new malls being constructed in smaller cities are allocating substantial square footage to Family Entertainment Centres (FECs).Maximising on digital technology, these malls are improving upon customer engagement to stimulate footfalls as a business strategy to boost sales.
IMAGES Shopping Centre Bureau talks to some top Tier II malls and developers to understand their FEC policy...
D N REGALIA MALL, BHUBANESWAR
D N Regalia Mall, a promising addition to the shopping centre landscape in Bhubaneswar, is all set to launch a benchmark in customer experience by adding an FEC zone. "FEC plays a crucial role in every shopping mall. It acts as a definite crowd puller for kids, who in turn bring their families to the mall with them. Our FECs are designed in a childfriendly manner and thus families tend to flock around our mall," says Siddharth Nayak, Vice President, D N Regalia Mall.
"We are now planning to bring in the biggest FEC player of the country, Smaaash, an initiative of Sachin Tendulkar and Virat Kohli, to our mall. This first-of-its-kind venture in Odisha includes a contract signed with 40 international cricketers," he adds. Another attraction by the mall is a huge VR roller coaster ride. Nayak says the most interesting feature of this ride is that visitors can any random design and the coaster will drive them in a similar path – a novel concept in as far as FEC rides go.
For parents with small kids, the mall has built dining options next to the kids' zone, so parents can catch their breath and enjoy a bite while watching their children play. The mall is coming up with a complete floor that offers a 10000 sq.ft. micro-brewery, a Cyber Hub-like concept called Food Hub with six top fine-dine restaurants. "The mall – which is a mixed-use development – will see the first Taj hotel opening up in the city. Vivanta Bhubaneswar will comprise 137 well-furnished guest rooms and other features,
including multi-cuisine restaurants, recreation facilities, modern meeting spaces, well-equipped conference rooms and 4 banquet halls and five fine dine restaurants. It is slated to open in September 2020," he stated.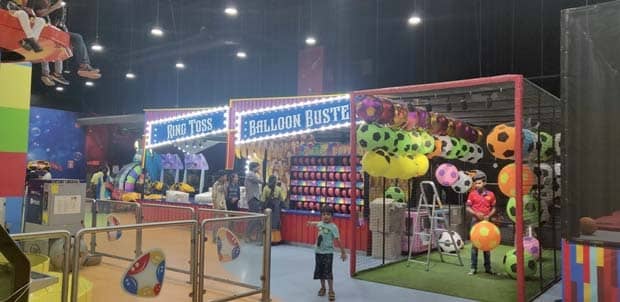 VIVIANA MALL, THANE
For the residents of Thane, Viviana Mall is a great community hub. An FEC has been part of Viviana's culture since it opened doors to consumers in 2013. The mall has achieved steadily increasing footfalls, shopping spends and overall retail turnover over the years and having an FEC zone has only enhanced and contributed to its growing brand value.
"The mall culture has been prevalent in India for just about two decades now. Having said that in these two decades the entire industry has survived a lot. While 2007-2008 saw a surge in the number of malls, the onset of recession did impact the mall and retail sector in early 2008. Only the players who understood that malls need to graduate from just being a shopping centre to an experience zone survived the test of time. This was a key factor which made FECs play a significant role in revolutionising the Indian mallscape," explains Manoj K Agarwal, CEO, Viviana Mall.
He says that a combination of digitisation, rapid urbanisation, rise in disposable incomes and changes in the lifestyle of the middle-class and the malls understanding their existence was more as providers of experiences that went beyond just shopping, is what has made malls successful today.
"We at Viviana, gauged this trend through in-depth market research and launched itself with ample amount of options in its Fun and Entertainment formats. Thus, making Viviana a destination mall in the true sense," he further adds.
Continue Reading with Magzter GOLD
Log-in, if you are already a subscriber
Get unlimited access to thousands of curated premium stories and 5,000+ magazines
READ THE ENTIRE ISSUE
August 2019
Malls & Warehousing: Chennai Cracks The Code
Shopping Centre News
Shopping Malls In Turkey On The Radar Of Asian & Arab Investors
Shopping Centre News
KW Delhi 6: An Essence Of 'Freedom Shopping'
Shopping Centre News
Indian Malls: Selling Experiences To Engage Consumers
Shopping Centre News
Viviana Mall Increases Rooftop Solar Installation Capacity
Shopping Centre News
Tracking Investments In The Indian Retail And Real Estate Sector
Shopping Centre News
Malls Awe Visitors With Installations That Are Works Of Art
Shopping Centre News
MALLS HIRE MANAGEMENT TEAMS FOR END-TO-END CONSUMER EXPERIENCE SOLUTIONS
Shopping Centre News
INDIAN REITS – WHERE THEY ARE NOW (AND WHERE THEY NEED TO GO)
Shopping Centre News
HAPPY PLANET: DESIGNING BEST FEC EXPERIENCES FOR CONSUMERS
Shopping Centre News