Retailers Formatting Their Way To Success
The modern age has seen a complete 360 degree in the way retail is conducted, the way retailers treat consumers whose lifestyles are continuously evolving, and who are becoming more demanding and selective in terms of products as well as services. Retailers are bowing to the shift, fine-tuning their existing formats to serve consumers better…
The concept of retail began with the evolution of human civilization. It started with barter system and took the form of commodities being sold over the counter. However, over the last 100 years, as modern retail came into being, different formats of retail got developed and new ways were found to make retail as convenient and efficient as possible for retailers and consumers alike.
The modern age has seen a complete 360 degree in the way retail is conducted, the way retailers treat consumers whose lifestyles are continuously evolving, and who are becoming more demanding and selective in terms of products as well as services. Retailers are bowing to the shift, fine-tuning their existing formats to serve consumers better.
The result – Indian consumers today have a variety of formats that serve them, from hypermarkets and department stores to exclusive brand outlets, kiosks, and shop-in-shops to name a few. All these formats vary in terms of size, location, assortment, prices, types of merchandise and the level of customer service offered, and these concepts sometimes do more for a brand than simply improve the customer experience. New store formats can help retailers build buzz around their businesses and test out new ideas.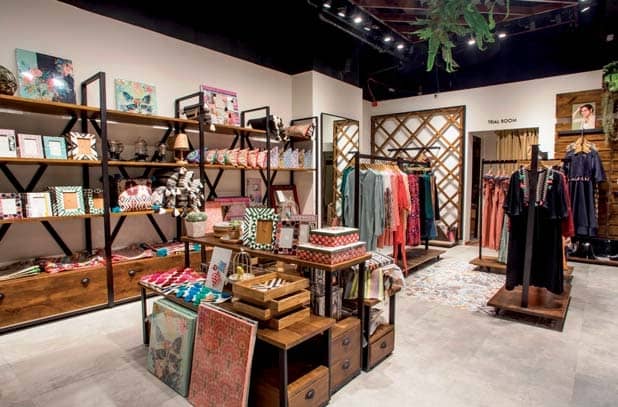 Different Store Formats
Various retail formats co-exist in India to match ever-increasing consumer needs:
EXCLUSIVE BRAND OUTLETS (EBOS): Exclusive Brand Outlets are retail outlets that sell merchandise exclusively of one brand, normally having the store name as the brand name itself. They are located either on high-streets or within malls. Products are priced at full-price except during the clearance sale period.
They offer an extensive and complete range of products ensuring enhanced brand visibility.
"EBOs assist a customer to develop a connect with the brand, something s/he will associate with the brand," states Rajinder Mattoo, Head - Sales and Business Development, Vajor.
'They give the brand a distinct identity. Merging with MBOs or departmental category formats can rob the brand of its exclusivity which the brand is trying to showcase in line with the needs of the community," he adds.
One of the major advantages that an EBO offers to a brand is that it can get direct feedback, accurately and promptly from its customers, leading to better product innovation and higher sales in the long run.
DEPARTMENT STORES: Department Stores are large stores ranging from 15,000 to 1,00,000 sq.ft. that sell a wide variety and deep assortment of merchandise ranging from apparel, cosmetics, toys to footwear, jewelry, furniture, and household goods. These stores are sectioned into separate departments such as kidswear, ladieswear, menswear and toys and so on, with each section attended to by a separate set of the trained and knowledgeable sales staff.
The industry is currently witnessing a rapid change in trends, customer preferences, and disposable income. Today, customers know more and hence, want more. Therefore, large format department stores are contributing to the overall growth by providing discerning consumers with a better selection of brands, the latest trends, and fresh fashion.
"Being a multi-brand format department store enables us to offer fresh fashion with a wide variety of national and international brands and trends across categories," says Vasant Kumar, Managing Director Lifestyle International Pvt. Ltd.
"This format allows us to provide consumers with the power of choice. With fashion consumption increasing across markets, our stores ensure that consumers have a memorable retail experience with fashion discovery at their fingertips," he explains further.
Department stores give brands exclusive spaces in the store to display their merchandise separately. Higher quality, selective merchandise, higher levels of service, smart displays of merchandise and storefronts represent the basic components of a department store.
"At department stores, multiple categories of products are provided under various brands, all at a price that is easy on the pocket but high on quality. This eases the purchasing procedure for the customer as they get various options to choose and weigh down upon," says Sharad Venkta, MD and CEO, Toonz Retail.
Continue Reading with Magzter GOLD
Log-in, if you are already a subscriber
Get unlimited access to thousands of curated premium stories and 5,000+ magazines
READ THE ENTIRE ISSUE
July 2019
Malls & Warehousing: Chennai Cracks The Code
Shopping Centre News
Shopping Malls In Turkey On The Radar Of Asian & Arab Investors
Shopping Centre News
KW Delhi 6: An Essence Of 'Freedom Shopping'
Shopping Centre News
Indian Malls: Selling Experiences To Engage Consumers
Shopping Centre News
Viviana Mall Increases Rooftop Solar Installation Capacity
Shopping Centre News
Tracking Investments In The Indian Retail And Real Estate Sector
Shopping Centre News
Malls Awe Visitors With Installations That Are Works Of Art
Shopping Centre News
MALLS HIRE MANAGEMENT TEAMS FOR END-TO-END CONSUMER EXPERIENCE SOLUTIONS
Shopping Centre News
INDIAN REITS – WHERE THEY ARE NOW (AND WHERE THEY NEED TO GO)
Shopping Centre News
HAPPY PLANET: DESIGNING BEST FEC EXPERIENCES FOR CONSUMERS
Shopping Centre News