Technology: Shaping The Future Of Malls
The world has also seen a transition in the way consumers shop at the mall - with retailers giving suggestions to shoppers on what to buy, dictating the success of the store based on their personal needs. To satisfy these burgeoning customer needs, not only retailers but malls are also embracing technology to reach modern shoppers…
The dynamics of the Indian retail industry are rapidly changing post liberalization. The industry, which was once dominated by unorganized mom-and-pop stores, is transforming into an organized body and subsequently, India is witnessing a mall boom. The rise in Internet subscribers and active social media users, changing lifestyles and increasing disposable incomes have transformed the rural and urban consumer bases alike. This dynamic resulted in the increasing prominence of malls across the country.
The world has also seen a transition in the way consumers shop at the mall - with retailers giving suggestion to shoppers on what to buy, dictating the success of the store based on their personal needs. To satisfy these burgeoning customer needs, not only retailers but malls are also embracing technology to reach modern shoppers.
Over time, technology has transcended from an aspiration to an expectation and has wedged itself securely between consumer and experience to create an everyday interface. While it has definitely made life easier for consumers, mall developers in India have spent the better part of the last few years on their heels, finding tech solutions.
In order to be more competent, malls are putting their best foot forward to embrace emerging technologies. With increasing cut-throat competition, it has become the need of the hour for mall developers to innovate and implement cutting-edge technologies in a bid to lure the customer who was shifting to e-commerce due to convenience and vast choice.
Malls today are using technology in various ways – from putting up smart displays to digital directories, interlinking the entire mall with an app, booking parking spots, offering discounts, mapping customer behavior, keeping a track record of how consumers to shop and what they buy and a lot more.
Malls in Tier I and metro cities have already started implementing technologies in a big way, however, small malls in Tier II and III cities and beyond are still analyzing the pros and cons of experimenting with new technologies.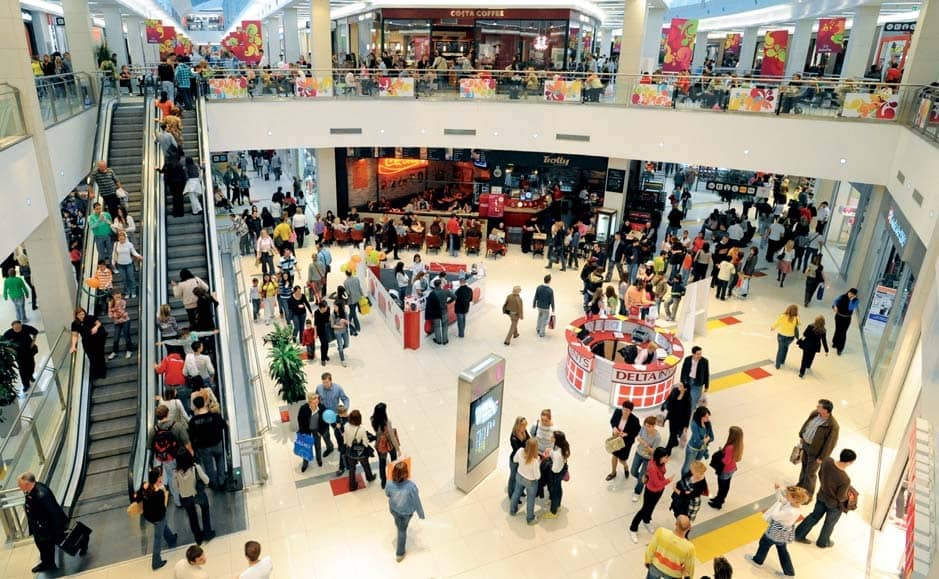 Focus on Retaining Customers
How to capture a customer's data, his demographic and psychographic profile, his shopping behavior, connect with him regularly based on the data captured and engage him/ her to bring to the mall, are questions that the malls are trying to get answered scientifically, analytically and effectively through technology.
Additionally, malls are focusing on another set of factors like nearly zero turnaround time, smooth information flow across levels with point precision, quality and well-maintained asset base with basics in place, a good mix of brands and offerings, etc.
Technology has proved a boon in monitoring store performance, category performance and the center performance at the same time. More importantly, such information is readily available to the mall officers to enable a forward-looking plan to enhance consumption and brand performance.
Continue Reading with Magzter GOLD
Log-in, if you are already a subscriber
Get unlimited access to thousands of curated premium stories and 5,000+ magazines
READ THE ENTIRE ISSUE
June 2019
Malls & Warehousing: Chennai Cracks The Code
Shopping Centre News
Shopping Malls In Turkey On The Radar Of Asian & Arab Investors
Shopping Centre News
KW Delhi 6: An Essence Of 'Freedom Shopping'
Shopping Centre News
Indian Malls: Selling Experiences To Engage Consumers
Shopping Centre News
Viviana Mall Increases Rooftop Solar Installation Capacity
Shopping Centre News
Tracking Investments In The Indian Retail And Real Estate Sector
Shopping Centre News
Malls Awe Visitors With Installations That Are Works Of Art
Shopping Centre News
MALLS HIRE MANAGEMENT TEAMS FOR END-TO-END CONSUMER EXPERIENCE SOLUTIONS
Shopping Centre News
INDIAN REITS – WHERE THEY ARE NOW (AND WHERE THEY NEED TO GO)
Shopping Centre News
HAPPY PLANET: DESIGNING BEST FEC EXPERIENCES FOR CONSUMERS
Shopping Centre News
Holidays Bring Phishing Scam Surge Aimed At Small Business
Techlife News
Complacency A Concern As Aids Treatment Improves In Africa
Techlife News
European Space Agency Gets More Funds, Also For Moon Mission
Techlife News
Huawei Moving US Research Center To Canada
Techlife News
Video Game Maker To Pay $10 Million In Gender Bias Case
Techlife News
UK Election Is Full Of Dirty Tricks And Political Clicks
Techlife News
Deadly Defect Found In Another Version Of Takata Airbags
Techlife News
Microsoft Shareholders Defeat 2 Activist Proposals
Techlife News
10 Ways To Flourish In The Winter
Better Nutrition
Burdock Root
Better Nutrition