Eric Sands of Atelier Lusso is optimistic about his new partnership with Greg Hardy of Hardy Penwrights. The two bespoke, artisan pen makers have completed work on a two-pen partnership that, together, sees both halves of the proverbial glass.
In June 2019, Atelier Lusso and Hardy Penwrights completed production of The Optimist fountain pen. Limited to only three fountain pens, The Optimist is an oversize writing instrument composed of Elforyn Super Tusk (a premium ivory substitute), Conway Stewart Stardust Blue acrylic accents, a crushed opal inlay center band, and nickel silver trim. The clip, hand made by Hardy, features a nickel silver vine and bronze leaf motif. In a sign that Hardy and Sands's optimism was not misplaced, the three Optimist pens have already sold.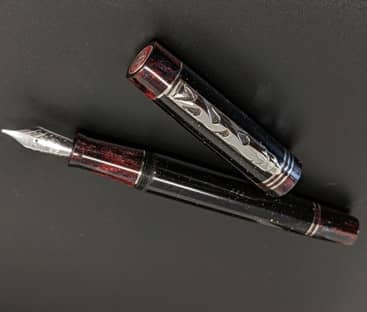 Of course, for every optimist there is a pessimist, and in this instance, The Pessimist is another fountain pen. The ten numbered, limited edition Pessimist fountain pens are also a collaboration by Sands and Hardy, this time featuring custom-made Diamondcast materials from Tim McKenzie. The black Diamondcast acetate of the body has subtle red undertones and multicolored holographic sparkles. The finials and section are composed of blackand-red swirled Diamondcast.
Barrel and cap rings are composed of nickel silver, while the cap crown logo is composed of sterlin