Individually, each is a force to be reckoned with. Together, Arpita and Paramjit singh are one of the most-celebrated art couples in the country.
It's one of those rare early winter mornings when the sky is clear and the sun is happy to breathe in a blue sky. As we tiptoe into the room, strewn with paintings and the 'armory' needed to etch out the extraordinary from life's rigmarole, we notice a petite figure leaning on the table drawing intently. Hearing the footsteps, the lady lifts her gaze from the drawing paper. This is 80-year-old Arpita Singh, beaming with a child-like innocence and exuding peace. The highly-acclaimed, top-selling woman artist best known for "Wish Dream" is unperturbed by sales numbers. "I am used to not selling," she laughs. As we drift into a light conversation, Paramjit Singh, an accomplished artist and her husband, who was one year her senior in college, strolls in. Now they live together but work separately. "I have been thrown in that corner," he laughingly points at his studio. The power couple of the art world comes across as an unassuming pair of artists. To be constantly in the full glare of publicity cuts no ice with them. Even as Arpita is one of the best Indian woman artists, there wasn't any major media and marketing buzz that went around when she sold "Wish Dream" at a breathtaking 9.6 crore as compared to the earlier sales of much younger and newer artists who sold their works at a much lesser price.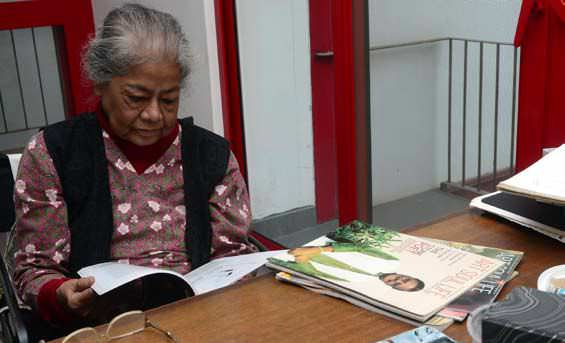 Continue Reading with Magzter GOLD
Log-in, if you are already a subscriber
Get unlimited access to thousands of curated premium stories and 5,000+ magazines
READ THE ENTIRE ISSUE
Feb - April 2018
Power: Gabriel Debenedetti
New York magazine
Life With Françoise Gilot
New York magazine
It's Complicated: Josh Gondelman
New York magazine
Kaia & Pete GETTING HOTTER!
Star
From The Cut: Talk The Talk
New York magazine
KANYE'S ULTIMATUM IT'S ME OR THE SHOW
Star
Everybody's Fine
New York magazine
JUSTIN BETRAYS JESSICA!
Star
Donald Trump's Other Lawyer
New York magazine
Holiday Lights, Ice and Action
Where Boston