Doodlage: Up-Cycling Ad Re-Construction From Waste
A blend of sustainable and exclusive high street fashion, Doodlage merges innovative designs with sustainable techniques of clothing to create chic and eco-friendly fashion. Doodlage re-designs, re-constructs and re-cycles old clothing or industrial waste to create something that is totally new and interesting. Each of their up-cycled garments are unique and stand out with their design, cut and colour. Kriti Tula, Head Designer, Doodlage Retail LLP, talks to the Images BOF team about the innovative techniques being employed by the brand.
IBoF: Tell us a little bit about your philosophy of your up-cycling old items and what values does it seek to propagate?
Kriti Tula (KT): Doodlage works to create unique, environment friendly products, which are high on style. I had my 'bigidea' moment, during a student internship at a large export house. I wondered if the mounds of fabric discarded due to miniscule variations in pattern design or colours, could be put to better use. Step by step, through multiple up-cycling based projects and industry experience, both in India and abroad, and a talented team working tirelessly with me, I turned up-cycling into a bold new statement. Everything at Doodlage is made with love; every piece we make is exclusive and unique.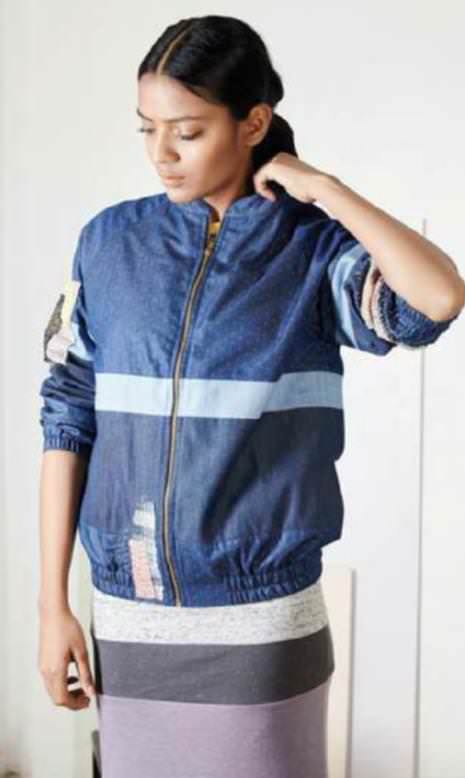 IBoF: Why do you think no waste philosophy is important for the world? What steps do you take to ensure that eco-friendliness is maintained at your end in the process of recreating or reconstructing the product apart from the fact that you were using something which was previously wastage and would have not been ecofriendly?
Continue Reading with Magzter GOLD
Log-in, if you are already a subscriber
Get unlimited access to thousands of curated premium stories and 5,000+ magazines
READ THE ENTIRE ISSUE
July 2017
Tommy Hilfiger
Business Of Fashion
Ted Baker
Business Of Fashion
Chaitali Giri
Business Of Fashion
Sugar Candy A Tale Of Love & Luxury
Business Of Fashion
Biba Girls Setting Trends In Ethnic Wear
Business Of Fashion
Doodlage: Up-Cycling Ad Re-Construction From Waste
Business Of Fashion
Jacqueline Fernandez Launches
Business Of Fashion
Patagona Doing It Right All The Way!
Business Of Fashion
Huntsman And Clariant
Business Of Fashion
Roadster Pioneering Experiential Retail In India
Business Of Fashion
Vibrant India
Global Traveler
'I Believe'
Mysterious Ways
India's New Unicorns
strategy+business
El derecho a estar segura
National Geographic en Español
A Home For The Holidays
Mississippi Magazine
The Life Of Transgender
Creative Gaga
The Kingdom Of Passion
Creative Gaga
Independent Illustrator In India
Creative Gaga
Samunnati
Heartfulness eMagazine
A Silent Revolution In The Heartland Of India
Heartfulness eMagazine