Vajor- A Distinctive Identity
Vajor is a refreshing break from the monotony of this industry. A youthful brand created solely to bridge the gap between run of the mill ready-to-wear and high fashion, the brand aims to build a community of independent, mature and free spirited people who are non-conformists and driven individuals. In an exclusive interview with IMAGES BoF, Founder and CEO Nathasha AR Kumar speaks about the concept behind the brand, its positioning, commitment to sustainability and more.
IBOF: Tell us in short about Vajor — the concept behind it, it's genesis and core strength: Nathasha Kumar (NK): "A brand for the independent minds, the kind hearts and the nomadic souls." We live and breath this very motto. Vajor came into being in 2014 with a very clear concept in mind. Observations revealed how the market is filled with either off-the-rack clothing or luxury couture. And there is a wide valley in between these two. It was high time somebody built a bridge!
As an e-commerce women's wear fashion and lifestyle brand, we have a very specific goal. We deliver sustainable fashion and decor to consumers with an assurance of unmatched quality, fair price, comfort, modesty, international appeal and superior aesthetics.
IBoF:Tell us about the V-Blog and the concept behind it. What percentage of consumers that come to the site navigate to the blog? And had there been times when people have navigated from the blog to a specific product? Are the bloggers in-house?
NK: Content is the new social currency and thus, an extreme amount of creativity and technicality goes into developing a visual picture that does justice to the brand and its commodities. Everything that goes onto the blog is governed by a unified language and every written word, image or video we create embodies that language. We believe our community is about people who are doing immensely more than just fashion. And so, the stories we narrate on the blog all talk about various aspects of our consumer's lifestyle. We often tell stories of a muse on the blog. This muse is not only a true Vajor consumer in her personality but she is also a medium through which we can connect to our target market.

An average of 20 percent website visitors navigate to the blog. Our blog has a "Shop The Look" segment with every post that guides our readers to particular products featured on the blog as well as related products. We have a dedicated content team that builds strategies and creates blog posts. These blog posts talk about the latest collections, fashion and decor trends, travel and lifestyle, etc.
IBoF:What is your brand USP and its target audience. How do you differentially position your brand vis-a-vis others that serve the same consumer segment?
NK: Our USP is that we launch a new collection every month, keeping with the fast pace of this industry and eliminating the barriers of seasonal fashion. The online fashion market is growing with every passing day and what sets us apart is our ability to deliver an experience along with an impressive product.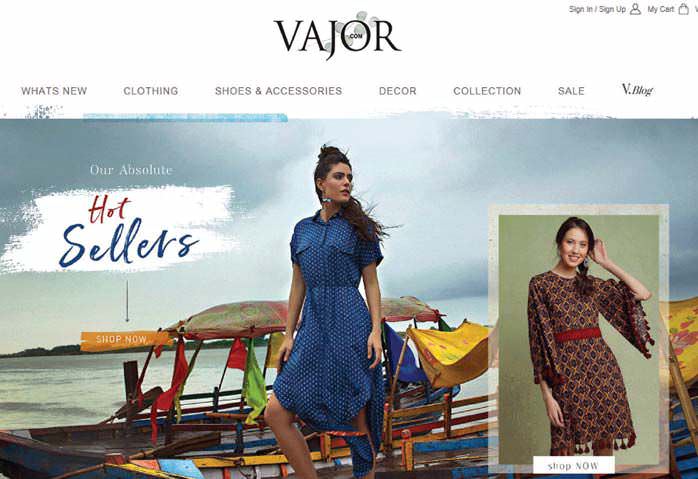 Our target audience comprises of modern, independent, mature and confident cosmopolitan individuals in the age group of 25-40 who fall into the SEC-A group.
The brand has its own identity which is about being organic and rooted in its approach. We are aware of the concerns of our consumers and are providing them fashion that is body friendly and a platform which is trustworthy. Our monthly collections set us apart from other brands who are mostly doing 3-4 collections in a year. This way, we give our consumers the best of their fashion demands without being monotonous.
Continue Reading with Magzter GOLD
Log-in, if you are already a subscriber
Get unlimited access to thousands of curated premium stories and 5,000+ magazines
READ THE ENTIRE ISSUE
June 2017
Tommy Hilfiger
Business Of Fashion
Ted Baker
Business Of Fashion
Chaitali Giri
Business Of Fashion
Sugar Candy A Tale Of Love & Luxury
Business Of Fashion
Biba Girls Setting Trends In Ethnic Wear
Business Of Fashion
Doodlage: Up-Cycling Ad Re-Construction From Waste
Business Of Fashion
Jacqueline Fernandez Launches
Business Of Fashion
Patagona Doing It Right All The Way!
Business Of Fashion
Huntsman And Clariant
Business Of Fashion
Roadster Pioneering Experiential Retail In India
Business Of Fashion
UNATHI NKAYI'S GHANA
Forbes Africa
Love, Blood & Death
TVPlus - English
The cost of sin
TVPlus - English
The End Of A Fairytale
Drum English
Home Experience Comes Alive At Nitin Kohli
Visual Merchandising and Retail Design
Buried Truths
TVPlus - English
The Nature Of Luxury
House and Leisure
Lovers And Haters
TVPlus - English
Return Of The King
TVPlus - English
Learning, Love, Self-worth & Empathy
CULTURAMA