Know this: There's more to eating at mezza9 than simply enjoying an excellent meal. Thanks to its open show kitchen concept – Singapore's first-ever when it was first unveiled in 1998 – the restaurant's unique multi-sensory experience allows you to witness mezza9's talented chefs as they showcase their culinary skills! Beyond that, you can rest assured that the food served is sustainably sourced. Learn more about what makes mezza9 one of the very best restaurants in Singapore.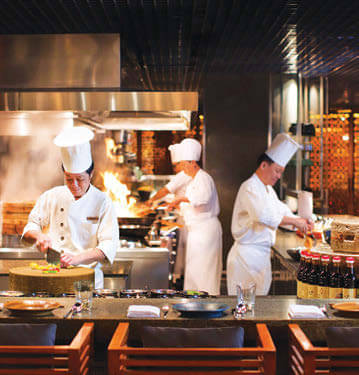 Multi-Culinary Delights
From its set lunch menu (from $35) to the indulgent Sunday Brunch ($158 and up) featuring more than 100 items, mezza9 serves haute cuisine and comfort classics from the world over. Favourites include its Western and Thai grill, fresh sushi and sashimi – carefully handcrafted by its in-house chefs – as well as its plentiful patisserie offerings and holiday-themed treats from Mid-Autumn mooncakes to Thanksgiving pies, Christmas cakes and more!
Looking for a space to host a corporate event or party? Its martini bar (a.k.a., The Party Room) has more than 30 creative and classic martinis, and offers 40-plus different gins. (Bonus: The bar boasts one of Singapore's longest happy hours, from 3 to 9 p.m., and starting at $14 a drink!) If you're more a wine connoisseur, why not book a tasting session or group meal within its wine cellar room, which contains more than 10,000 bottles!