Folk dances of India
The Teenager Today
|
August 2020
India is acclaimed internationally for its rich cultural heritage which is being maintained for centuries together, and is known for its unity in diversity, as we have several States with varied traditions and customs which have been practised for generations.
The country has different classical dances, folk and tribal dances that reflect our cultural heritage and history.
In all the 29 States of India, different folk dances are performed during any religious or social occasion. The word "folk" means people, hence folk dances are for the people, by the people, and of the people, meant to symbolise unity and peace. Though there are many folk dances and tribal dances in India, I am enlisting only some of the most popular dance forms.
Bhangra
Bhangra dance originated from Punjab and is performed on festive occasions like Baisakhi, and other social occasions. Bhangra is normally performed by men and they are attired with colourful lungi, kurta, jacket and a majestic turban on the head. It is performed with a lot of enthusiasm, zeal and typical zest for life for which Punjabis are well known. The dance is based on Punjabi folk music that portrays varied aspects of life.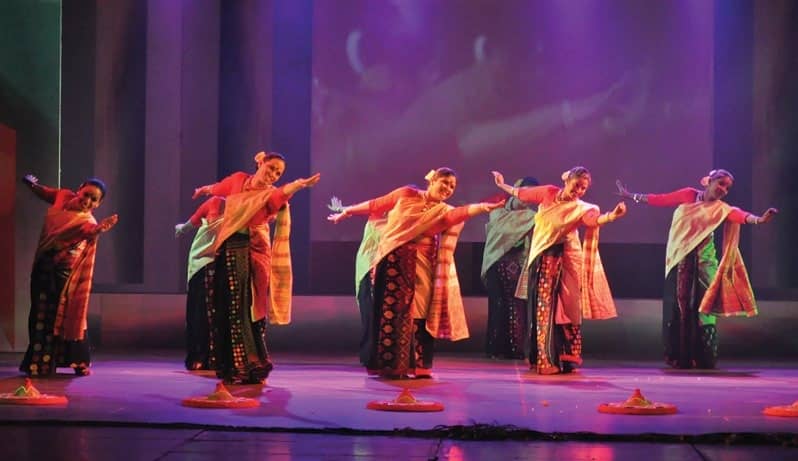 Bihu
Bihu is a graceful folk dance from Assam performed by young women with typical movements of the shoulder and the hands kept on the torso while dancing and moving in uniformity creating a fine spectacle. It is performed on different occasions for peace and harmony. The women are elegantly and comfortably dressed in sarees so that they can move and dance with ease.
Chhau
You can read up to 3 premium stories before you subscribe to Magzter GOLD
Log in, if you are already a subscriber
Get unlimited access to thousands of curated premium stories, newspapers and 5,000+ magazines
READ THE ENTIRE ISSUE
August 2020