Best Foot Forward
Woman's Era
|
September 2019
A memorable hike.
Some journeys don't require a road, just a willing heart. That is how this journey began.
A statutory warning, "All those who plan to stay away from addiction, read the article with caution. It is likely to cause a craving and may ultimately lead to addiction!"
My co-sister Malavika and I are of nearly the same age. As we both entered the fifth decade of life, some inner compass shifted. The unfulfilled dreams kept popping in our heads more frequently. We decided to live life a little more adventurously, before it became too late. Our decision was to do a trek in beautiful mountainous surroundings. We started scouting around for information and managed to find a reputed trekking company. The next task was to narrow down the choice of trek based on the difficulty level. We decided on the Kareri Lake trek.
This lake is nestled approximately 10,000 feet above sea level in the Dhauladhar range of mountains in Kangra District. The trekking period was scheduled for three days and associated with a difficulty level of Easy without snow and Medium if snow is there. We agreed on a schedule in April and started getting ready for it. Our husbands were unable to join us because of their work commitments, but they really motivated us to live our dreams. Secretly we were happy about going ahead without our spouses.
It gave us more liberty to spread our girly wings! We even contacted a few of our friends whom we thought would be interested in this trip.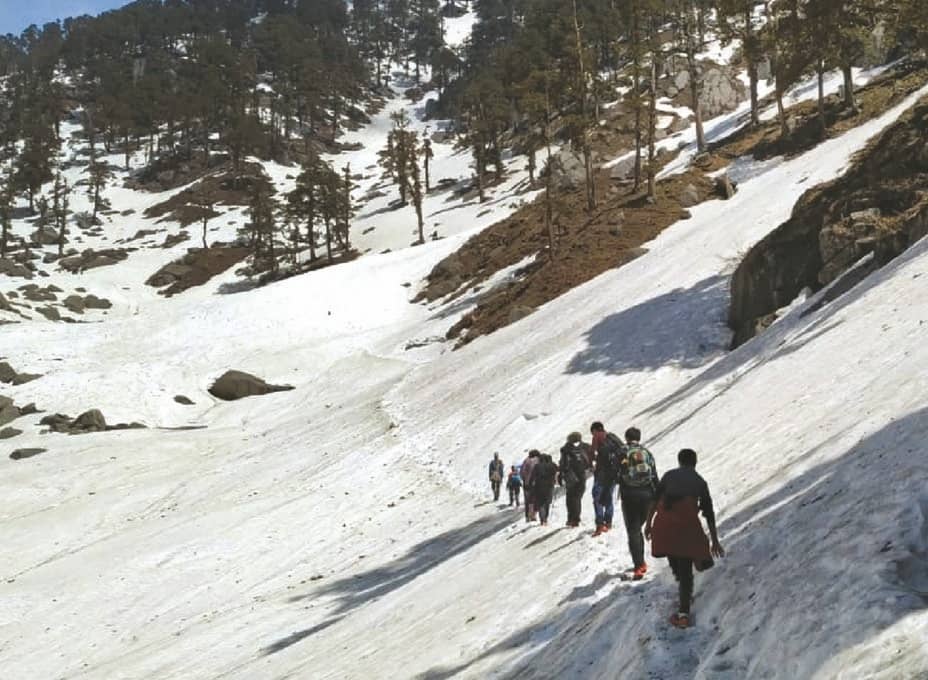 Preparation now started at three levels. The first aspect was the logistics of booking the trek, the reservations to reach Dharamshala from where the trek would commence, and the return journey. Since time, effort and money was being spent to reach Dharamshala, we decided to spend a day before the trek enjoying Dharamshala and McLeodganj.
After the trek we planned to extend our holiday by a day in Yol. The second aspect was to buy the required trekking shoes, hiking pole, high UV index sunglasses etc as per the forwarded list from the trekking organisation. The third part was the most difficult one and that was to build the fitness level commensurate with the planned activity. For me it became a round of yoga, gymming, walking, cycling and swimming. Each day, I tried to vary my fitness regime so that various groups of muscles could get activated. It would have been highly embarrassing to put in all that effort and money and be unable to complete the trek due to low fitness levels!
The day finally dawned for us to start our trip. Just before boarding the train from Delhi to Pathankot, one of the friends who we had been contacted, confirmed her presence at the trip. That was indeed a happy bonus. Next morning we reached. Pathankot, picked up our friend and took a taxi to Dharamshala, where we checked in to our guest rooms. The sight of the mighty Dhauladhars, covered in snow was indeed very mesmerising. The day was happily spent exploring the monasteries, Bhagsu falls, Bhagsunath Temple, the charming cafes, Dharamshala cricket stadium, war memorial, tea gardens and Kangra Art Museum. We decided not to tire ourselves out before the trek and enjoyed a relaxed evening with each other.
DAY 1
We reached Dharamshala bus stand and were picked up from there at 10 am. We were introduced to the other trek members. It was a very heterogeneous group of nine members along with two trekking guides. We were five ladies as compared to four men! Three boys and a girl were students and besides the three of us, there was a man in his fifties and a woman in her forties. My co-sister and I were the eldest and were the "aunties" of the group. However, that turned out to be an advantage, because when the others realised that this was our first ever trek they always lent a helping hand. After a two- hour scenic drive through hills and rivers we reached Kareri village. This delightful little village at 6000 feet is at the foothills of the mountains and adorned with lush green fields. Just about to ripen wheat, wildflowers, flitting butterflies and lazily moving clouds were an engaging sight for us holidaymakers. Before the actual trek started, this was the last place for using washrooms and making phone calls. We were informed that the next three days of the trek there would be no electricity and no mobile connectivity. To us city-dwellers, it was a strange thought where mobiles had become an extension of our hands and brains. Our mobiles for the remainder of the trek would be mainly cameras and music players!
You can read up to 3 premium stories before you subscribe to Magzter GOLD
Log in, if you are already a subscriber
Get unlimited access to thousands of curated premium stories, newspapers and 5,000+ magazines
READ THE ENTIRE ISSUE
September 2019