Mum's C-Section Horror I Felt Every Slice Of The Scalpel!
Woman's Day Magazine NZ
|
October 28 2019
The experience was like 'being butchered'
When it comes to pain, new mum Samantha Howard has a high threshold – but nothing could have prepared her for feeling every slice of the surgeon's scalpel in a desperate bid to save her baby daughter.

It's been more than three months since Samantha and husband Ethan welcomed their darling twins, son Levi and daughter Madison.

The sweet cherubs, conceived after the heartache of infertility and hormone assisted treatment, are the apple of their doting parents' eyes, bringing joy and love into the young couple's Waikato home in rural Reporoa.

And despite being born three weeks early, they're already ticking off milestones, melting their dad's heart with smiles and giggles when he comes home after a hard day at work in the local forests, and sleeping through the night, much to their busy mum's delight.

What's more, they even have different birth dates, with Levi born just before midnight on July 6 and Madison following 32 minutes later in the early hours of July 7.

But it's their dramatic delivery at Rotorua Hospital that sets these twins apart, their brave mother having to endure an unthinkable horror – feeling every cut of the surgeon's knife and every stitch as she was sewn back up when anaesthetic failed to numb her pain during a Caesarean section.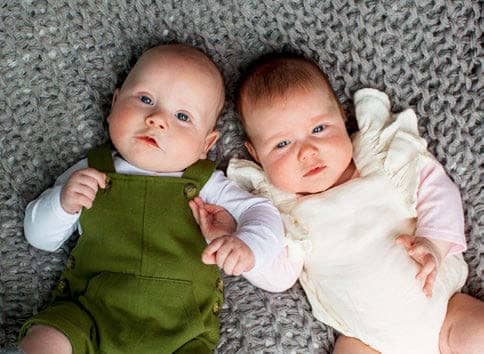 Still recovering from the trauma, the 24-year-old shepherd tells Woman's Day the pain was so bad, she desperately pleaded with the surgical team to put her under a general anaesthetic.
"I felt most of the cutting and stitching, but even with my crying and screaming they didn't stop and wouldn't knock me out. It felt like I was being butchered. I had four top-ups of my epidural and I still felt everything."
Lying prone on the operating table, suffering unspeakable agony, the unfolding complications were a far cry from the dream plan of a natural delivery the first-time mum had mapped out.
Excited at the prospect of becoming parents after trying for more than three years, the birth started off on a rough note when an attempt to put in an epidural struck a nerve, sending Samantha's leg flying into the air.
You can read up to 3 premium stories before you subscribe to Magzter GOLD
Log in, if you are already a subscriber
Get unlimited access to thousands of curated premium stories, newspapers and 5,000+ magazines
READ THE ENTIRE ISSUE
October 28 2019