Mistletoe Moments
Woman & Home
|
December 2019
There's something about the festive season that brings out the romantic in all of us. We meet three couples who fell in love at Christmas
Stephanie Clarkson And Jenny Stallard
A DECEMBER DATE
JULIA MOWBRAY, 45, lives in Newcastle with son Max, 10, while Matthew Williams, 45, is dad to Gracie, 11, and son Gabe, eight. They met last Christmas through online dating.
Last Christmas was the loneliest of my life. Following my divorce, I had spent a year on the dating scene and I was exhausted and disillusioned. I must have gone on over 100 dates during that time and had given up on the idea of ever meeting anyone with whom to have a meaningful, lasting relationship – let alone a man with whom I could plan my future.
I'd tried all the online dating sites but there was never any chemistry and some of the dates were disastrous: there was the date who took me out to dinner and spent the whole night weeping about his ex. There was another who told me in no uncertain terms he didn't find me 'aesthetically pleasing'.
But the saddest date of all came on Christmas Eve 2018. My son was with his dad so all I had to look forward to was an evening in front of the TV, then at the last minute, a guy I'd been out with a couple of times in the summer contacted me. Things had fizzled out because he'd been mid-divorce but he called and said, 'You're lonely. I'm lonely. Why don't we spend Christmas Eve together?'
So, I got dressed up, headed for the pub and waited. Finally, he turned up, announced 'I can't do this, sorry', turned tail and left. I was devastated. Surrounded by the happy faces of couples, friends, and families out celebrating, I sat and cried into my glass of wine. I rang a friend and told her that was it, I was done with dating, but she urged me to give it one last try.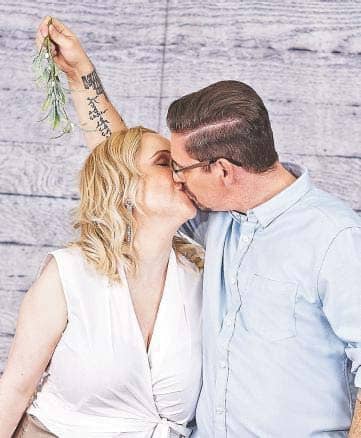 So, on the evening of 28 December with my friend's words in my mind, I went on to a website called Plenty of Fish – and up popped Matthew. We began messaging. He asked how my Christmas had been and because I felt so fragile I told him the sorry story of being abandoned on Christmas Eve. Usually, I would never have opened up like that, but Matthew – who is very emotionally open – understood. We talked for hours that night and over the next couple of days, and he said, 'I can't change your Christmas, but maybe I can change your New Year?'.
You can read up to 3 premium stories before you subscribe to Magzter GOLD
Log in, if you are already a subscriber
Get unlimited access to thousands of curated premium stories, newspapers and 5,000+ magazines
READ THE ENTIRE ISSUE
December 2019