Festive BAKES
Woman & Home
|
Christmas 2019
Delicious sweet treats – and those with special dietary requirements have no need to miss out…
Spiced tree-shaped biscuits
The addition of ground spices to the dusting of icing sugar makes all the difference to these festive favourites
Makes 25, depending on size
• Ready in 20 mins, plus chilling
225g unsalted butter, softened
150g icing sugar, plus extra for dusting
1 large egg, beaten Grated zest of ½ unwaxed lemon 350g plain flour, plus extra for dusting
¼tsp freshly ground nutmeg
½tsp mixed spice Pinch of salt
FOR DUSTING:
100g icing sugar
1tsp ground cinnamon (ideally freshly ground)
½tsp freshly ground nutmeg
1 Beat together the softened butter and icing sugar in a large bowl, until light and fluffy. Gradually add the beaten egg, mixing well until smooth. Add the lemon zest and mix again.
2 Sift the plain flour, nutmeg, mixed spice and a pinch of salt into the bowl and mix until smooth. Shape the mixture into a disc, wrap in cling film and chill until firm. Line 2 baking sheets with greaseproof paper and set aside.
3 Lightly dust the work surface with plain flour and roll the dough out to a thickness of 3mm. Using tree-shaped cutters stamp out biscuits and arrange on the prepared baking sheets. The number of biscuits you can make will depend on the size of your cutters. Chill for 20 mins and preheat the oven to 180C, Gas 4.
4 Bake the biscuits in the oven for 10-12 mins or until pale golden. Once cooled, dust with icing sugar spiced with cinnamon and nutmeg. Per serving: Cals 162, Fat 8g, Sat Fat 5g, Carbs 21g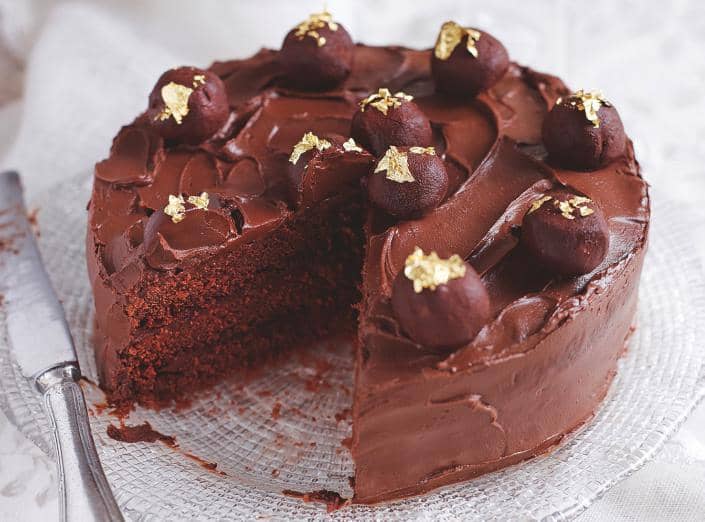 Chocolate truffe cake
A rich chocolate cake everyone can enjoy – it's vegan and gluten-free
Serves 12 • Ready in 1 hr 15 mins, plus chilling
325g gluten-free plain flour
6tbsp cocoa powder, plus extra for the truffes
250g caster sugar
250g light muscovado sugar
2tbsp gluten-free baking powder
2tbsp cider vinegar
2tsp vanilla extract
400g tin coconut milk
400g good-quality vegan dark chocolate, broken into chunks
3tbsp raspberry jam Edible gold leaf
1 Preheat the oven to 180C, Gas 4. Sift the flour and cocoa powder together in a bowl and stir in the sugars and baking powder.
2 Stir the vinegar and vanilla together with 500ml water. Then, slowly beat the wet mix into the flour to make a batter. Grease and line 3 x 20cm sponge tins with baking paper. Pour â…" of the batter into each tin and bake all three sponges for 25-30 mins, until firm but springy in the centre. Leave the cakes to cool in the tins.
3 To make the ganache, pour half the coconut milk in a pan and heat until almost boiling. Take off the heat and stir in the chocolate until melted. Stir in the rest of the coconut milk. Divide the ganache between 2 bowls and chill in the fridge. Leave one bowl for 8 hrs or overnight to set very firmly; remove the other bowl 2 hrs before needed, so it's at room temperature.
4 To assemble, spread the cakes thinly with a little jam and then a little of the softer ganache. Place the cake layers on top of each other and spread the remaining ganache over the top and sides with a palette knife.
5 To make the truffes, scoop up 1tsp of firm ganache at a time, drop it into some cocoa powder and roll into a ball. Repeat. Decorate the cake with the truffes and gold leaf, if using. Per serving: Cals 531, Fat 17g, Sat Fat 11.5g, Carbs 86g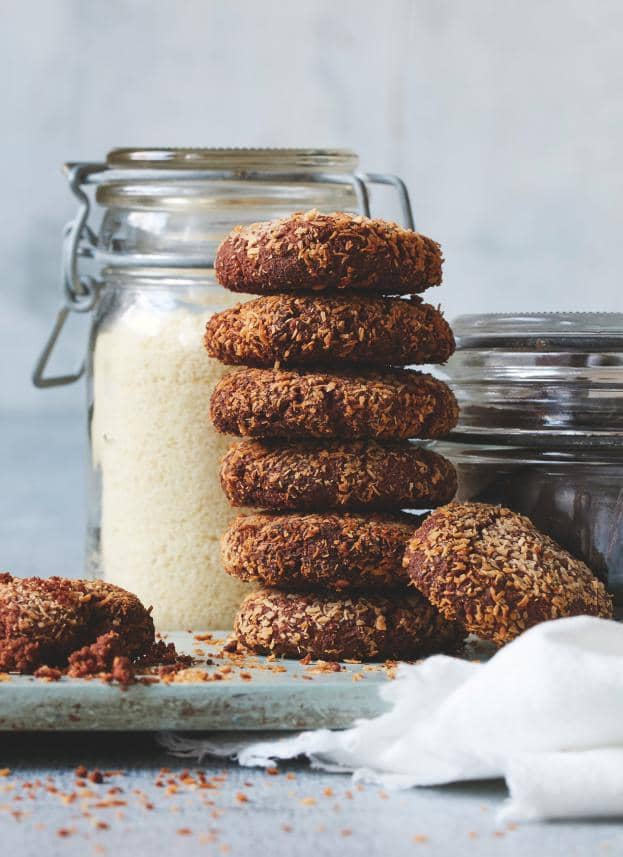 Gluten-free chocolate biscuits
There's no added sugar in this recipe – chocolate adds all the sweetness you need
Makes 15 • Ready in 30 mins, plus chilling
1 egg
50g ground almonds
100g Doves Farm gluten-free plain flour
2tbsp double cream
75g unsalted butter
1tsp vanilla extract
75g dark chocolate, melted, but cool
50g chopped roasted hazelnuts
45g desiccated coconut
You can read up to 3 premium stories before you subscribe to Magzter GOLD
Log in, if you are already a subscriber
Get unlimited access to thousands of curated premium stories, newspapers and 5,000+ magazines
READ THE ENTIRE ISSUE
Christmas 2019