The most special bond
WOMAN'S OWN|April 13, 2020
Kaitlin Burge, 29, shares the reality of childhood cancer – and how it affects the entire family
FRANCES LEATE, SOPHIE NORRIS
The photo of my three-year-old son, Beckett, leaning over a toilet, his tiny body frail, his head bald after chemotherapy, isn't easy to look at. But it's not just a photo of sadness, it's full of love, too. Because, there, standing next to Beckett, is his sister, Aubrey. At just four years old, while she might not have fully grasped the enormity of what our family was going through, she knew her brother was sick. And as I watched her, standing there, gently rubbing his back, whispering 'you'll be OK', I had to capture the moment, not just to reveal the brutal reality of childhood cancer, but in the hope that, one day, I'd be able to show that photo to both of them and remind them of their incredible bond.
With just 14 months between them, they'd always been close – Aubrey was the one who'd coaxed Beckett to crawl, walk, then swim.
But their antics changed overnight. A few months earlier, in April 2018, I'd gone upstairs to get them both up for breakfast – but pulling the duvet off Beckett, I'd noticed his chest was covered in red bumps. By the time I'd got him, Aubrey and my youngest, Chandler, six months old, to the doctor's later that day, Beckett was running a fever.
His GP suspected an ear infection and sent us home with antibiotics, but days later when Beckett became more lethargic, me and my husband, Matthew, 30, dropped Aubrey and Chandler at my mum, Bridget's, and took him straight to hospital, where doctors confirmed he had pneumonia in his left lung.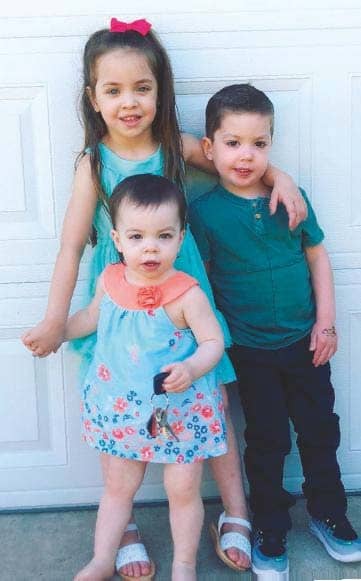 I was already terrified when just hours later blood tests confirmed Beckett had acute lymphoblastic leukaemia, a type of blood cancer. Before Matthew and I could take it in, doctors started moving Beckett into an ambulance and he was rushed to Dallas Children's Hospital to start chemotherapy immediately, with us following behind in the car.
You can read up to 3 premium stories before you subscribe to Magzter GOLD
Log in, if you are already a subscriber
Get unlimited access to thousands of curated premium stories and 5,000+ magazines
READ THE ENTIRE ISSUE
April 13, 2020