ONE PUNCH killed both my boys
WOMAN'S OWN
|
October 26, 2020
For Christine Jones, 58, the haunting memories are bittersweet
FRANCES LEATE, ANN CUSACK
Walking clothes around the floor rebelliously. 'It's my side of the room, so what are you worried about?' he'd snap back.into the spare room, I gave the windowsill a dust and started pulling off the bed sheets. I'd just had my grandson, six, to stay but, as I changed the bedding, it wasn't echoes of his laughter I could still hear, but the giggles of my two sons, Andrew and Chris. Sitting on the bed, I looked up at Andrew's framed football posters. But as it always is, my smile was soon replaced by overwhelming sadness, knowing their laughter would never again bounce off those walls.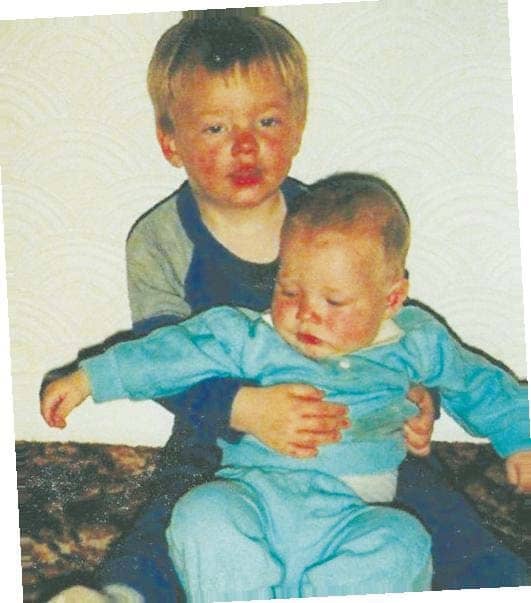 Andrew and Chris had shared the room growing up. When Andrew was 14, and Chris 12, my husband, Andy, and I would hear them laughing from the living room downstairs as they watched endless episodes of Laurel and Hardy.
It felt like yesterday, the way they'd be giggling one minute and squabbling the next. 'Tidy your side,' Andrew would bark at Chris, who'd roll his eyes and kick his
Chalk and cheese
Eventually, Andy would get fed up with the thuds on the ceiling as they wrestled it out, marching upstairs. 'Cut it out boys,' he'd groan, prising them apart. There was only 19 months between them, but the boys were like chalk and cheese. Andrew, shy and reserved; Chris, cheeky and stubborn.
Chris loved winding Andrew up, and Andrew got his revenge by always sticking his little brother in goal when they played football. 'But you can't play,' Andrew would tease as Chris stood on the field, arms folded, his face screwed into a frown.
Despite their bickering, we were a big, happy family, with three daughters, too – Adele, then 20, Jeanette, 17, and Laura, 11.
You can read up to 3 premium stories before you subscribe to Magzter GOLD
Log in, if you are already a subscriber
Get unlimited access to thousands of curated premium stories, newspapers and 5,000+ magazines
READ THE ENTIRE ISSUE
October 26, 2020