My life was a LIE
WOMAN'S OWN
|
August 03, 2020
Her mum was determined her secrets would die with her, leaving Nicki Field, 51, with a decades-long search
Knocking on the door of the London terrace, I felt breathless with excitement. After decades of searching for my biological father, I was about to meet the man I was certain was his brother – my uncle. 'This is it,' I thought as he welcomed me inside. 'I've finally found my family'. Yet, within a week, that illusion had been completely shattered, and all I'd uncovered was yet more of my mother's cruel lies.
Looking back on my childhood, it's hard not to feel resentment. Born in October 1968, I was my mother Christine's eldest child and, from an early age, I realised our relationship wasn't like the sweet, tender friendship between most mothers and daughters I knew.
Our home was a war zone as my parents drank alcohol and argued constantly, while my mum was emotionally and physically abusive. By 1974, I had two younger sisters, and, struggling with three little girls, Mum became even worse, and we tiptoed around her for fear of saying the wrong thing and triggering a violent rage.
I was treated differently from my two sisters, though. Whenever we went to my maternal grandmother's house for Sunday dinner, their plates would be piled high with meat, potatoes and vegetables, while I was told there wasn't enough meat for me.
My family's cruelty towards me never made sense until, when I was a teenager, I overheard my dad, during a row, saying he wasn't my real father.
'Who is my real dad?' I asked Mum timidly, later, terrified I'dspark an angry outburst.
To my surprise, Mum gave me a name, telling me he lived in London.
Lying in bed that night, I whispered my biological father's name over and over, trying to conjure an image in my mind. I told myself he'd come and rescue me and we'd have a perfect life. But, being the early 80s, I had no way of tracking him down, so I was left just dreaming we'd soon be reunited.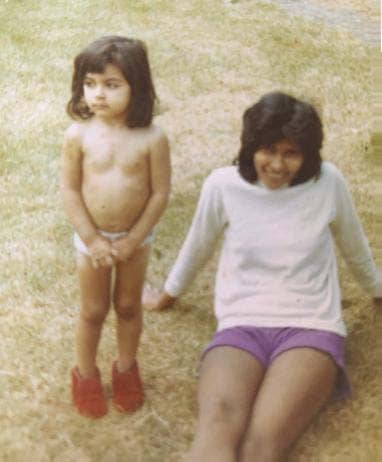 A glimmer of hope
You can read up to 3 premium stories before you subscribe to Magzter GOLD
Log in, if you are already a subscriber
Get unlimited access to thousands of curated premium stories, newspapers and 5,000+ magazines
READ THE ENTIRE ISSUE
August 03, 2020