Living an endless NIGHTMARE
WOMAN'S OWN
|
September 21, 2020
Helplessly watching her little girl suffer left Abbie Stanwix, 39, psychologically scarred
Waiting in the hospital ward, I clung tightly to my daughter, Bella-Rose, three, curled up in my lap, and exchanged anxious looks with my partner, Marc, 31, beside me. It was November 2014, and we were waiting for blood-test results as, over the past week, Bella's health had deteriorated.
She'd seemed happy and healthy 10 days earlier, when we'd celebrated her third birthday. But then she'd caught a cold, her eyes became swollen and her legs hurt. The GP told us not to worry, but when Bella developed a rash, her body covered with red pin pricks, Marc and I had taken her to the hospital. Now she was lethargic, in pain and pale.
Eventually, a nurse appeared. 'Bella's very sick. We think it's leukemia,' she said, ushering us into a private room. As a consultant explained leukemia was a form of blood cancer, and Bella needed treatment immediately, I was speechless. 'If we don't begin chemotherapy now, she might not make it through the night,' she said. Unable to comprehend the gravity of that, my arms wrapped tighter around Bella.
Neither Marc nor I outwardly expressed our devastation, conscious of scaring our little girl, but my heart shattered. 'Bella needs me to be strong,' I told myself. But one thought refused to budge – Bella could be dead by morning.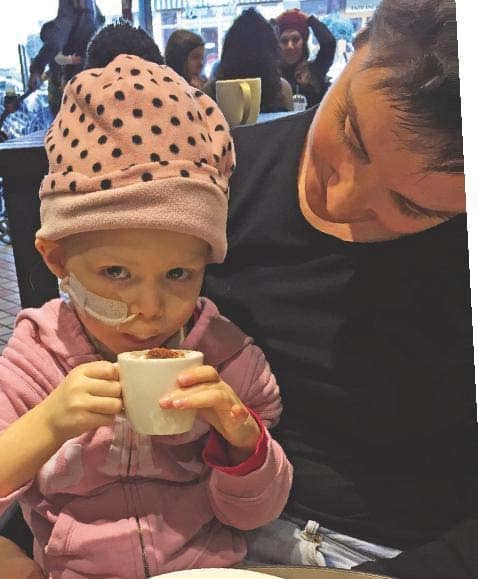 Both distraught
At midnight, we were blue lighted to London's Great Ormond Street Hospital, Marc following in the car. In the ambulance, Bella refused to let go of me and I lay on the bed as she was strapped on top of me, clinging to Bongy, her favorite brown blanket.
In the hospital, cannulas were attached to Bella's arms, feet, hands, and wrists, as nurses struggled to find an open vein. Exhausted and in pain, Bella was distraught, and I begged them to stop. 'We're trying to help her. I know it's difficult,' a nurse said.
You can read up to 3 premium stories before you subscribe to Magzter GOLD
Log in, if you are already a subscriber
Get unlimited access to thousands of curated premium stories, newspapers and 5,000+ magazines
READ THE ENTIRE ISSUE
September 21, 2020