'I hate cancer, Mummy'
WOMAN'S OWN
|
October 19, 2020
A stretch mark was the only clue Lisa Fleming, 37, had before her devastating diagnosis
Stepping out of the shower, I took one more look at the stretch mark on my left breast before asking my husband, Euan, for his opinion. Unlike most women, I wore my stretch marks like a badge of honour. A reminder that despite being diagnosed with endometriosis aged 19, making it difficult to conceive, in July 2012 I finally became a mum to a beautiful boy, Cameron.
But now, in May 2017, one mark, in particular, had been giving me pause.
Though it wasn't raised or bumpy, it seemed wider than before. 'Maybe you should get it checked out?' Euan, then 36, advised, and I was quick to book an appointment to see my GP. That way, I could ask about the searing pain in my arm and back, too.
My doctor didn't think either were anything to worry about, but I insisted on a referral until eventually I was seen by a consultant at the breast clinic at Western General Hospital, in Edinburgh. The exam was fairly straightforward at first, but then they sent me for a biopsy, and I could tell something was up. Turning to Euan as we walked back to the consultant's office, I voiced my fears. 'I've got cancer,' I told him.
'You don't know that yet,' he said – but, unfortunately, my instincts were right.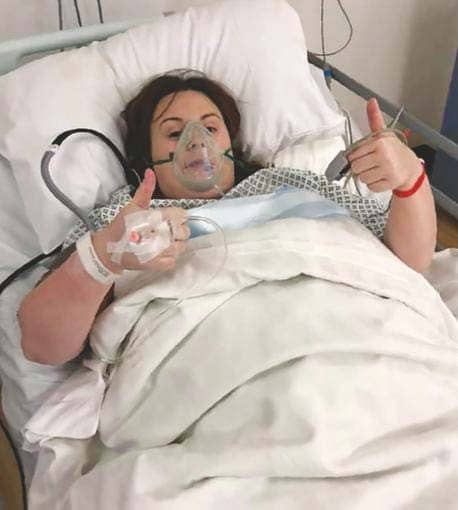 Life-changing phone call
In the days that followed, I had a number of other scans to see whether the cancer had spread. I assumed as I'd not had any 'classic' signs – no lumps or dimpling of the skin – that I'd caught it early.
Only, the radiographer asked if I'd had any headaches lately. I had, but couldn't understand what that had to do with anything, and when she wouldn't tell me why she was asking, I began to worry that they'd seen something ominous in my scans and weren't telling me.
You can read up to 3 premium stories before you subscribe to Magzter GOLD
Log in, if you are already a subscriber
Get unlimited access to thousands of curated premium stories, newspapers and 5,000+ magazines
READ THE ENTIRE ISSUE
October 19, 2020