The Metamorphosis OF MRS JONES
Sportainment host, beauty mogul in the making, entrepreneur and all-round media darling Minenhle Dlamini Jones is at the height of her game—and writing her own script while at it!
Minenhle Dlamini Jones confidently struts into the TRUE LOVE offices, looking like someone on a serious mission. Her black tailored jumpsuit, designer shades and red bottoms (Minnie's signature look) scream success. We've set the day aside to "pitch" — for lack of a better word — the visual direction for her third TRUE LOVE cover. The visual direction being the team (photographer, make-up artist, hairstylist), the styling, as well as the message we' re trying to convey to our readers and Minnie's fans. The meeting starts off a little shaky as the fashion team pull out their mood boards in an attempt to get Minnie's buy-in. Let's just say, they didn't pass! Minnie, breaks into a clear monologue of her vision to pull off a cover that would rival anyVogue Africa cover (if there ever were one). A cover, where we would see her at her most authentic – basically embodying a strong black African queen, exemplary of her self-given alias Intombi Yomzulu (that she's swiftly had to shrug off now that she is a married woman).
Fast-forward to the shoot day and I nervously drive three hours in the sweltering heat to our location. My mind is buzzing with thoughts fluctuating between, "I hope she's not angry about the long drive, we need good energies" to "damn, I forgot one thing from Minnie's hospitality rider". I'm surprisingly met by a bubbly Minnie atop a make-up chair, chatting away to the stylist and make-up artist. Thankfully, she looks calm and happy—a big relief on my side as I understand what a perfectionist she is.
So here's the backstory: Minnie and my career have met at different points – from magazine to publicity shoots, during my tenure as a stylist. On her 2014 TRUE LOVE cover shoot, I remember excitedly commissioning a New York team to capture Minnie just as she was about to take over as Mzansi's media darling. Rocking a pixie hair-cut, distressed denims and a smile that captured her fans' hearts, she looked young and innocent. The second TRUE LOVE cover in 2017 was an entirely different experience — a day I believe could have possibly broken even the most confident stylist!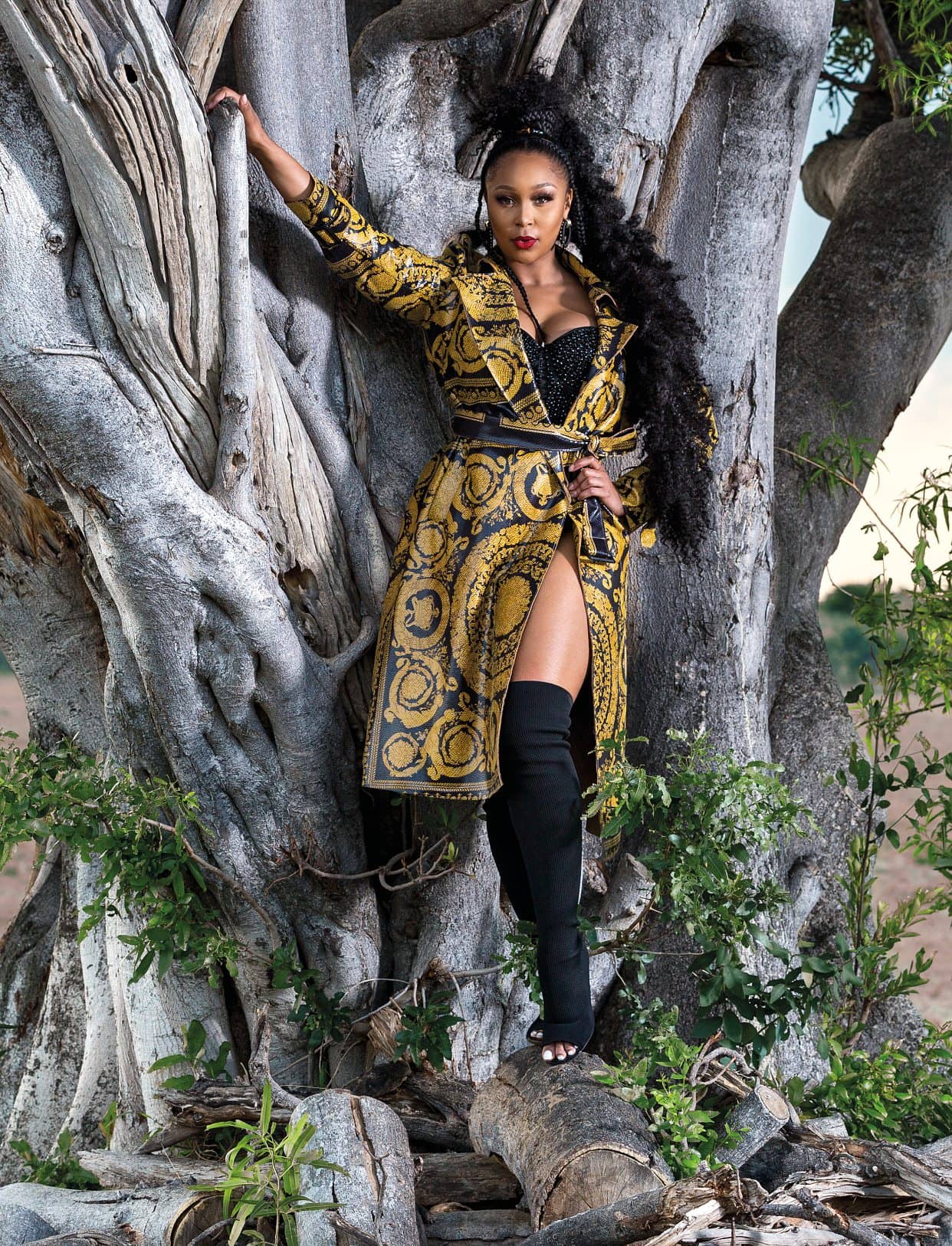 The shoot took place shortly after Becoming Mrs Jones had been flighted on TV, Minnie and Quinton Jones' three-part docu-series of their nuptials. This time around, I experienced a grown Minnie with an assertiveness that kept us on our heels the entire day. Anything that could have gone wrong did – from ill-fitting looks to re-sourcing for clothes. For this reason, I was determined to make the TRUE LOVE 2019 shoot a far better experience. Get where my nerves were coming from?
THE MRS JONES CHAPTER
You can read up to 3 premium stories before you subscribe to Magzter GOLD
Log in, if you are already a subscriber
Get unlimited access to thousands of curated premium stories, newspapers and 5,000+ magazines
READ THE ENTIRE ISSUE
February 2020