FETCHING MY LIFE… and then some
True Love|April 2020
Kick-ass broadcaster, author and allround fierce human being Unathi Nkayi on how she's rediscovering parts of herself that she'd left behind in her 20s!
I can't think of a time when being in a black hair salon didn't bring me — and, I'm quite certain, many other women too — the greatest joy. Between the ludicrous gossip, medley of accents that fill the often-cramped space and new-found confidence we walk out with (thanks to the fresh hairdos), salons can be both therapeutic and the quickest distributors of rumours. It's for this reason that I'm slightly concerned when Unathi suggests that we meet at her regular hair spot for our interview. Located in a quaint Lonehill shopping centre, the joint is surprisingly quiet — but then again, it's a weekday afternoon. The occasional white noise of the hairdryer and Unathi murmuring, "big or small" — as she hands sections of fibre to stylist Khulekani — are the only reminders that this, indeed, is a place where women's strands come for pampering.
Unathi is braiding her hair into a get-up-and-go style ahead of the Trinidad and Tobago vacation that had us camping on her Instagram page in mid-February. Hers is one of the most instantly recognisable faces, thanks to a TV, radio and singing career spanning almost two decades. Surely the idea of discussing intimate details in front of strangers, in a hair salon, did cross her mind? "Ag, why would I have a problem if all I'm going to be is honest with you? I figured whoever hears me will probably read the story anyway — which is why I'm always truthful and authentic," she explains — a justification I perceive as the epitome of freedom.
It's obvious from how Khulekani meticulously sections off the baby hairs along Unathi's hairline, careful not to pull them into the cornrow, that he is invested in her hair goals. At this point, Unathi faces the mirror to inspect if he has set aside enough to spare her hairline from any trauma. "Idols starts in March Khuli," she squeals, "I don't want to be on TV with injibhabha." This interaction alone suggests that theirs is a longstanding client-customer relationship. "Khulekani has been braiding my hair since 2001. He used to treat my locs, too, and was the one who cut them off in 2005," she shares, adding that he also does her children's hair. With a healthy and intact hairline being such a sought-after commodity among black women, I curiously enquire about her tried-and-tested hair routine. "Are you asking on or off the record," she retorts, before proceeding to share what she describes as the "unofficial hair recipe" that has kept hers solid for decades. PS: It's a pity I can't share it because she swore me to secrecy [chuckles]. "The PR answer I usually give to the 'what is the secret to your healthy hair' question is: hydration, hydration and hydration," she says in between mischievous giggles.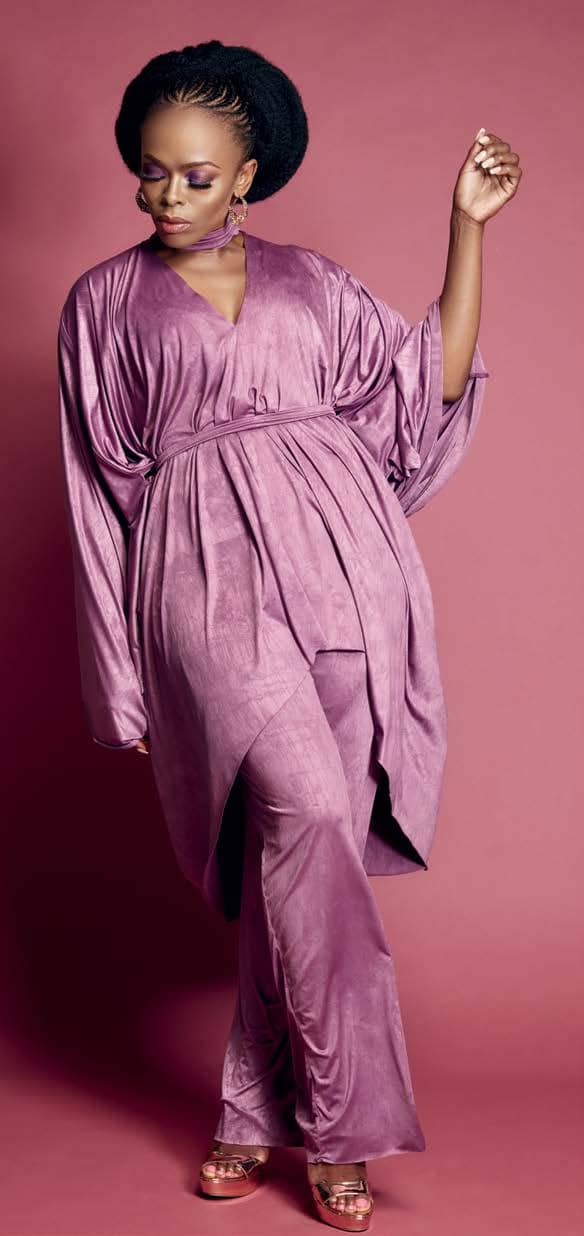 STRENGTH, AN OVERRATED TRAIT
You can read up to 3 premium stories before you subscribe to Magzter GOLD
Log in, if you are already a subscriber
Get unlimited access to thousands of curated premium stories and 5,000+ magazines
READ THE ENTIRE ISSUE
April 2020