CHASING INNER PEACE
True Love|March 2020
Renowned actress, Masasa Mbangeni, 33, gives us a front-row ticket to her personal life, innermost thoughts, pearls of wisdom, as well as the tough decisions she's made to be where she is today!
After being absent from e.tv's hit soapie, Scandal, viewers were thrilled to learn that one of television's biggest villains, Thembeka, would be returning to their screens. Everyone was excited, except for Masasa, the actress tasked with playing the role once again. Previously, her role on the show earned her the Best Actress accolade at the 2015 South African Film and Television Awards (SAFTAs). The pressure to go back was on, but the anxiety of it all almost crippled Masasa to a point where she nearly turned down the role.
RETURNING TO WHERE I'D STARTED MY CAREER REALLY RATTLED ME.
A few months ago, I got a call from Scandal, telling me that they wanted to bring my old character back. To be quite honest, I had mixed emotions about it. So much about me had changed, and I wondered if going back would do the character any good, and how it would be perceived by the public. The show had also changed since I was last there, and naturally, ​Thembeka would also have changed. During my last days at Scandal, I was personally going through emotional turmoil. That, I suppose, assisted in how I played the character. Therefore, I knew that how I approached Thembeka this time around would have to be different. I sought counsel from a number of people that I trust, including my mom, my boyfriend, and an industry friend. My boyfriend reminded me that this was the same role that I had put so much work into, got a SAFTA for, and that I was getting an opportunity to revisit. He advised me to approach the job with a sense of joy, gratitude, and peace, to have fun with it, and not put too much pressure on myself. Actors tend to be too harsh on themselves, and the pressure is even greater now with social media. I wasn't fully aware of the viewers' excitement. I think I suffer from a serious case of Imposter Syndrome (a collection of feelings of inadequacy that persist despite evident success), and was worried about how people would react. Now that the episodes have gone on air, I realise that viewers are genuinely thrilled to see Thembeka back on their screens. I'm constantly reminding myself to have fun and not worry so much about being perfect or what people will say. We're here on earth for a limited period of time, and the self-imposed anxiety that I sometimes put myself through is unneeded and unnecessary. Sometimes I'm my own worst enemy, and I'm working on stopping that.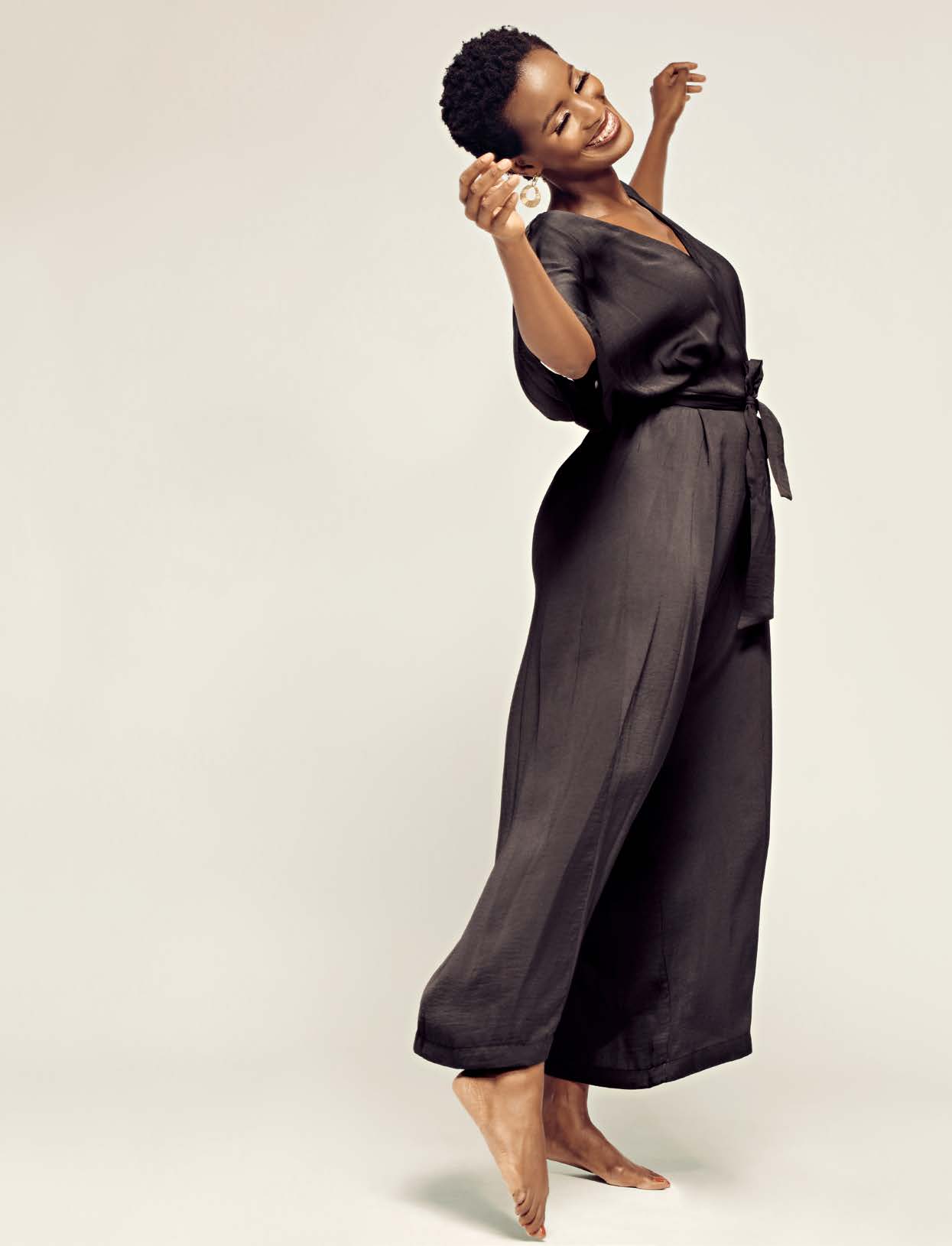 I'VE BEEN SEIZING OPPORTUNITIES MY ENTIRE LIFE.
In 2010, I completed my BA Honours Degree in Dramatic Arts at Wits University. Every year, they had a student showcasing and would invite industry professionals to watch us perform. In my final year, Theo Landey, who was the lead on Scandal, invited Michelle Burger (the show's production manager at that time). I subsequently got a call from her, asking me to visit their set. All my schooling life, we were told about how much we'd struggle finding work after school. I went to the Scandal set not knowing what to expect, other than getting shown everything I was missing out on. I got there, and was told that they'd like to make me an offer. I was elated, thinking that was finally my big moment, only to realise that I'd be a featured extra for the next two years. What that meant was that I didn't have an established role at all, and certainly very minimal dialogue. However, I was given an opportunity, so I treated it as though my life depended on it. I was the best featured extra that they'd ever seen [chuckles]!
TAKING RISKS WAS SOMETHING I HAD TO DO.
Most actors go through some of life's harshest realities before finding work, even with the highest university marks. I had never experienced life outside of a safe environment. I'd been comfortable for a long time at Scandal when I decided that it was time to leave, with no back-up plan to cushion me. I travelled the world doing theatre, climbed Mount Kilimanjaro, and did a lot of exciting things. It was quite an adventure, which wasn't always pleasant. I appreciate the privilege of being able to always make a choice. But in making that choice, it means that you accept the resulting consequences too, whether good or bad; and understanding the responsibility that comes with the ability to choose.
You can read upto 3 premium stories before you subscribe to Magzter GOLD
Log-in, if you are already a subscriber
Get unlimited access to thousands of curated premium stories and 5,000+ magazines
READ THE ENTIRE ISSUE
March 2020