A Page Out Of My Diary
2019 is fast drawing to a close. Adulting, as usual, has been kicking our behinds. This month, instead of dwelling on the negatives, we choose to revel in Pearl Thusi's travel anecdotes. The spirited actress and TV presenter waxes lyrical about the power of recovery time and the many lessons travel has taught her!
Pearl Thusi is the embodiment of being comfortable in one's skin. That she can randomly break into a twerk or dance up a storm outside an international airport, all while slowing down traffic, is classic of her. Once, during a 2013 photoshoot and interview for City Press' iMagazine, she nonchalantly slipped out of her shoot ensemble back into her own clothes — completely unbothered that she was a bra and panty away from being naked in front of a journo she had just met. At our November cover shoot — at the Cradle Moon Lakeside Game Lodge in Muldersdrift — I joke about how that 2013 incident scarred me. "Yini, do you have a crush on me?" she asks wittily, before inviting me to watch her change into the first swimsuit ensemble of the day.
When I meet Pearl for our interview the next day, she keeps interrupting her lines of thought with long animated pauses — something she does when wanting to communicate a new brainwave. And then there's the incessant requests for her manager, Yvette Gayle, to complete her sentences with words that seem to have escaped her mind at that point. I must admit that at the start of our chat, I found myself lost in the profound and self-invented quotes she kept dropping like a rapper would a smashing punchline. "I want to have an impact greater than I can fathom," she says, unprompted. She continues reflecting on this current chapter of her life: "I want the child I was to be proud of the adult I am today. The things that hurt me the most, now, are those that used to hurt me badly as a child. And the things that make me proud the most are things I wanted to become as a child. When I'm doing anything that involves ensuring that children have quality education — and subsequently a bright future — that really fulfills my soul and recharges me so that I can go back, to the world, and give some more. Anything to do with wildlife, walking my dogs or instances where I've broken the generational curses in my family also fill me up." She adds that her countless generosity was inspired by her late mom, who always sought opportunities to help out those in need.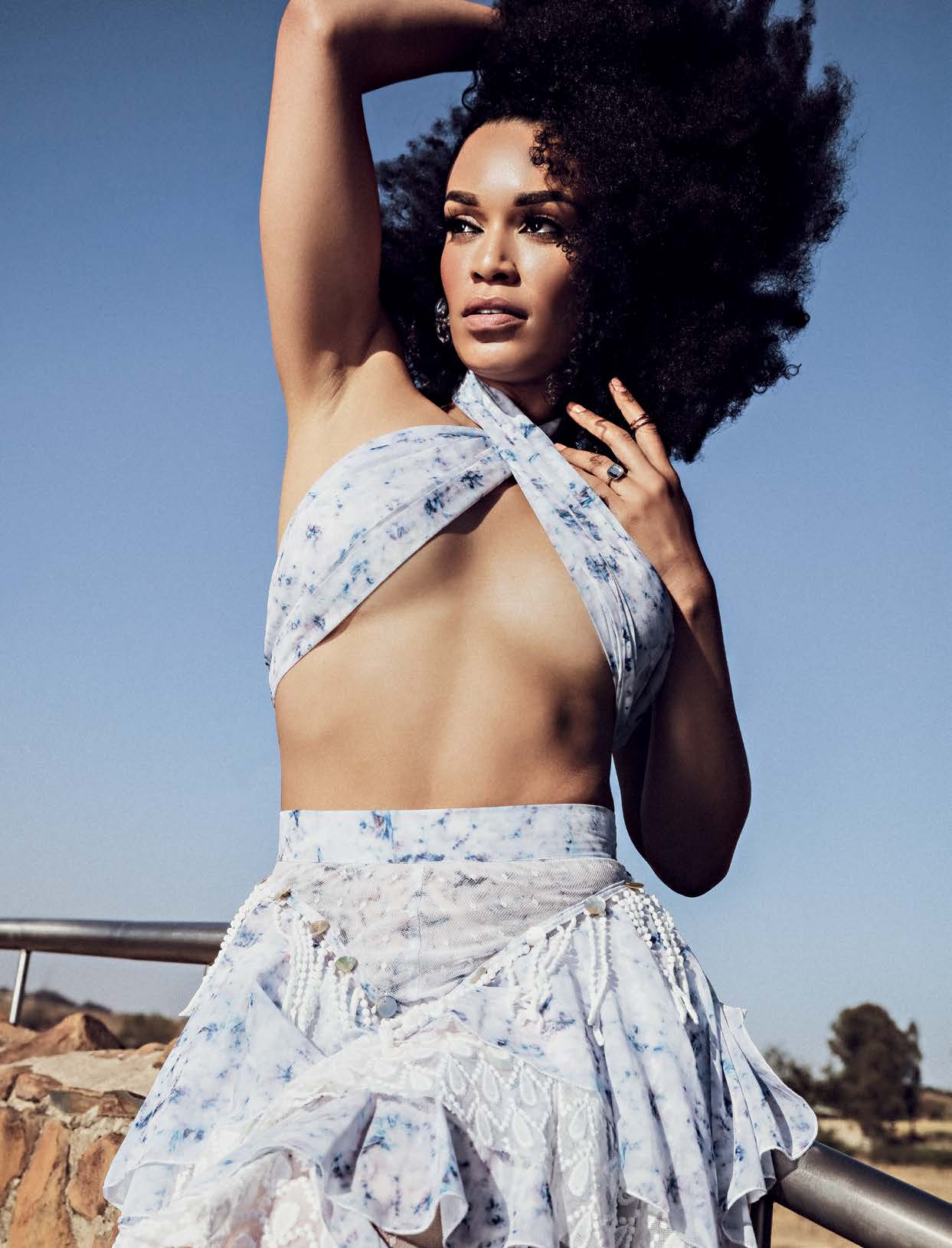 SPEAKING CHARACTERS INTO EXISTENCE
Pearl hit her acting career-high, in 2016, when she was cast as Dayana Mampasi on the second season of the American TV series, Quantico. Since then, her star has been on the up, with no signs of slowing down anytime soon. The mom of two girls — Thandolwethu (12) and Okuhle (4) — is set to play a lead role in Netflix's first original African series, Queen Sono, scheduled to premiere in the first quarter of 2020.
On the flight back to South Africa, following her stay in New York, she wondered why it had taken actions in an international series for her talent to be validated back home. This question, she says, brewed inside her as she was shooting Quantico. She returned with a very clear purpose of prioritizing African stories. While shooting the stunt-heavy film The Scorpion King: Book of Souls at the end of 2017, which she admits she was "badass" in, she was reminded of those days when she fantasized about playing adventure roles, à la Angelina Jolie in the 2001 action-adventure film Tomb Raider. "In less than two weeks, I learnt to ride a horse with a spear in one hand while riding up and down sand dunes," she shares.
You can read up to 3 premium stories before you subscribe to Magzter GOLD
Log in, if you are already a subscriber
Get unlimited access to thousands of curated premium stories, newspapers and 5,000+ magazines
READ THE ENTIRE ISSUE
November 2019