The barefoot doctor
The Australian Women's Weekly
|
November 2020
Mamitu Gashe went from a poor peasant girl whose life was saved by Dr Catherine Hamlin to a surgeon in the Aussie heroine's fistula hospital in Ethiopia. Sue Williams tells her story.
Mamitu Gashe was only 13 when she was told by her parents that she was to marry a man she'd never met. He was 11 years older and lived close to her small village in the remote highlands of Ethiopia, and she was devastated. She didn't want to marry a stranger, and she didn't want to leave her parents and the only home she'd ever known. Once she started sobbing, she found it hard to stop.
But she had to obey her father. That was the way things were and how she imagined they'd always be. As a young girl living in a poor community of peasant farmers, her life had been already mapped out. She would never go to school or have a job or even own a pair of shoes; instead she would marry early, bear lots of children, and look after them and her husband for the rest of her life.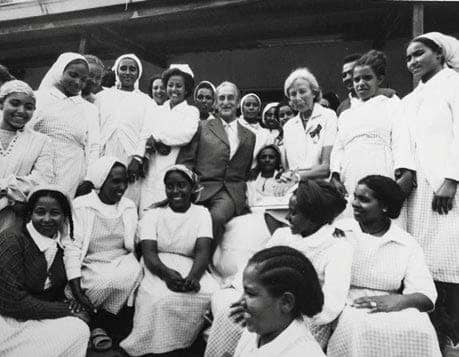 Today, looking back on her childhood, she smiles. Incredibly, these days Mamitu is celebrated as one of the top surgeons in her field in the world, travelling the globe teaching other doctors how to perform life-changing operations for young women. With so many top specialists also heading to Ethiopia to learn from her, she's been hailed as the face of the future of medicine in Africa. And she still can't read or write. But she does wears shoes. Most of the time.
"My life has changed completely," Mamitu says softly. "And that's all because I had the good fortune to meet Dr Catherine Hamlin and her husband Dr Reg. Without them, I wouldn't have a life. They have given me so much, and enabled me to give back to other women around the world."
Mamitu's old life back in her village ended the day she went into labour in her mud-and-thatch hut with her first child. Far from any hospital, midwife or doctor, she spent four days and nights in absolute agony with an obstructed birth. Her baby son died inside her and she sustained terrible internal injuries that left her, to her horror, unable to control her body and leaking both urine and faeces.
"At first, when I woke up, I didn't know what happened," says Mamitu now. "So my mother told me. I think I was in shock. I thought I might die. I was in so much pain, I actually wanted to die. My mother told me not to worry, that I'd be all right. But I could see in her face how worried she was. I could see that even she didn't believe her words. I said, 'Please God, help me – or take me. I cannot stand to live like this for much longer.'"
Mamitu persuaded her husband, family and neighbours to carry her on a homemade stretcher of eucalyptus tree branches 12 hours down the treacherous mountainside to the nearest road. Still drifting in and out of consciousness, she was then lifted on to a bus to the country's capital, Addis Ababa.
Having been told by doctors at one hospital that they couldn't help her, she heard about two foreigners doing great things at another hospital, and asked to be taken there. That's where she met Australian Dr Catherine Hamlin and her New Zealander husband Dr Reg Hamlin, who'd come to Ethiopia three years before to set up a school of midwifery at one of the hospitals.
They'd been shocked on arrival to discover fistula blighting so many young women's lives. It's a condition where a prolonged, obstructed labour continually pushes the baby's head against its mother's pelvis, leaving her with holes (or fistulas) in the tissue barriers between the vagina and bladder or rectum. As a result, the women leak urine or faeces, or both, uncontrollably.
You can read up to 3 premium stories before you subscribe to Magzter GOLD
Log in, if you are already a subscriber
Get unlimited access to thousands of curated premium stories, newspapers and 5,000+ magazines
READ THE ENTIRE ISSUE
November 2020